Summer is here! Every year Bradbury is excited to welcome back many new and returning interns spending their summer in the heartland of Kansas. Whether it is in the office or on the shop floor, Bradbury has interns throughout the facility learning from trusted full-time employees. During the course of the summer interns gain valuable work experience while pursuing The Bradbury Group's Vision, Mission and Values & Beliefs. This summer Bradbury is fortunate enough to welcome 3 new interns, as well as 3 returning interns.
New Interns:
– Dillon McGinn – Software Engineering Intern, attending Kansas State University
– Taylor Stucky – Electrical Engineering Intern, attending Kansas State University
– Mateo Roth – Assembly Intern, will be attending Kansas State University
Returning Interns:
– Riley Shelton – Electrical Engineering Intern, attending Kansas State University
– Cedon Yoder – Mechanical Engineering Intern, attending Eastern Mennonite University
– Kolton Sims – Roll Tooling Engineering Intern, attending Kansas State University
Mateo Roth discussed the reason he chose to come work for Bradbury this summer saying, "I had heard Bradbury is a great company and well respected in the area. I knew it would benefit me this upcoming year at Kansas State University." These six interns have completed orientation and already begun work in their assigned departments.
The Bradbury Group is a global group of companies dedicated to producing high-quality,
productivity-enhancing metal processing equipment. The companies within the Bradbury Group manufacture customized roll forming systems, precision levelers, coil processing lines, equipment control solutions, and automated production systems for more than a dozen industries. The six interns listed above will be working from The Bradbury Group's headquarters located in Moundridge, Kansas. Bradbury is very excited to see what these interns can accomplish this summer.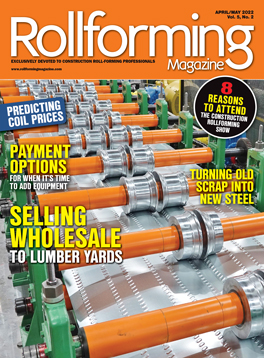 ---
Get a Free Subscription to Rollforming Magazine
Anyone who is involved in the metal-forming trade is welcome to sign up for a free print or digital subscription of Rollforming Magazine. This go-to resource for construction metal-forming professionals is published 6 times per year.