Photos and Story By Sharon Thatcher
A large maroon and white metal building stands on the southwestern edge of Kenton, Ohio. It was built in 2018 by Stillwater Metals and equipped with all state-of-the-art roll forming machinery. At 35,000 square feet in size, it was built with room to grow, giving the anticipation that one day the company would expand to completely fill its big shoeprint.
Sam Hostetler, co-owner of Stillwater Metals, offers a tour of the plant floor, where the Bradbury name is prominent: a Bradbury high-speed double-high roll former, Bradbury slitter, and Bradbury double uncoiler. Added together with a Thalmann long folder, Roll Former perforator, Star-One Felt Applicator, Ameripak Shrink Wrap system, two 10-ton overhead cranes, and two tractor trailer rigs with boom lifts, this is not a cheap operation.
Kenton is a small rural community, with a population of less than 8,400 people. So, what is the secret to Stillwater's success? Sam attributes it to great service, experience, and, yes, location.
Location
Although Kenton is relatively small, within 60 miles there are larger communities from which to draw additional customers: Lima, Marion, Bellefontaine, and Findlay. Their reach extends to Dayton and many mid-sized communities in between. Metal is widely popular in Ohio and is only expected to grow in the coming years.
Experience
Sam grew up within 10 miles of the Stillwater Metals property and started working in construction for his brothers.
A relative in Michigan started roll forming around 2005, exposing Sam and family members to the potential. "You see all these products and you have no idea of how things are made," he said. "We saw his operation and we saw what we could do."
Sam's father opened a roll-forming shop in 2007-08. With the Great Recession looming, it was a rough time to start. "That's what everybody told us," Sam chuckled. "It probably wasn't the smartest, but it was actually pretty good. We went through a little bit of a slowdown, but by just word of mouth it continued to grow."
Sam's father was Old Order Amish so the machines he used were mechanically powered, devoid of electronics. Sam set himself down a different path when he left the church in 2012. First, he started his own construction business focused on metal roofing, then after his father sold his roll-forming shop, Sam returned to the industry he enjoyed most, opening his own metal shop in October 2018 with the help of a business partner.
Sam looked at options before deciding on a building the equipment. Knowing firsthand that there was a market for the products and services he offered, he opted for big and new all the way down the line, rationalizing that the service and warranties of new equipment would cancel out the extra cost.
Overall, he is happy with his decisions. "There's always some things where you say, yeh, going back, I would have done it different, but then again, we wouldn't have learned the lesson in the first place," he said.
The contrast is like night and day between the roll formers of his past and his present. While he has nothing bad to say about those early machines, of the Bradburys he said, "It's a whole different ballgame. There is just so much adjustability, so many options to keep that panel perfect coming out. It's just a Cadillac. It's a machine that will sit here for many years doing its job," Sam said, adding: "And the customer service [from Bradbury] is just unbelievable."
Service
Stillwater understands what has made the regional roll-forming industry flourish as it has: the importance of getting panel orders to its customers as fast as possible. In the past, many of the local contractors depended on lumberyard inventories for orders, which in turn depended on a handful of national metal suppliers. Lead times could be a week or more. Stillwater cut the lead time to 24 hours in most cases.
Stillwater's primary customer is the metal contractor. "I like to work with the end user because you can control that customer service better," he said.
He also sells to a couple of lumberyards but concedes that providing a wholesale product to a lumberyard and a retail product to a contractor poses challenges. "It's a delicate, fine line to tread," he said. "It's a little bit tougher when you're trying to do a mixture of wholesale and retail. It's a fine line because you're really competing for customers."
Popular profiles
Stillwater runs two panel profiles that are most popular in his service area: a 3/4" rib on 9" center ag panel for residential and an R-panel for commercial.
He offers a board and batten panel as well, currently formed on the folder. He may purchase a dedicated machine if the popularity continues to rise as it seems it will.
His reliable coil providers include Progressive for smooth-finish metal and United Steel for textured-finish metal.
Popular colors remain black and white for residential, a trend he has seen for the past two or three years.
Stillwater is striving to be a one-stop shop for contractors, offering accessories and packages. Trim is a big part of business, with brother Benny filling orders. Sam relies on Graber Post for post-frame packages. Randy Chaffee of One Source Marketing is his go-to guy for ST Fastening and MWI Components. Levi's Building Components is also a valued supplier.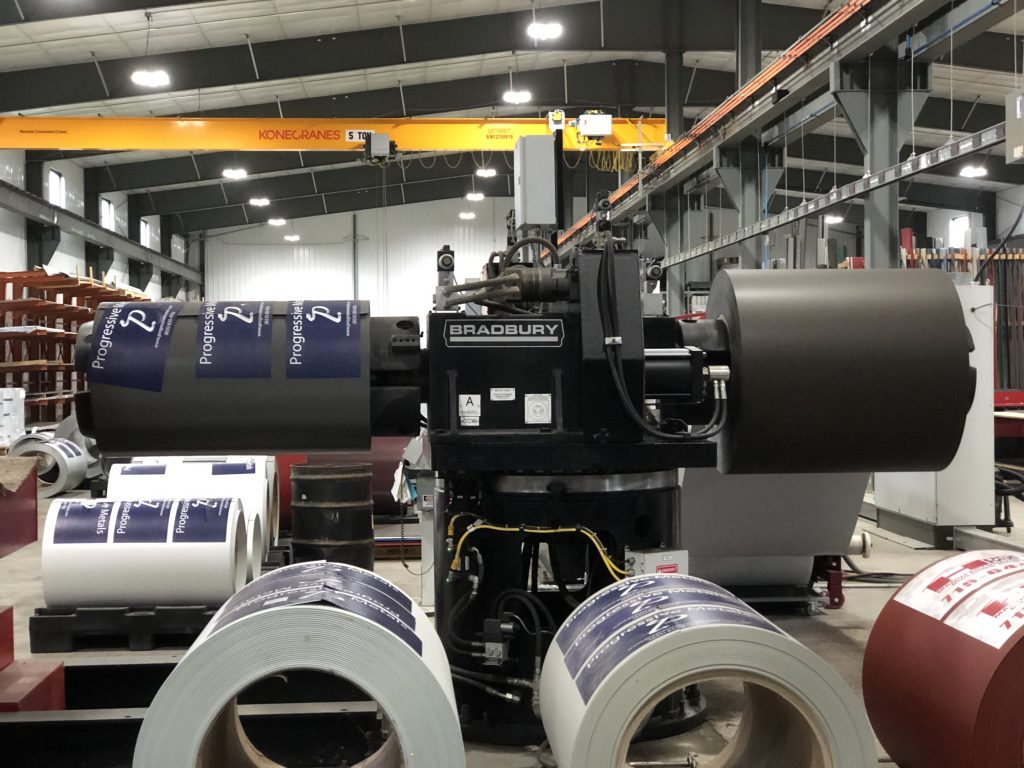 The Bubble
There is little argument that the bubble for residential demand will one day pop, resulting in a less frenzied market. "Last year it was just crazy. You really didn't have to sell anything last year. If you had anything, it was gone. We got close to triple in sales over the year before. It was almost too fast to control," Sam said.
In addition to a strong residential market, farmers in his area had a good year, resulting in demand for ag construction, currently about a 50-50 mix.
He is starting to see a little bit of slow-down in residential demand, but he doesn't see much of an ill effect in the near term. "Our contractors are booked way out," he said. If those bookings aren't canceled, Sam expects to remain busy for some time to come.
Even if residential slows, there are usually other areas of construction demand waiting in the wings. Going back to when his father started his shop in the midst of the Great Recession, a strong ag market carried them through. As well, commercial tends to pick up following a weak residential market.
"Construction gets really busy and it slows down, but it never dies; especially your better contractors, they always have work. People are always building something," he said.
Sam plans to be there to fill the orders.
"I really enjoy this," he said. "Sometimes I don't know why, but I do. I've met a lot of really good people. It's not like a job if you enjoy what you're doing." RF