We asked suppliers and manufacturers about their take on the current construction business climate.
Here's what a few of them had to say:
• Finding and retaining employees is key to success in any climate, especially now. We here at Levi's Building Components believe company culture matters, and it is proving to be a valuable part of our formula for success. We are living our core values of Integrity, Quality, Service, Collaboration, and Growth. To our employees and customers, it's known as the Levi's Experience.
Mike O'Hara, National Sales Manager
Levi's Building Components
---
The construction industry appears to be holding strong despite rising interest rates. New construction starts and remodels continue to dominate the market. Overall the largest challenge many of our customers face is a tight and competitive labor market. To that end many have invested and continue to invest in additional equipment and automation process to offset labor demands.
Bill Griffin, President
Metal Rollforming Systems
---
We've lost a lot of loyalty in our workforce; there's no 30-year worker anymore. We need to use tools and technology to help make up for the labor shortage. For example, we developed the Ridgeline Safety System, the Badger Post Hole Cleaner, and the Rapid Framing System to take the physicality out of jobs, which helps new workers coming in that have no experience be effective and productive from day one.
Todd Meinhold
Ridgeline Safety System
---
S-5! distributor orders are up significantly over 2021. However, shipments are flat due to backlogs caused by supply chain issues and raw material availability. Our advantage is our distribution model. S-5! products are on shelves nationwide—always.
Labor shortage is rarely a problem. We have a reputation in the industry for doing things The Right Way™. We are a privately held company with a comfortable working environment, and values that attract great talent and retention.
Rob Haddock,
Founder and CEO, S-5!
---
The current business climate, at the moment, appears strong in this industry. Most manufacturers have a strong backlog of orders. Equipment manufacturers are anywhere between 6 months and 18 months of lead time in deliveries. From a controls standpoint, we have a strong backlog but, as many manufacturers, are having issues with getting components used in our systems. Lead times have been extended from weeks to months, which ultimately affects delivery of our product to our customers. We do our best to navigate the issues, but sometimes we have no choice but to push out our lead times also. We hope the industry sees improvement in this over the next year.
Jeff Fitterling, Director of Sales & Marketing
AMS Controls Inc.
---
Demand is very good, and with supply chain issues steadily improving much easier to manage customer expectations.
Paul Zimmerman
Hixwood
---
Supply issues have plagued the residential roofing market across the board recently – regardless of roofing type. Many MRA members have experienced some delay in material supply but are reporting these issues are typically short-lived.
Renee Ramey, Executive Director
Metal Roofing Alliance
---
The construction industry has slowed down some. However, with lumber, steel and gas prices starting to drop we are seeing it start to pick up again. Overall it is still very good!
Wayne Troyer
Acu-Form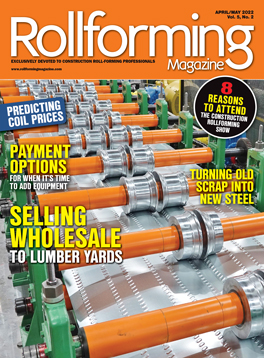 ---
Get a Free Subscription to Rollforming Magazine
Anyone who is involved in the metal-forming trade is welcome to sign up for a free print or digital subscription of Rollforming Magazine. This go-to resource for construction metal-forming professionals is published 6 times per year.