One of the most important areas for where to improve efficiency and speed is at the front of the machine. Significant time can be saved depending on how coil is loaded, especially if you need to make multiple changeovers in a day.The often overlooked unsung heroes of this process is the uncoiler and related support equipment.
Uncoilers/Decoilers
The uncoiler (also called a decoiler) is designed to hold and control the coil as it is pulled through the roll-forming machine. "There is a very wide variety out there," said Wayne Troyer, Acu-Form. "There are uncoilers with coil cars, multiple-station uncoilers, driven uncoilers, manual uncoilers, and even uncoilers that have cores that have braking systems."
When you buy a new roll former, an uncoiler is designed to work with your machine, so speed, weight, width, and all other factors are taken into consideration. "Everything can be built in sync so it runs one to the other," said Troyer.
When buying from multiple suppliers or retrofitting old equipment with new, there are simple calibrations to assure a good match, but those working relationships can't be assumed. Make sure they can be calibrated to work with your specific roll-forming machine. It's important for the finished product that these machines work well together.
Chandler Barden, President of CIDAN Machinery [www.cidanmachinery.com] explains that there's a loop of material between the uncoiler and the roll former that is used to essentially control the slack for the ramp speeds of each machine. "So when you start the roll former—and let's say it's a 150 feet per minute machine—it's not going to go instantly 150 feet per minute. The decoiler also needs time to speed up."
How the loop is controlled assures the proper lag and synchronization between the two machines.
Of course, the key is to make sure that any accessory machine connected to the roll former is calibrated to benefit the roll former, not the other way around. "The roll former is always the master; you always want to maximize what the roll former is going to output for the speed, so if you're going to be cruising at 135 feet per minute you want to make sure that decoiler can keep up. Sure, roll formers can be slowed down — you can run it at a slower speed — but it's all about production," Chandler said.
It's not complicated, just prudent information to know, he noted, and while decoilers are typically not an issue, newer stacking systems can be. "With a decoiler you can work around it, but say you're trying to integrate a roll former into a stacking system … sometimes you can have issues with older controls on the roll former trying to control the newer motors on a stacking system."
Double Uncoilers [also variously referred to as double-headed, double-armed or double-mandrel uncoilers]
Metal Rollforming Systems, manufactures a double-headed rotating coil wheel that works especially well for shops with multiple color changes. "It basically takes the color change line and reduces time dramatically because you have one coil queued up while the other one is in operation," said Bill Griffin, MRS. "The wheel spins 180 degrees and you can immediately load the other coil," he explained.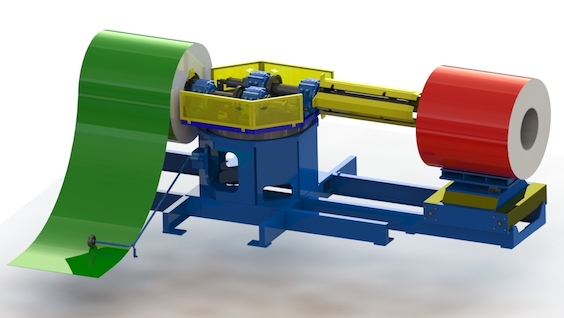 By contrast, Griffin said the standard uncoiler operation, with a single head, can stall during changeovers. "When the operator gets a new order, let's say he has a green order [on the roll former]; he's going to have to wrap that coil back up, tie it up, pull it off, set it down, get the red coil, put it on the cart, load it onto the reel, then thread it through the machine. All of that takes time. If you're making a lot of color changes in a day, you can lose a lot [of time]…. Coil reels are pretty simple most of the time but the rotating coil reel is a way to really gain efficiency."
Ben Schmidt, The Bradbury Co., is an advocate for double uncoilers as a consideration for any company experiencing production delays due to color changes. The double uncoiler in conjunction with a coil car will "take your coil changeover time from, let's say, five minutes down to two minutes. That's not mind-blowing, but it's still twice as fast, and if you're doing that 20 times a day, which is pretty normal for this industry, that's almost an hour saved. If this equipment could provide you an hour or more of running time [per 8-hour day], then those minutes turn out to be very, very valuable," he said.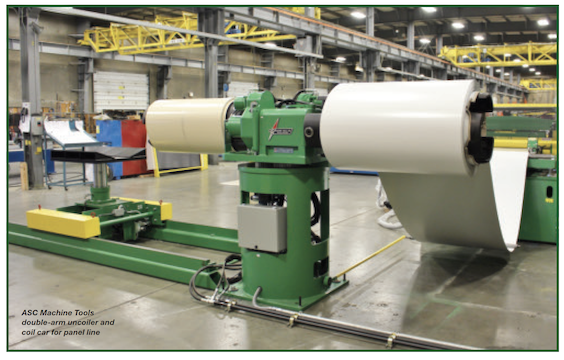 Thomas Schwarzer, ASC Machine Tools, carries this notion on the double uncoiler further by comparing some hypothetical costs. Say you are a rollformer looking to go from a 150 fpm machine to a 200 fpm machine. Buying a new 200 fpm roll former could easily cost $250,000 to $280,000, and it offers no guarantee that the machine will operate any more run time if you have to start and stop for a lot of color changes.
A double-armed uncoiler isn't cheap either, about $90,000 to $100,000 more than a single-armed uncoiler, but it shortens the time needed for coil changes.
"It all depends on how much you are actually manufacturing; how is your job structure, how long [linear feet] are your jobs; are you combining white coil jobs, green coil jobs, red coil jobs; do you have long runs, or are you switching over as the job comes in," these are questions Schwarzer challenges owners to ask before making a decision of whether to purchase a higher-speed machine or a double uncoiler. If you make multiple stops per day for changeovers, net run time for the roll former may be the same for a machine running at 150 fpm as for one running at 200 fpm. Bottom line, a double uncoiler may be the answer for helping gain more in actual end product.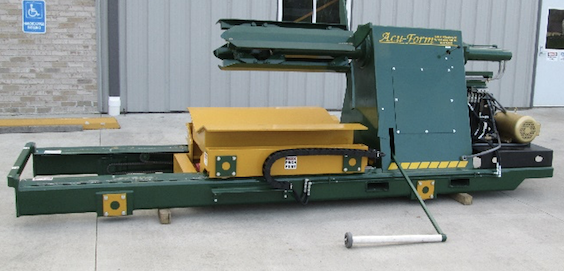 Coil cars
Coil cars operate like a scissor lift and can lift and position the coil with the touch of a button, eliminating the time needed to wait for a forklift operator.
Thomas Schwarzer, ASC Machine Tools, said that even if you have the best forklift driver ever, it is not unusual for a reload to take five to seven minutes depending on your setup.
"What I tell people first is that a coil car can help," he said.
A coil car allows the operator to focus on preparing the panel line. "The machine operator just basically focuses on the machine, gets his paperwork done, maybe he has to adjust the line because he runs different materials so he can focus on that."
Ben Schmidt, The Bradbury Company, added that coil cars not only reduce coil changeover times but also can reduce potential coil damage and equipment damage from forklift operations.
Turntables/Turnstiles
Gaining in popularity are turntables (also called turnstiles). Like double-headed uncoilers, turntables allow advance prep of coil for faster changeovers. The turntable, however is a freestanding unit with multiple rotating arms (or mandrels) that can be filled with 8 to 10 different colors of coil.
"It's an efficiency thing," Wayne Troyer, Acu-Form, noted. "You have a turntable so you don't have to wait on a forklift to take [the coil] off and on. It's installed right next to your uncoiler; that way the operator of the machine doesn't have to wait … There's always the right coil on the turntable."
It can also be situated between two machines, so the coil is accessible to both.
As an added benefit, said Ben Schmidt, a turnstile reduces damage to coil. "Most guys will have 20 colors in stock but 5-6 coil colors are 80% of what a guy does, so if you always leave those six coils on your turnstile, they're always accessible and they're not being handled [multiple times] with forklifts or cranes."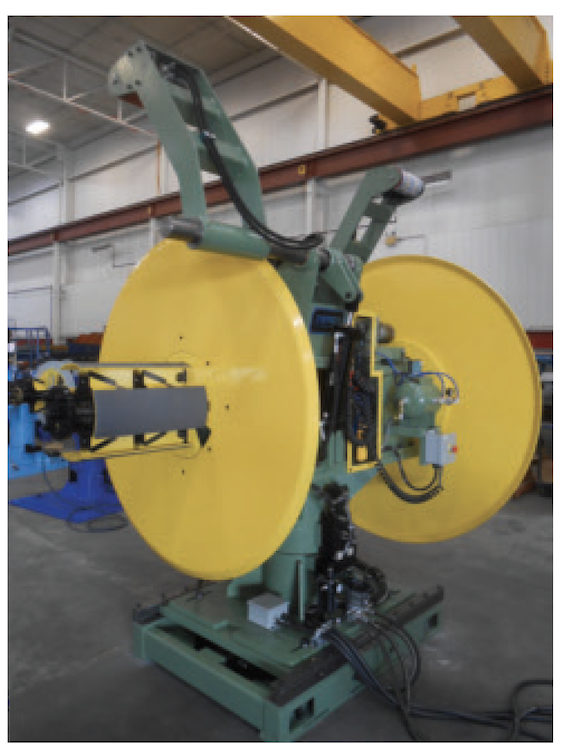 For the Heavy Lifters
The decoiler/uncoiler's importance is particularly noteworthy in segments of the roll-forming industry that deal with faster speeds and heavier coil. Samco Machinery produces uncoilers for the tube mill industry (running at 1,000 feet per minute), and the steel stud industry (running at 500 feet per minute). The basic principles remain the same.
"People don't appreciate the uncoiler," Bob Repovs, CEO at Samco Machinery noted. "It's worth investigating before you purchase an uncoiler" [https://www.samco-machinery.com/purchasing-uncoilers]. "Anyone who has a roll former needs an uncoiler out front to feed coil into the roll former," he said. "A lot of times, they purchase a roll former and just get the least expensive uncoiler they can buy. Steel mills are now producing larger coils. Larger coils mean longer run times and ultimately, more production. More production is more profit."
How well your uncoiler helps with faster changeovers is where its importance in production comes into play, Repov noted. Samco has both single-ended and double-ended uncoilers. "While one mandrel (arm) is feeding into the roll former, the next coil can be safely loaded on another mandrel with a forklift, crane or coil car," he explained.
Because panel lines generally operate at slower speeds, he suggested that a combination of a single-ended uncoiler with coil car combination may be more practical.
Repovs says the manufacturing of uncoilers takes into consideration two critical aspects: Safety and throughput.
"We make sure all of the safety requirements are in place," Repovs said. "Uncoilers have large fast-moving parts. Operators must be trained and have an understanding of how the machine works and is set up correctly."
Every shop has different needs. Samco Machinery offers a variety of uncoilers with the ability to handle coil ranging from 2,500 to 40,000 pounds. As added safety, Samco Machinery uncoilers feature full-diameter back plates as opposed to plates with spokes.
Samco Machinery uncoilers can feature an adjustable mandrel to accommodate coils with varying inside diameters, as well as several size options for the coil back plate. Depending on your braking needs, uncoilers come with a variety of air brakes as well as water-cooled brakes for lines running at faster speeds. Uncoilers can be manufactured to have hydraulic expansion and hydraulic rotation capabilities. Shock absorbers can be added to minimize uncoiler rotational abuse.
By Sharon Thatcher for Rollforming Magazine