July marks the one-year anniversary for the opening of Your Quality Metal in Little Suamico, Wisconsin. We visited owner Nathan Yoder during the setup of his new shop as reported in "From Milk to Metal: The journey of a new shop owner in construction roll forming", 2020 Fall Issue of Rollforming Magazine. We promised to provide occasional updates as his journey continued.
We caught up with Yoder at the Construction Rollforming Show in June. He reported that his new business has been amazing. "My sales is probably 10 times what I expected," he said.
Statistics from his Acu-Form ag panel roll former showed that he had produced in four months what the average Acu-Form operator outputs in a year.
He has made two major changes in his operation:
First, he has hired more help: a full-time worker who rolls the panel and makes deliveries, and four part-time high schoolers. "Me and my family do the slitting during the day and at night they come in and make the trim," he said.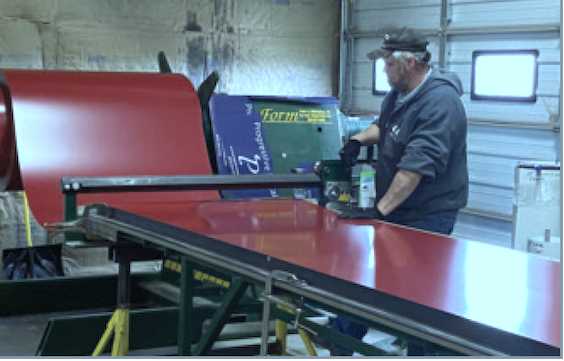 Second, in late April he switched out the rollers for a panel profile that was more popular in his area. He had started with a panel with a ½-inch minor rib but found that barn reroofing was where most of his panel was going, and in demand was a ¾-inch minor rib.
Growing his business
When he first went into business, Yoder said he only had a promise from a local lumberyard to give Your Quality Metal a try. If the service and product didn't meet quality expectations, there were no contracts to bind the business arrangement. While it's been a successful arrangement, Yoder wanted to add additional customers as quickly as possible.
He placed a large billboard along one of the major highways in the area which has resulted in a couple of new customers. One in particular is a large contractor who had been getting his metal an hour's drive away and the service was limited to 7 a.m.- 3 p.m. business hours; the shop owner couldn't be reached outside those hours.
"One main reason we got his business was our service," Yoder said. "We're in six days a week, and they're long days, not just 8-hour days," he said. He also answers his phone off-hours.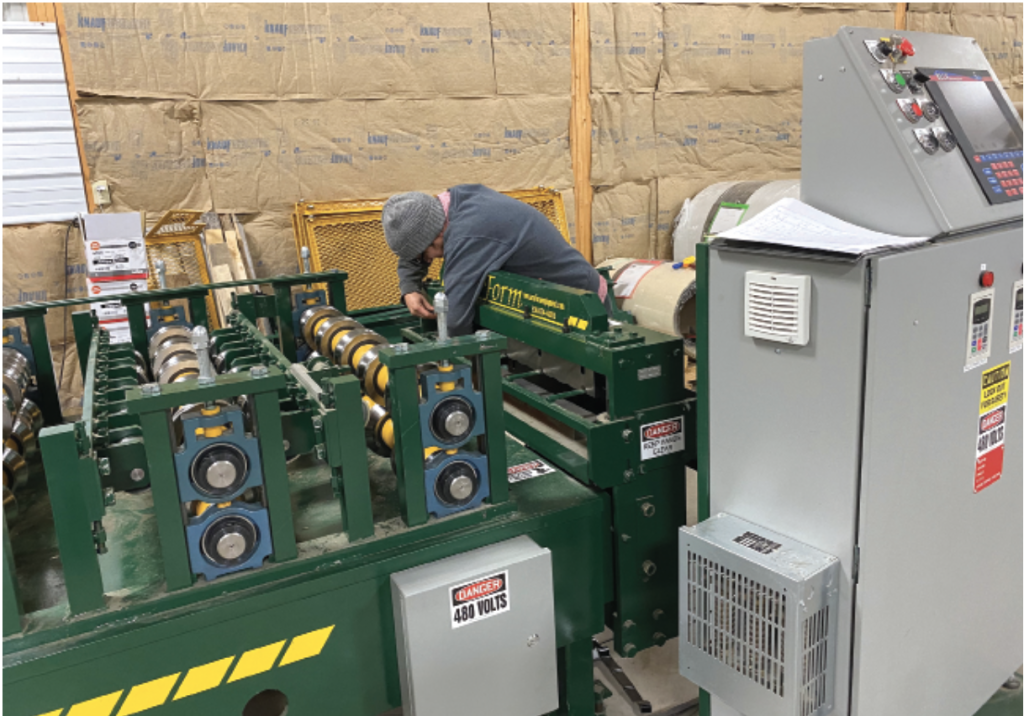 Suggestions for Newbies
In hindsight Yoder said there isn't much he would go back and do differently, and offers these suggestions to other newcomers to the industry:
Focus on service and quality. "Local service, that's the key thing, and availability; deliver when you say you will. You have to deliver on your promises," he emphasized.
Don't underprice, but also don't overprice your services. You need to make enough to cover your expenses and afford to grow, but overpricing can also be deadly for a new business. "Definitely price comes into the picture when you're first starting out. You have to win [customers over]. If you're overpriced, they will not even look at you. To win someone over and to be 10-20 cents over anybody else, that's tough. Once you have your customer base it doesn't matter if coil is 10 cents a foot more or 20 cents a foot more, they'll still buy if you have [good] service."
Be available to your customers. Don't shut your phone off after an 8-hour day.
Be dedicated. "Sometimes you might have to work all night just to keep up, but you have to. You're signing your life away to get started, but eventually you hope to be able to pass some of the work on to others."
Establish good supply partners. In addition to having good working relationships with his machine suppliers (Acu-Form and Hershey's Metal Meister), Yoder works with reliable coil suppliers who watch his back in the tough steel market world. He buys most of his coil from Progressive Metals. He said: "Paul Covell is my sales guy, and he's phenomenal. You can call him whenever and he'll pick up his phone. He's one of those guys who doesn't shut his phone off."
Be realistic. Don't over-order equipment or building space because you think you're going to have a great business. "You just don't know what you will need when you first start," Yoder said, and that's okay. "It's better to start in slow, where you can manage it and then upgrade as time goes on, as to jump in and start big and not be able to make it."
Today's roll-forming shops are very regional in nature, and live or die by local supply and demand. Yoder was in the right place at the right time. He said he wishes he had a larger building, a faster trim brake, and a new double folder, but he will get them some day, and can work with what he's got until he does.
Consider delaying your start-up plans until the market settles. The combination of high-priced steel coupled with limited supply, high machinery prices, and long back-order times can be toxic for newcomers. "It's a little risky to tell a new guy to invest in inventory right now, when [coil prices] are bound to pull back, unless you have deep pockets or have someone helping out where you can absorb that," he said.

Many forecasters have coil prices going up through the end of this year. Established businesses are in a much better position to weather the turbulence. "For guys that are established, they'll be able to average it out even if the market starts pulling back; you just buy something less and mark it up a little more to absorb the cost of the more expensive coils," Yoder said. "But someone without that capability, where everything is expensive that they have [equipment, supplies and building space] it's a little risky right now to go out and try to find customers."
As for equipment cost, Yoder said: "The machines always pay for themselves. The return on investment is great."
Yoder's growth plans for Your Quality Metal includes upgrading to an automated slit line and possibly adding a double folder. This fall he is on target to add a second roll-forming line to produce the Legacy panel; a panel profile created by Acu-Form which is a standing seam look-alike with 12" center ribs.
Your Quality Metal was opened early in the Covid-19 pandemic. Last spring Yoder asked his financier if he should go through with setting up his roll-forming shop, afraid nobody would buy his panel. "And he was like, 'ah, people are still going to keep buying,' and so we progressed on it," Yoder explained. Was it the right decision? "It's been one of the best investments I've ever made," he said.
And The Cows?
If you read the original article about the start of Your Quality Metals, it noted that Yoder planned to continue milking cows because it was something he enjoyed doing. Did he? Yes, despite all the extra work, he's still milking cows. RF