October 26-27, Ernest N. Morial Convention Center, New Orleans, Louisiana
The Construction Rollforming Show is designed for roll formers.  Not small contractors.  If you need to learn about metal forming or speak directly with manufacturers who sell in pallet, container or truck load lots, this show is for you.
Updates will be published at constructionrollformingshow.com.
2022 Educational Topics:
The sales process
Correctly adjusting gap for different materials
Roll former maintenance schedules
Tooling and when to replace it
Condensation prevention materials
Coil basics
Coil buying
Ventilation and ridge vents
Buying your first roll former
Buying vs. leasing capital equipment
Carport roll forming lines
Third party software and what it does
Benefits of design software
Pro Tips On books as a selling aid
Underlayments for metal roofing
Paint and coating basics
Fastener basics
---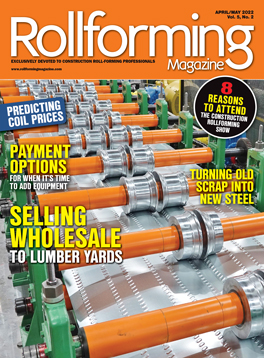 ---
Get a Free Subscription to Rollforming Magazine
Anyone who is involved in the metal-forming trade is welcome to sign up for a free print or digital subscription of Rollforming Magazine. This go-to resource for construction metal-forming professionals is published 6 times per year.