By Sharon Thatcher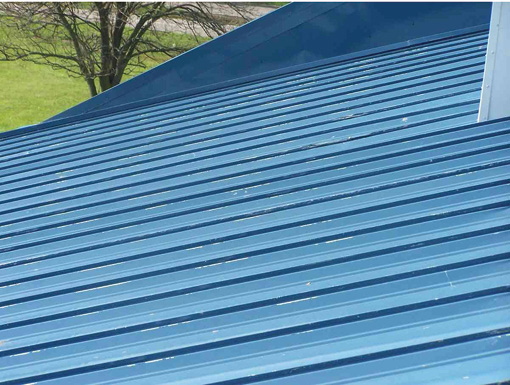 The metal construction industry would not be where it is today without the tremendous advances made in paint technology. The earliest construction metals were tin and copper, left uncoated to weather the elements.
Paints for an increasing variety of metals were eventually developed but had to be hand applied, typically by the roofer, then reapplied every few years. Not until the 20th century did paint companies develop sophisticated formulas that allowed for more effective means of application, working in conjunction with an early generation of coil coaters.
The increases in effectiveness, and the rise of popularity of prepainted products pushed more responsibility for paint companies to create great performing paints backed with paint warranties.
How well paint holds up in warranty depends on the quality of its components, how well it is handled before and during the application process, and what type of metal on which it's being applied. Aluminum, for instance, has a natural resistance to corrosion. By comparison steel, though highly resistant, is more susceptible to corrosion but can be controlled.
Rollforming Magazine turned to AkzoNobel for answers on what is and is not typically covered by warranty.
What is typically warrantied:
Film Integrity references to the paint adhesion to the substrate. Loss of film integrity shows up as peeling or flaking.
Color Retention is how long paint stays true to its original color. Fade (visible loss of color) results from chemical breakdown of a coating's base resins and pigments when exposed to natural weathering elements.
The allowable change in color/fade is reported in Delta E Hunter units. A lower Delta E number is better than a higher number. Most Delta E tolerances are Delta E of 5 for vertical (sidewall) installations and DE 7 for non-vertical (roofing) for the duration of time expressed in years on a warranty. It's a recommended practice of keeping your prepaint product free of dirt and other debris by periodically washing the structure.
Chalk Resistance — Chalking shows up as a white residue. It is a result of decomposition of the paint film caused by ultraviolet rays, moisture, heat, or a combination of all three. The decomposition can be measured by rubbing the coated surface with a soft fabric and calculating the amount of powder picked up. Ratings, established by ASTM D659, are from 0-10 depicted by increments of 2, where 10 indicates the least chalking.
As important as what is covered by a warranty is what is not covered.
Common non-warrantable situations:
• Substrate corrosion, including failure or damage from under-film or edge corrosion.
• Coatings not applied in accordance with good install practices.
• Breaches in the coating film caused by installation scratches, abrasions or hard impact.
• Damage caused by moisture entrapment (between bundles or during transit).
• Mixing of different paint systems.
• Unapproved chemicals or cleaners.
• Where materials or items are permanently attached or adhere to the coating.
When a Coating System Fails
Coating inspections should be handled by the panel manufacturer, coil supplier, coil coater and paint company. They are the best ones to have the resources and expertise to determine cause. Scott Hanna, Regional Sales Manager for AkzoNobel's Coil North America noted that common culprits leading to paint failures include poor panel storage on a job site, post painting with inferior air-dry touch-up systems, installation scratches, defective metal, out-of-spec application processes, and inferior coating systems.
Tips for Rollformers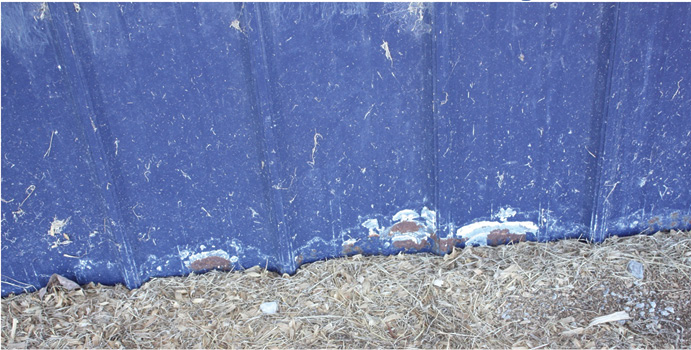 Rollformers can minimize their own risk for getting sucked into a paint failure issue by understanding the metal they handle.
"Making certain the correct coating system is selected for its intended end use is very important," noted Hanna. "Inferior performing coating systems can lead to premature failure depending upon the warranty expectations. Learn and understand what paint system is being used and who the coating manufacturer is when acquiring painted coils.
"A properly assembled prepainted package: substrate, cleaning, pretreat, paint selection, along with paint application creates a very durable and long-lasting product," he added.
Beware that all paints and coatings are not created equally. "A rollformer should contact his/her paint supplier and ask for specifics about paint performance," advised Hanna. "Rollformers should educate themselves on who is involved in the entire prepaint supply … to prevent any possible issues."
Good companies will go the extra mile to help rollformers understand their product purchases.
AkzoNobel offers proof of performance through real world testing protocols. "We always have the next generation of technology under testing in real world exposure," Hanna said.
They also have a free app, (found in the Apple App Store under Canopy by AkzoNobel), to help educate rollformers about paint performance. "For instance, our app contains a weather simulator where a rollformer can get a visual representation of what a Delta E could look like in order to best educate their customers on color retention," Hanna explained.
You can learn more about the Canopy app at coilcoatings.AkzoNobel.com/us/our-digital-tool. RF
Originally published as "Understanding Paint Warranties" Rollforming Magazine – FEB/MAR 2021