Companies are rolling out new products at the 2021 Construction Rollforming Show in Cincinnati. Here's a run-down of what visitors can expect to see.
ASC's TKR-X™ – The Next Level in Purlin Roll Forming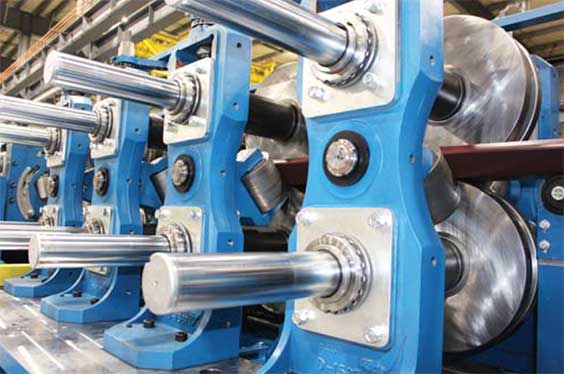 ASC's innovative design of the all-new TKR-X™ Rollforming Line offers the highest level of flexibility and automation in the purlin market worldwide. Manual, semi-automatic or fully automatic, ASC customers are able to pick the level of automation they need today and tomorrow.

The TKR-X modular punch press uses a combination of 4-post and CEE-frame die sets to guarantee highest throughput speeds. All servo-adjustable Cee-frames automatically move in and out to position the punch in the desired location on the web.

The TKR-X rollformer is offered with 3 levels of automation:
1) Auto Assist: C/Z, web and flange change
2) Auto Gauge: Gauge adjust
3) Full Auto: Adjust all overbend and eave strut fixtures
The new S-Web (min. 3″) and XL-Web (max. 24″) option allows customers to expand their product portfolio and enter new markets.

ASC's patented CZ Stacking System offers the fastest cycle times, handles the full range of Cee, U and Zee purlin, and can be added to any new or existing purlin roll-forming line.

ASC also offers fully automated coil handling systems, coil conditioning units, live video monitoring, EWON Remote Support and much more. Made in the USA since 1949.
Information: www.ASC.com
Dynamic Fastener Releases New Tool and Fastener Hand Guide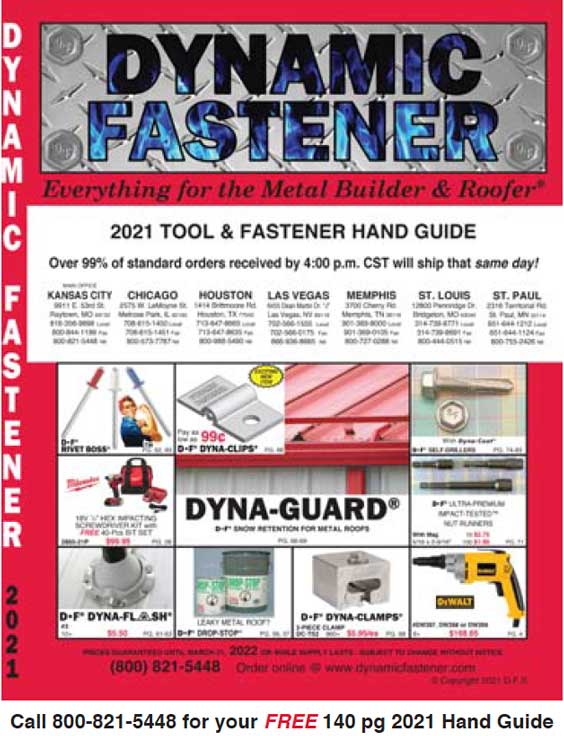 Dynamic Fastener has released a new version of its popular Tool and Fastener Hand Guide. This 140-page, full-color free gem provides concise answers to questions pertaining to fastener applications, engineering data, availability of types, size ranges and fastener materials specific to the metal building industry. In addition to discussing screws and anchors, the Guide provides prices and other useful information relating to flashings, sealants, insulation tapes, safety equipment, hand tools, power tools and more.

The 2021 publication includes details on the Dyna-Guard snow retention system for metal roofs. It also includes information about the company's new rivet initiative that resulted in a stock level of 100 million rivets with 75 million pre-painted in more than 100 different colors.
To obtain your free 140-page Hand Guide, call (800) 821-5448.
Dynamic Fastener Goes to New Links with Hi-Lo Line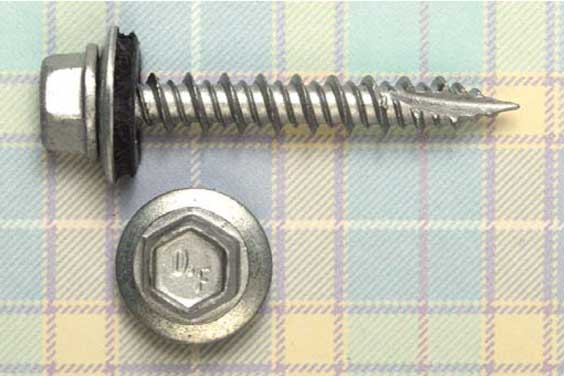 Dynamic Fastener has added additional lengths to partner with its very popular 12-16 x 1-1/2″ T-17 Hi-Lo fastener. Lengths are now available in 2″, 3″ and 4″. All lengths are available with a T-17 point, Hi-Lo threads and a 5/16″ hex washer head. This screw is used to attach up to 18 gauge sheet metal to wood. Screw can also be used to plug a previous #9 or #10 pole barn screw or anytime a slightly larger fastener is desired. Screw is available with a 9/16″ outside diameter sealing washer or without. Also comes standard with Dyna-Coat® 1000 hour salt spray premium coating.
Information: www.dynamicfastener.com
Fighting Condensation with Aqua Defender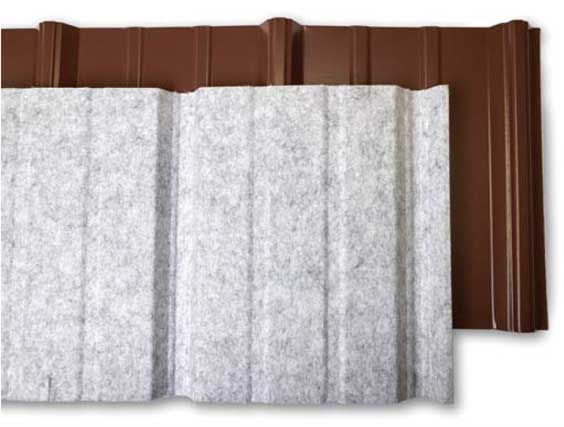 Aqua Defender creates a lasting barrier between your building's metal envelope and the harmful effects of condensation. Adhered directly to the roof and wall panels during manufacturing, Aqua Defender forms a soft, clean surface. It absorbs moisture, prevents rust from forming, and extends the maintenance-free life of your building. Its light color can even reduce lighting demands. Aqua Defender stands between condensation and your roof, guarding against rust, corrosion, and drips. It keeps your buildings clean and dry and your livestock, equipment, and inventory safe.
Information: www.roofaquaguard.com
AkzoNobel makes color complexity a thing of the past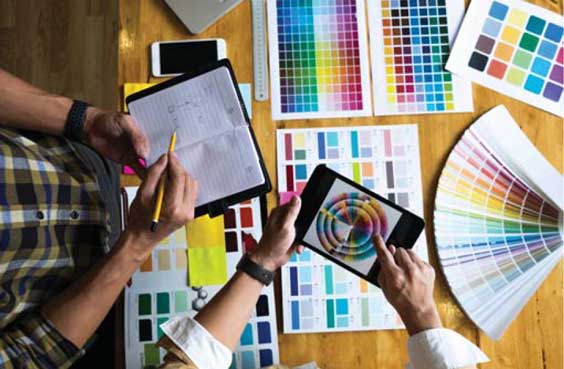 Businesses across the coil coating industry can look forward to improved product availability, concentrated color volumes and quicker turns on projects, thanks to AkzoNobel's CERAM-A-STAR 1050 Select color program.

For coil coaters, CERAM-A-STAR 1050 Select allows longer runs of popular colors and less color switch-outs, which improves productivity. For service centers and distributors of painted coil, the new system enhances operational efficiency by reducing color complexity and increasing demand for high-moving colors. For OEMs and regional rollformers, it helps to drive targeted color selection and customer satisfaction through enhanced performance and product availability.

The CERAM-A-STAR 1050 Select color program is further supported by AkzoNobel's suite of digital color tools, accessed through its Canopy app.

Canopy includes information and tools on color section, color sensor integration, RAL standard search, and color visualization as well as standard color palette tools.

Information: www.coilcoatings.akzonobel.com/us

Star 1 Offers Adjustable Wide Forks for Easier Metal Handling

Moving long metal packs are now a one-man job requiring no straps or second fork truck with Star 1 Products' NEW Adjustable Wide Forks. Forks can be adjusted in width from a compact 13' or extended to 20' overall to accommodate metal packs up to 40' in length.

Adjustable Wide Forks is a solution designed specifically to get those long metal packs through narrow doorways and allow you to reach the opposite side of a trailer for loading and unloading, always keeping your metal flat and undamaged. The tilt adjustment gives you the flexibility you need when loading and unloading on uneven terrain.
Information: 888-96-STAR1
rFOIL Rolls Out 2600 SeriesReflective Insulation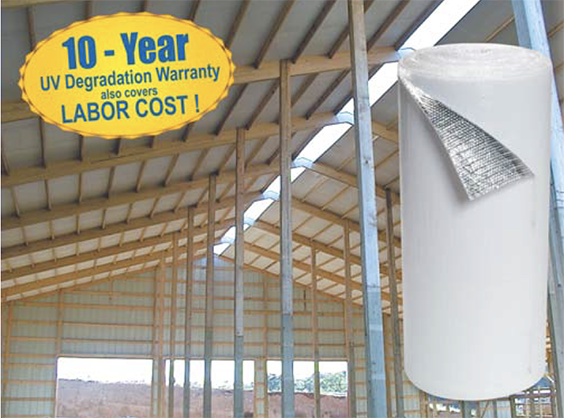 rFOIL-2600 Series Reflective Insulation is a layer of polyethylene bubbles bonded to and sandwiched between a radiant barrier metalized foil and white polyethylene sheet. rFOIL is specifically designed to control heat gain or loss, and prevent interior condensation, in all types of metal and metal-clad buildings.

The rFOIL-2600 is the first Reflective Bubble Insulation to come with an unmatched 10 Year Guarantee against ultraviolet light degradation, delamination, cracking, peeling or flaking. The guarantee includes new material and up to $0.75/sq.ft. for any labor replacement costs.

• Blocks 96% of radiant heat transfer
• Contains UV inhibitors and anti-oxidants for long-term durability
• Tested to ASTM G-155 for UV resistance and facing surface degradation
• Better thermal value and condensation control than fiberglass insulation
• Class 1/A Fire Rating and passes NFPA-286 full room burn test
• Controls heat gain/loss and prevents interior condensation in all types of post- and metal-frame buildings
Information: www.rfoil.com
QB Metal Shop Now Connects to MRS roll formers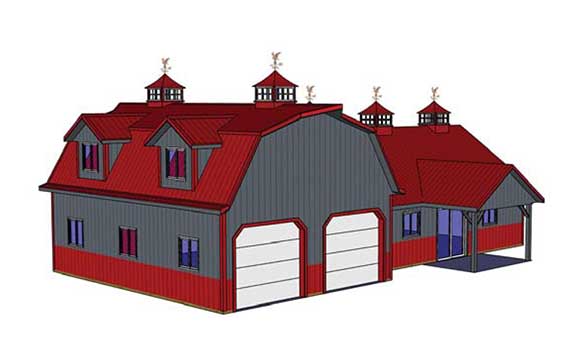 NC Automation has rolled out new integration features with its QB Metal Shop manufacturing and scheduling software. It can now connect directly to MRS roll-former machines. Control the machine directly from the scheduling software, and automatically record production and inventory usage in real time. Additional sensors added to the machine sense the correct profile, color, gauge, and coil grade are being used, displaying an error if there is a mismatch between the software and machine settings, and even prevents the machine from starting up to produce the wrong product.

Customers can also enter their own orders and custom trims directly from the fabricator's website. After that it only takes six mouse clicks to schedule and produce the order, with the customer able to view the status through an online app.

Product can then be scheduled for delivery through QB Metal Shop, with maps showing multiple stops for different orders to help streamline the delivery process. When the driver delivers the order, he can take a picture with his phone or tablet and attach it to the order. The customer not only sees that it has been delivered, but they can go to the app to see a picture of the order and where it was placed on the job site.
NC Automation Introduces Major Upgrade for building creator 3.0
NC Automation continues to expand on the capabilities of its two popular production software products. It is introducing the latest version of its design program, Building Creator (now compatible with Mac computers), and the expanded features of QB Metal Shop for scheduling.

Developer Neil Burkholder reports that Building Creator 3.0 is almost an entire rewrite and includes a lot of new features for the design software. He started by asking "What kind of building can be designed in 60 seconds?" then came up with the answer.

Building Creator 3.0 now integrates with the popular post-frame estimating software, SmartBuild Systems, which is the exclusive reseller.
Information: 419-631-7669; email: [email protected]
SmartBuild Systems Integrates with Building Creator on SketchUp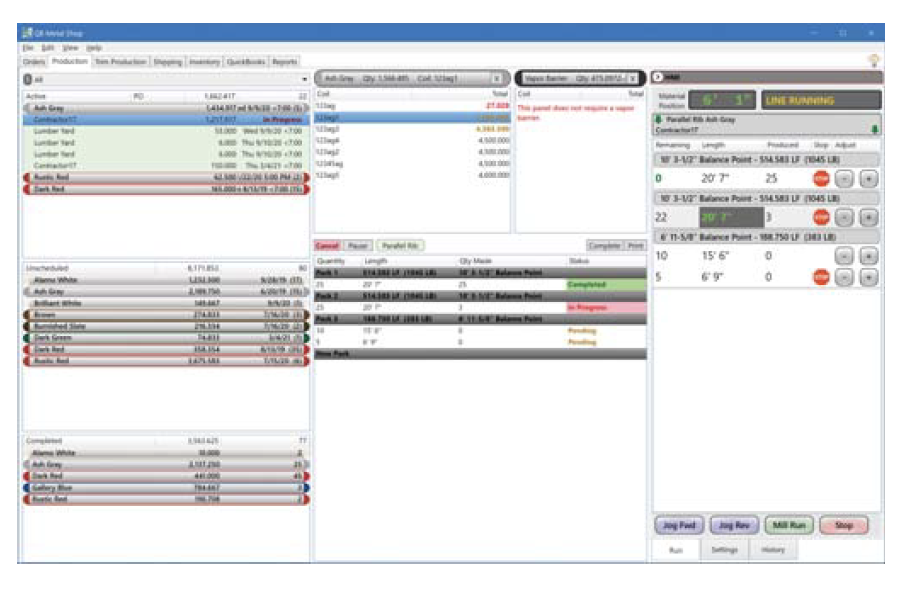 SmartBuild Systems is the complete design system for post-frame construction, and because it's web-based, the critical set of data driving design — framing standards, part numbers, pricing, and other variables — are easily changed in one location. This functionality ensures that users, salespeople, designers, and dealers are instantly updated with the latest information.

But it may not be right for everyone.

Since SmartBuild is used online, access was restricted from the Amish and those without internet access … until now!

Building Creator — a desktop solution requiring no internet — integrates with SmartBuild, allowing for offline building creation WITH post-frame core function automation. Users design structures on Building Creator, then the file is sent to SmartBuild for dataset generation. Please note: SketchUp is required to use Building Creator; a 30 day free trial of SketchUp is provided.

Information: https://smartbuildsystems.com/building-creator