A Better Wood Splitting Axe from ESE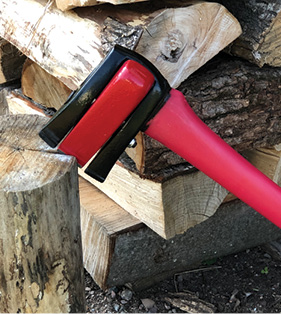 Cross an axe with a wedge and you get the Super Splitter wood splitting axe from ESE Machines Inc. This patented hand tool comes from the machinist who brought to the U.S. the first portable roll former and many revolutionary ancillary roll-forming tools.
Twenty years ago Ewald Stellrecht was helping to manufacture a wood-splitting axe when he was struck by the idea that he could make it better. He tinkered with the design and came up with the ESE Super Splitter Wood Splitting Axe, which earned an international patent. He shelved the idea for several years, his day-to-day job as owner of ESE Machines still all consuming.
If Covid-19 did anything, it helped to free-up Stellrecht's schedule so he could revisit his axe idea. The result is the unveiling and marketing for the Super Splitter.
Stellrecht uses Newton's Law as the basis for how his axe works: "A body at rest tends to stay at rest as long as no outside force acts on it. A body in motion will continue at a constant speed in a straight line as long as no outside force acts on it."
At rest, the axe and wedge separate, but in motion, they move together as one. Upon hitting the log, the wedge pivots, and allows the axe edge to split the wood apart using the outside force.
The Super Splitter axe head is cast in ductile iron and moves on a sturdy ½" stainless steel pivot pin. A 36" fiberglass core handle helps absorb shock for comfort and efficiency. It is available through ESE Machines Inc. For ordering information call 800-854-7361.
Work Glove Triple Threat
OSHA estimates that more than 70 percent of hand and arm injuries could be prevented with the proper protective equipment. While extra vigilance must be taken with any type of glove or clothing when working around equipment, when handling sharp-edged materials, the Brass Knuckle® SmartCut™ BKCR303 offers dexterity, grip and ANSI cut level A2 protection.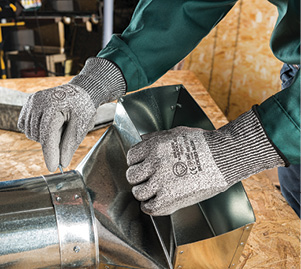 This triple threat is accomplished with a glass fiber and ultra-high-molecular-weight polyethylene shell — a composite yarn that has a strength-to-weight ratio 8 to 15 times greater than steel — and polyurethane coating. The thinner, 13 gauge material delivers deftness without trading away its inherent cut-resistance.
The non-sticky polyurethane coating on the palm and fingers features excellent grip, even against oils, fats, and greases, and can deliver enhanced puncture protection and abrasion resistance, all without adding bulk or reducing touch sensitivity.
www.brassknuckleprotection.com
Honda Rolls Out Carbon Monoxide Detection System on all its Generators
Honda Power Equipment is equipping all models in its portable generator lineup with CO-MINDER™, a new advanced carbon monoxide (CO) detection system designed to help protect users from injury or death from accidental carbon monoxide poisoning. Honda Power Equipment is first in the industry to commit to installing CO detection systems on its full line of generator models.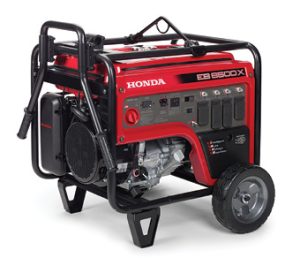 Honda Power Equipment started their roll out of the technology on existing generator models in 2020. By the end of this year, all Honda portable generator models will be included.
The Honda CO-Minder incorporates a fast-reacting sensor that continuously monitors for carbon monoxide in the air near the generator. If the sensor detects a CO level at or exceeding 800 parts per million (ppm) at a given time, or an average of 400 ppm for 10 minutes (per Portable Generators Manufacturers' Association G300-2018 standards), it triggers the generator to shut down automatically. A safety light on the main panel notifies the user that a buildup of carbon monoxide caused the generator to shut down.
Hy-Brid Lifts Adds Skyreach Equipment to Mid-Atlantic Network
Hy-Brid Lifts, a leader in low-level access equipment, welcomes Skyreach Equipment to its Mid-Atlantic network. As one of the area's premier aerial specialists, Skyreach will represent Hy-Brid Lifts' full line of lifts in a rental and sales capacity.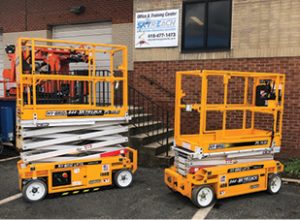 "Hy-Brid Lifts was one of the first manufacturers of lightweight, compact scissor lifts," said Kevin Gray, vice president of Skyreach Equipment. "A lot of our customers work in unique applications that require low point loads, and that's when we knew Hy-Brid Lifts would be the perfect addition. In fact, some of our contractors were asking for them by name."
Skyreach currently offers lifts from Hy-Brid Lifts' Pro Series, which was recently introduced to the market. Innovative features, such as a compact and lightweight footprint and a high lift capacity, make the Pro Series ideal for industries including general construction, electrical and other trades. Skyreach is also looking to add the new Zero-Turn Series and Push-Around Series lifts to their lineup.
Cordless L.E.D. Lighting
Increase visibility and productivity on job sites with Makita's expanding line of L.E.D. lighting products. From handy flashlights to tall tower work lights, Makita offers the durable task lighting needed for demanding conditions.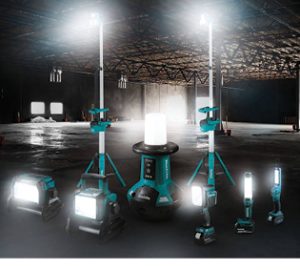 Each work light features dust and water-resistant construction for continued operation. They're part of the LXT® System of cordless tools powered by 18V lithium-ion slide-style batteries. Makita Lighting Products provide mobility within workspaces and bright, even illumination that help get the job done.