The 2022 Construction Rollforming Show
By Chris Cox, JD
"An investment in knowledge pays the best interest." — Benjamin Franklin
The 2022 Construction Rollforming Show provides a one-of-a-kind opportunity for business owners and employees to gain knowledge specifically designed for the rollforming industry. The following are the TOP 10 REASONS why business owners, managers, and key team members should attend the 2022 Construction Rollforming Show in New Orleans on October 26-27.
1-Gain knowledge of industry trends and forecasts. Trade show attendees learn from experts and peers about what is happening in their industry and what is expected to happen in the next 12-24 months.
2-Gain knowledge of legal, regulatory, and compliance changes. What new laws and regulations have been implemented over the past year? How will these changes affect your business and what steps can businesses take to succeed?
3-Gain knowledge of new products and services. Manufacturers like ASC Machine Tools are constantly developing new products and features that help their customers improve productivity and efficiency. Trade show attendees learn about the latest products and features that can give them a competitive advantage.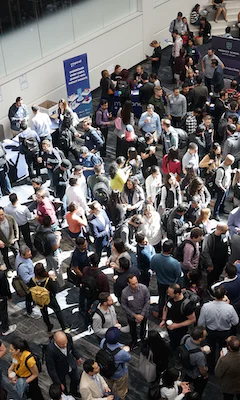 4-Gain knowledge of how other businesses operate. Trade show attendees meet their colleagues and discuss how their businesses operate and what challenges they are facing. By doing so, attendees learn how other businesses improved efficiency and solved problems. Attendees can use this information to improve their own efficiency and solve problems.
5-Gain knowledge about your competition. The rollforming industry in constantly changing. Attendees can learn what their competition is doing. Who bought new equipment? Who opened a new location? Who went out of business?
6-Build relationships with key vendors. Vendors can be valuable partners. Trade show attendees get face to face time with multiple key vendors and establish relationships that will help their business succeed.
7-Build relationships with colleagues in the industry. Getting to know colleagues in the rollforming industry is a great reason to attend a trade show. Attendees can meet their colleagues from other regions and have a resource to "bounce ideas off of" in the future. For example, if a business owner is considering investing in new equipment, that owner can contact another business owner she met at a trade show to get input on the pros and cons of specific types of equipment.
8-Build relationships with your team. Many businesses send their key employees to trade shows. This is a great opportunity for key team members to get involved in the industry, learn about new products and practices, and meet key vendors. It also provides an opportunity for key team members to feel like an important part of the business and to build relationships with other team members away from the office.
9-Changes in latitude, changes in attitude. Trade shows provide a great reason to get out of the office for a day or two (or more). When an owner or manager is in the office, the majority of his or her time is spent dealing with immediate issues and "putting out fires." Trade shows provide an opportunity to step away from those daily fires and think about big picture goals and strategic plans for the business.
10-Visit Historic New Orleans. New Orleans is a dynamic city with fantastic architecture, dining, music, and fun! Tripadvisor's Travelers' Choice named New Orleans as the #3 Top Destination for city lovers in 2022, and the Construction Rollforming Show is a great opportunity to explore this fantastic destination.
Trade shows provide a unique opportunity to gain targeted industry knowledge and to meet colleagues in the Rollforming industry. I look forward to seeing you in Booth 511 on October 26-27 at the Construction Rollforming Show in New Orleans! RF
Chris Cox is the Southeast Regional Sales Manager, ASC Machine Tools, Inc.