By Karen Knapstein
You may be familiar with Nathan Yoder and Your Quality Metal in Little Suamico, Wisconsin. We introduced Nathan in the Fall 2020 edition of Rollforming, and followed up with an update in the August/September 2021 edition ("From Milk to Metal"). To recap his story, Nathan established his business in July 2020 with Acu-Form panel and trim machines and a Hershey's Metal Meister Variobend. When he founded his metal shop, he had one customer: Kauffman Building Supply, a local lumberyard.
Over the last 18 months, his business has grown rapidly. "In our first year we ran about 800,000 feet," says Nathan. "The second year, I think, is going to be over that. [Nathan spoke with Rollforming Magazine in early January.] It's a lot of panels. The average panel might be 20' long (some shorter, some longer)."
The 'Problem'
While business has been great, Nathan still wanted to fine-tune his quality. More precisely, inspecting the stacks of panels, the slight variation in lengths became clear. "Our machine was run by a standard electric motor," Nathan says. "We were having some issues with length tolerance. Some pieces may have been 1/8" too long or too short. If you have stacks of 40 panels and the ends jog back and forth between short and long, it doesn't look like a quality product."
In an effort to tighten up the length variances, they tried slowing the machine down, and speeding it up, but that had little effect. "We were extremely happy with the panel that it was making. The panels look great and the overlap was working great. Except the cut to length was frustrating; we couldn't get it to stay right on target."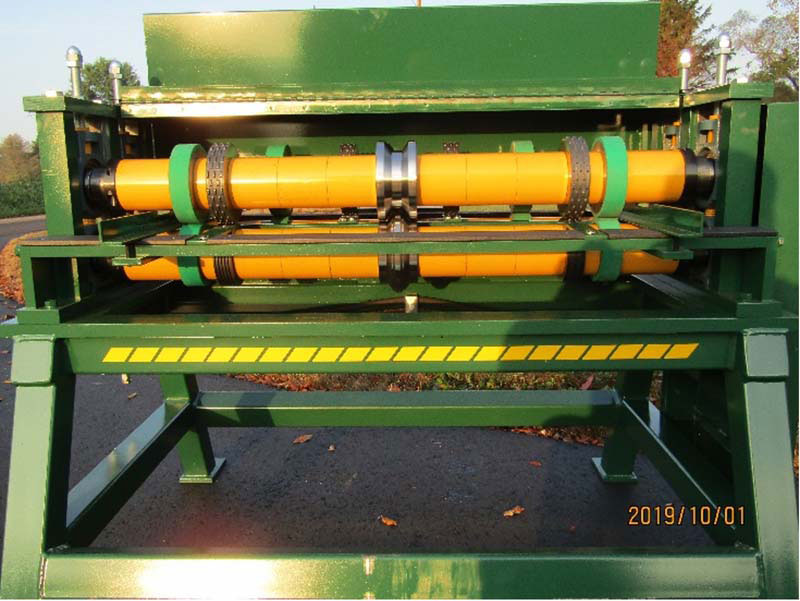 The length variance is an issue that doesn't affect all machines. "On the precut machines, they don't have the length issues," Nathan explains. "It's on the post-cut machines."
The Solution
Nathan turned to Wayne Troyer at Acu-Form, who supplied him with his roll forming machines, to see if Wayne had any ideas as to how he could get more consistent panel lengths. Wayne explains why it's harder to obtain precise cut lengths on the post-cut machines: "There are a lot more variables with post-cut. Your roll former doesn't run the same with all the variables, like different gauges. It pulls harder with an electric motor."
The folks at Acu-Form and controls manufacturer Beck Automation worked together to come up with a solution. Joe Beck of Beck Automation flew to the Acu-Form plant in Millersburg, Ohio, to help find the solution. "Part of our business is we put new controls on new equipment. The bigger part of it is taking off old controls and making equipment more efficient," he explains. "It's about getting more production out of the same machine that I have as opposed to replacing the equipment. For us, that's about 70% of our business."
One thing we need to understand, says Joe, is that "Accurate is in the eye of the beholder. There are a lot of guys out there who would be happy with a plus or minus 1/8". It's within the desired range." But if you want to home in on a narrower range, it can be done with patience and know-how.
Ultimately, the solution to the issue was installing a servo motor and two encoders (one encoder on the machine and one on the motor). A closed-loop control completes the system.
"A closed loop is always looking at feedback," Joe explains. "As an analogy: In a car with cruise control, you set it at 60 and you don't have to touch it anymore. It stays there. It's looking at speed versus pushing on the gas pedal. Closed loop in the roll-forming world is doing the same thing: It's looking at the position of the material the entire time. To put out a profile, it ramps up to a certain speed and decelerates back down. It decelerates down and hits zero on target [for the cut]. It's always looking at that. If it's running ahead or behwind, it speeds up or slows down to get it as close as possible.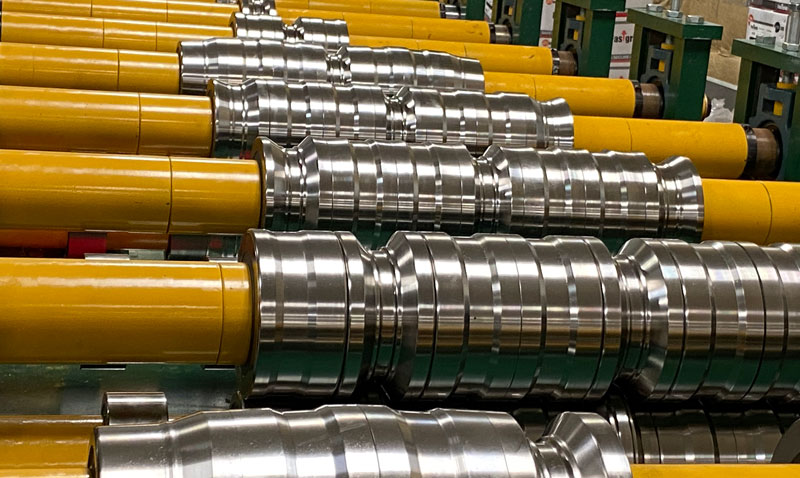 "When we hit the run button and we start and we're making a 10' panel," he continues, "we know where we're headed. We look at where we are and where we're headed. We do that with both position and velocity. The way the controller works is we close the loop on both the position and the velocity. The velocity is how fast the material is moving, and the position is where the material is at in relation to the cutoff," Joe explains.
When it comes to keeping lengths consistent, the closed-loop system is an upgrade over the open-loop system. "We've started with a new system we're putting in," says Wayne. "With a closed-loop system, we've been able to keep our panel lengths within a consistency of 1/32" or maybe 1/16". Most every sheet is exact – right on; I'd say 80% of the time every sheet is right on."
On the Horizon
Through 2021, Nathan says he was constantly picking up more customers, so he is trying to find ways to be more efficient and fine-tuning his product offerings to serve those customers.
Recently, he added a NewTech portable standing-seam roll former and trailer to his equipment lineup. He bought the machine and the heavier-duty trailer (built specifically for standing-seam machines) through Masterpiece Metal. "That came four or five weeks ago," he says. "And tomorrow we're going on our fourth job. We're doing fairly well with that for this time of the year. New Heights Roofing is a large roofing company in Little Suamico. They do quite a bit of standing seam so they requested we get something."
His portable roll former will be put to work rolling multiple profiles. "We can roll 15 different profiles on this same machine. It takes two people about 15 minutes to swap the dies out. It uses the same computer, the same controls, the same drive – just different profiles of dies. We have a snap lock standing seam, and for commercial jobs we want a mechanical seam. If we have requests for different profiles, we'll get the dies [from Masterpiece Metal]."
The Legacy Panel machine (alluded to in the August/September 2021 edition) is still forthcoming. "We're bringing in a Legacy panel from Acu-Form. It's a standing seam lookalike, but the ribs are 12" apart instead of 9" and are more pyramid-looking. It's for a more residential look," Nathan explains. "It will be 28 and 29 ga. and we'll be able to sell it at the same price as the ag panel." Nathan says this profile isn't available in Wisconsin yet, but it's popular in Michigan and Ohio for residences. "It's very popular in Pennsylvania and should make a hit here in Wisconsin, as well," he says.
The equipment lineup at Your Quality Metal isn't complete yet. Also on the way are an SWI Trim Slitline with Recoiler to be able to slit their own standing seam coils, and an F&J machine that does transition trim. "The F trim is a rather hard piece to bend in the brake with all the sharp bends so there's quite a few people getting machines to bend it," explains Wayne. "Instead of tying up the brake, they can roll form the material for more efficiency and use their brake on less complex pieces."
The final piece that's on its way to the shop is a perforating machine to perforate the ag panels. "We'll be able to customize and make soffit panels for our customers."
Conclusion
The description of the closed loop system is oversimplified here. It's not advisable to start tinkering with your machine unless you know the ins and outs of all the mechanicals and electricals. "When you put on a closed loop system, you have to do the mechanicals along with the electricals," Joe cautions. "You can't just install a servo motor on a roll former and expect it to work. And you really need to know what you're doing when you're setting the parameters.
"You can't just stick it on there and try it — you'll run into all kinds of trouble and frustration," Joe explains. "What we do is we make machines more efficient, faster throughput, and more accurate.
"A lot of things look easy when someone comes in and knows what they're doing," he continues. "If someone doesn't know, it'll drive them crazy." RF
If you would like to share your business story with the readers of Rollforming Magazine, contact Karen Knapstein at 715-513-6767, [email protected], or mail a letter to Rollforming Magazine, ATTN: Karen Knapstein, PO Box 255, Iola, WI 54945. We'd love to hear your story.