By Sharon Thatcher
Whether you are adding the first seamless gutter machine to your business or replacing one that has outlived its usefulness, there are several quality manufacturers to choose from. Rollforming Magazine rounded up our favorites for you to consider based on their reputation for quality and service. All of them are available nationwide and worldwide, but with strong presence here in the U.S.  
New Tech Machinery
New Tech offers its MACH II and BG7 (box gutter) machines. In the MACH II model, you can opt for either the 5", 6", 5"/6" Combo, or the 7"/8" Combo. The BG7 Box Gutter Machine produces 7" box gutter and can run up to 22 ga. steel or 0.050" aluminum and is the only 7" box gutter machine that comes standard with full hydraulics including a hydraulic shear."
All New Tech machines feature a patented polyurethane drive roller system. New Tech was the first portable roll-forming company to commercially produce and market the system. "What that did is revolutionize the whole roll-forming industry, because prior to that everything was driven with steel," said Tom Laird, National Sales Manager.
Polyurethane was more flexible but still durable.
"That really changed the game," Laird added. "A lot of roll formers today utilize that type of technology. Now there's more types of material you can run through without spending a lot of time on the machine dialing in adjustments."
If you need customization, there are options and accessories to choose from. Some options are customary at Formwright, the leading national distributor for New Tech gutter machines in the Midwest. Based in Indiana, Formwright caters to a clientele that frequently opts for machines run either by gas with reverse clutch, or the more popular 12-volt battery. The battery can be charged and maintained by solar power. The battery/solar option makes sense in the trailers Formwright builds specifically for off-grid use of the New Techs. According to Orv Schlabach in Sales, "There are other people in the market that [offer a solar option] but not to the same extent we have." Formwright trailers also come with manual jib crane and ample built-in racking designed for New Tech users.
About the Company
New Tech Machinery was founded in 1991 by Larry Coben in Denver, Colorado. The first machine was the SSP for forming roof panels. The MACH II Seamless Gutter Machine was introduced in 1994.
Today, New Tech is based in Aurora, Colorado. In 2004, a second manufacturing location was opened in Hermosillo, Mexico.
In 2015, New Tech Machinery was acquired by Mazzella Companies.
KWM Gutterman Inc.
KWM offers no fewer than 14 versions of its seamless gutter machines, all branded under the IronMan label. In addition are custom products built to order, which include box and straight face options.
There are three basic types of gutter machines offered: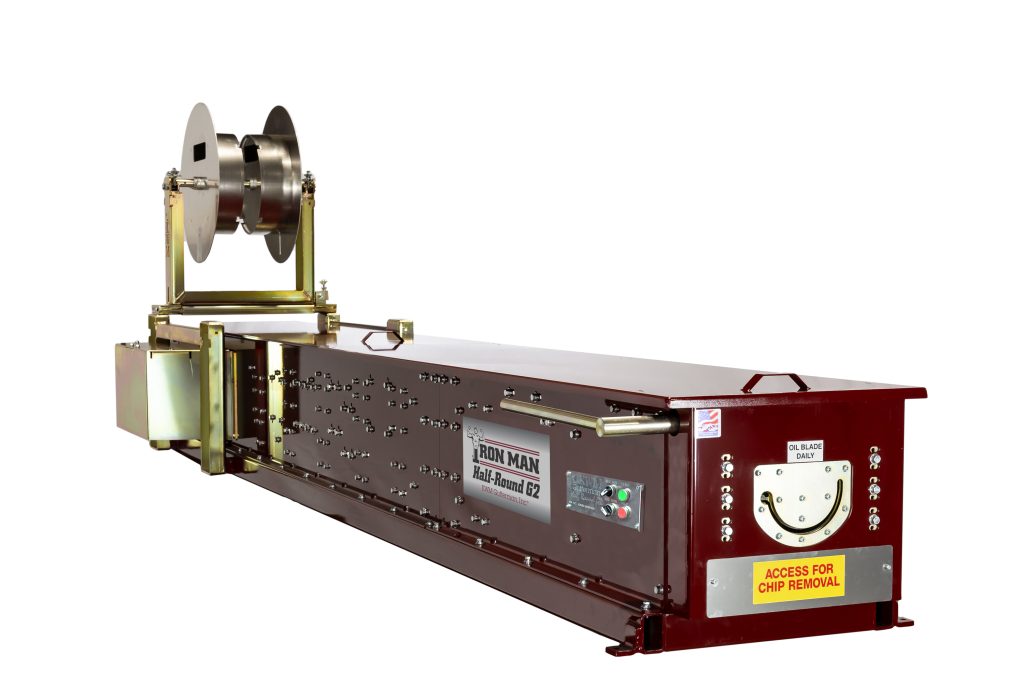 • K-style: 5", 6", and 5"/6" Combo. Each are available in two sizes: the Standard size and the Junior size. Keith Minor, Vice President, explains that the Juniors "are about 2-feet shorter than the Standard." That 2-feet can make a difference if you want a smaller unit, that fits easily into a Sprinter van for quick jobs. "We wanted to have a machine that's available for anybody," Minor said. "Not everybody runs gutter full time; maybe it's a part-time job or it may not be the main focus of their business." There is a tradeoff, however, because the Junior is only rated to run aluminum and copper, not steel products like its full-size counterpart.
• Fascia gutter: Used on homes where fascia boards have not been installed over the rafter tails, fascia gutters are seen more often in Western states, though experiencing growth in other regions. The smooth face of the fascia gutter acts as the function of the fascia boards, hiding the edge of the rafter tails from view.
• Half-round: At one time the KWM half-round machine was limited to running aluminum and copper, but in a nod to popularity, a redesign provided the ability to also run steel.
Made in the USA
All KWM machines are built in the U.S. at the company's Illinois factory. "We make about 90% of all our parts as well, the exceptions being smaller parts like chains, bearings, sprockets," Minor emphasized. That makes quality control easier. "Our customer support is far beyond most people's expectations." He believes it separates them from competitors. "If you can call here, you will get someone on the phone immediately," Minor promised. "You're never going to be left hanging. Obviously, with machinery, something always can happen. You never like to talk about that, but that's why we're here for the customer no matter what. They're always going to get someone on the phone, or by email. Even after hours, they'll never be left hanging. … We built our names and reputation on customer support," he continued, adding that there are IronMan machines dating back to the 1990s still on the job.
There are distributors for the IronMan located throughout the U.S. plus France, Spain and South Africa. You can even now order a standard machine plus parts and accessories from their ecommerce website or direct by phone.
About the Company
Karl W. Minor Sr., founder of KWM Gutterman Inc., was a self-employed roofing, siding and gutter contractor when he purchased his first gutter forming machine in the 1960s. After becoming skilled at adjusting and repairing the machines, he traveled the country serving all types of roll-forming equipment. The knowledge he learned was subsequently molded into creating a line of gutter machines. He officially established his manufacturing company in 1983.
Karl passed away in 2012, but the company remains a family business with sons Keith Sr., and Ken Sr., overseeing daily operations. KWM's entire product line is manufactured at its 100,000 square foot state-of-the-art facility 45 miles southwest of Chicago.
Eastside Machine Company
Gutter machines are in the DNA of Eastside Machine Company. Originally devoted to K-Style portables at their founding in 1960, today the focus is gutter machines designed for buildings without fascia. These portable fascia gutter machines include the EM 4½", EM 5½", and the EM 7½". Both the 4½" and 5½" are commonly used with 2" x 4" trusses while the 7½" is commonly used with 2" x 6" trusses.
There are many benefits of choosing a fascia gutter profile over a traditional gutter. It has a higher capacity than typical 5" K-style gutters, holding more water due to its boxy design. Fascia gutters have clean lines and a contemporary style that looks great and adds curb appeal, and they are more secure, making them ideal for those who live in areas with a lot of thunderstorms.
Eastside Machine Co.'s fascia gutter machines are driven by a powerful 1.5 HP, 110 volt single phase motor and are constructed of heavy gauge steel. In addition, the machines are chain driven rather than pull rollers, meaning that the coil is guided through instead of forced through. This, along with the fact that Eastside machines are slightly longer, helps the steel forming process go more smoothly.
The machines are completely enclosed to protect the operator and keep the roll-former free and clear of debris, and they have removable side panels for serviceability. The machines also feature industrial nitrocarburized (QPQ) steel rollers for improved wear, lubricity, strength, and corrosion resistance.
Moreover, all Eastside Machine Co. machines come with a two-year limited warranty, as well as operational training and technical support from their team of experts.
About the Company
Eastside Machine Co., headquartered in Fargo, North Dakota, is one of the pioneering portable gutter machine manufacturers in the U.S. Machines have been rolling off the line since 1960. The company's first roll-forming machine was a K-style Ogee gutter machine that is still in operation today.
The company went on to develop some of the first steel and aluminum siding machines and today also provides roofing coil and accessories through an affiliation with EMCO Building Products.
Englert, Inc.
The name Englert is a long-recognized leader in the rainwater management with a myriad of products for seamless gutter. It makes five machines, all portable. They include three K-styles: Englert Series 555 for 5" gutter, Series 660 6" for 6" gutter, and the Englert Series 650 5"/6" K-style combo gutter machine; as well as the Englert Series 770 7" box gutter machine; and the new Englert Series 56X gutter machine. The 56X is a large capacity gutter that looks like a 5" gutter but performs like a 6.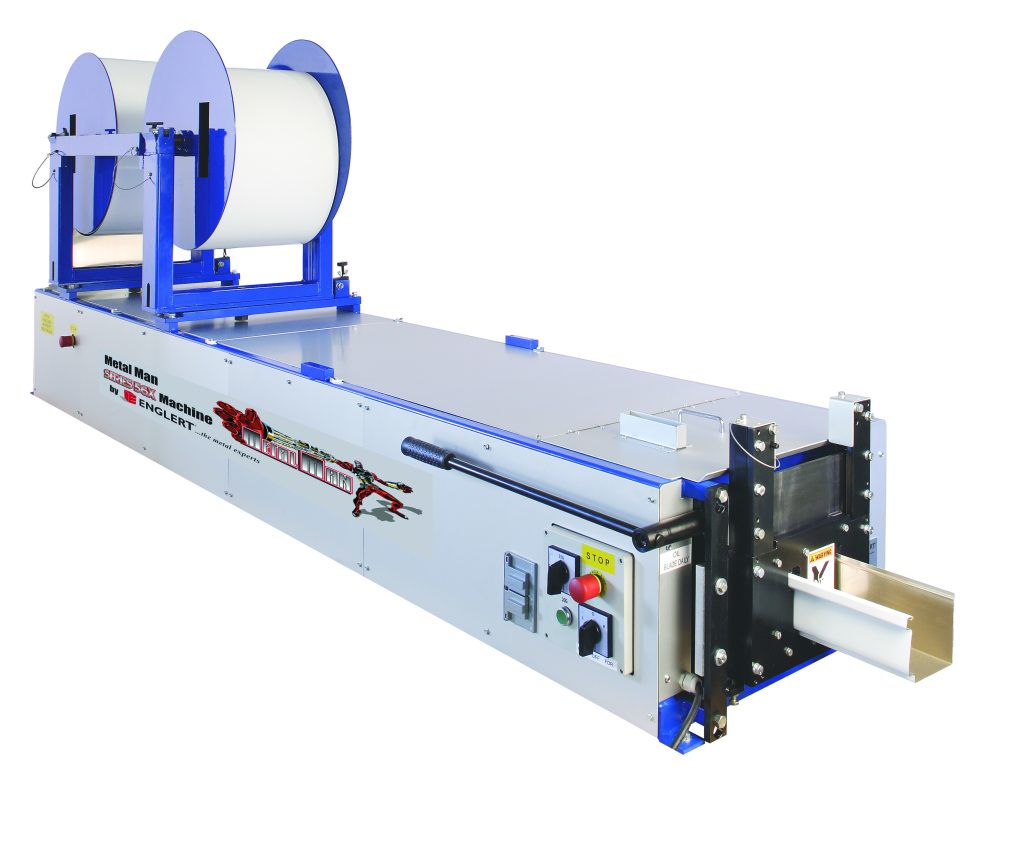 Englert prides itself on its premium-quality painted gutter products. "Located in Perth Amboy, New Jersey, we operate our own paint line and in-house manufacturing facility where we paint and manufacture all our gutter coil, downspout, and accessories giving our customers the quality they need to protect their brand," explained Steve Bradley, National Gutter Sales Manager, who also emphasized the company's machine repair service. "With a team of trained machine technicians at the ready, we can help you with any questions or concerns you may have," he said.
All the machines feature a separate polyurethane drive roller system with free floating forming rollers, and double rack and pinion shears for easy cutting.
True to its history, Englert continues to be a full-service center for gutter materials including gutter coil and accessories.
About the Company
Englert, Inc., was started in 1966 by Herb Englert when he opened his own gutter business. He pioneered the concept of offering independent gutter contractors a total system with on-site custom fitted, seamless gutters; aluminum gutter materials, equipment, and accessories; and support materials, technical service, and machine maintenance.
For the High-Volume, Steel Building Market
The Bradbury Group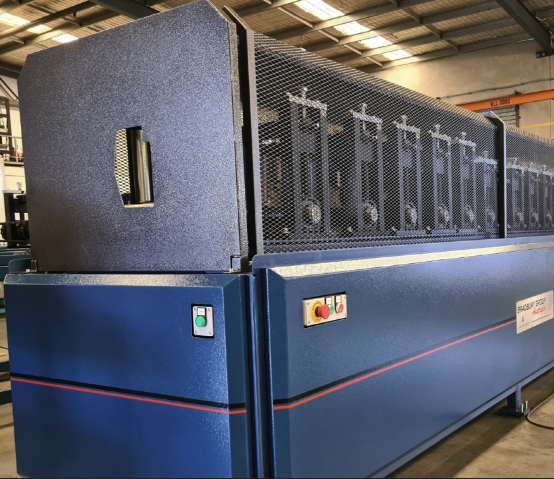 In a different category altogether is The Bradbury Group, which targets its production line of gutter machines to high-volume suppliers of rainwater parts for the non-residential steel building market. These are factory-based systems.
Offered is a line of roll forming machines that can help take some of the challenges out of manufacturing deep-profiled metal building gutters and square downspouts. These profiles are often produced on folders and can be difficult to handle because of the long lengths required. Square downspouts typically get seamed or riveted during a secondary process because it is not a capability of the folder.
The Bradbury Group manufactures blank-fed and coil-fed gutter and downspout roll formers that can reduce labor while producing a superior quality product at a much more productive rate than traditional trim shop manufacturing methods. Downspout roll formers have an integrated seaming fixture to produce a finished product in a matter of seconds.
"Dual level machines maximize real estate by allowing our customers to produce a second profile while utilizing the same footprint as a single level machine," the company touts, adding: "They also offer the ability to utilize the same coil feed for both profiles, saving on changeover time. The dual level is ideal for your quad and fascia or roll top and valley set up."
About the Company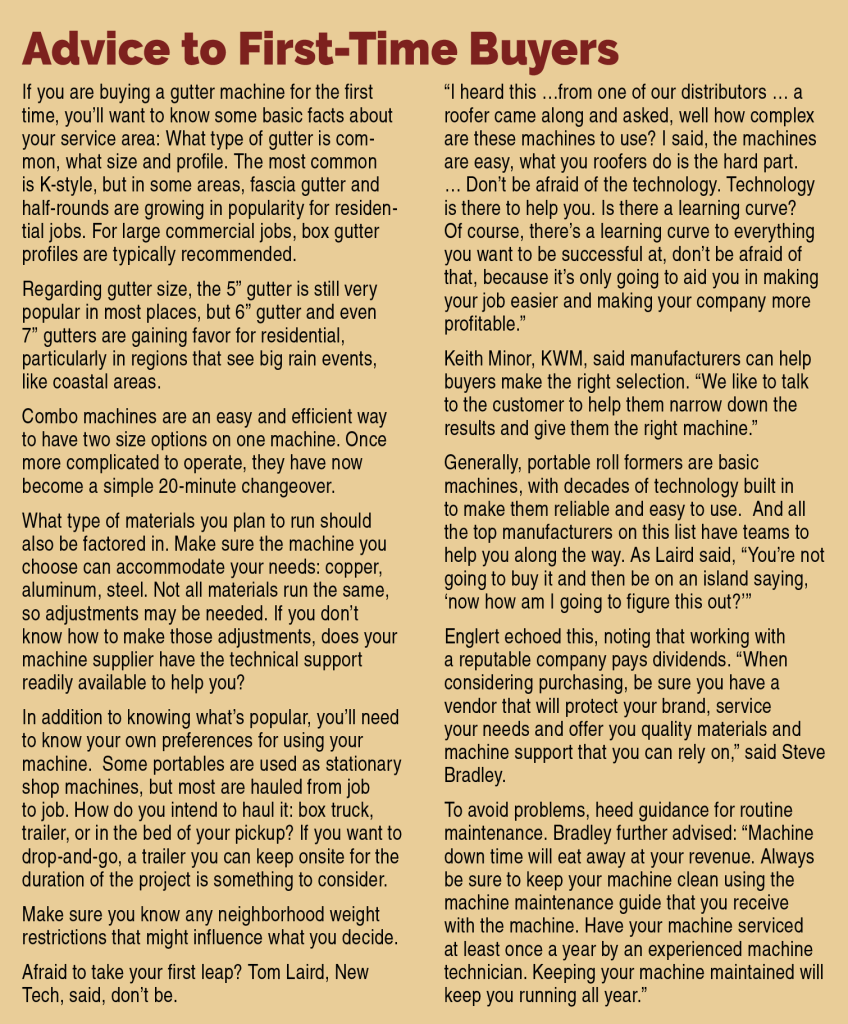 Through acquisitions and partnerships, The Bradbury Group now encompasses 13 separate divisions located throughout the world. It is headquartered in the heartland of Kansas.
The business was founded in 1959 by Floyd Bradbury and Jack Lacy as Roll Formed Products, Inc. They manufactured roll formed products and roller die tooling for customers involved in production roll forming. In 1964 Floyd renamed the company The Bradbury Co., Inc. and moved to an egg room of an old creamery building in Moundridge, Kansas. It was here that Floyd Bradbury designed the company's first roll former to form awnings for a Hutchinson, Kansas, company.
In 1972, the company moved to a new and larger facility at Moundridge, which continues to expand to this day. The business is still family owned and operated. RF