By Anthony Brass
When Larry Schlabach started the company he never imagined Masterpiece Metal Roofing would grow to include two extra divisions. Today, the LaGrange County, Indiana, standing-seam metal roofing experts are just that: a multi-division business, industry leader and more.
Schlabach is the sole owner and presides over the management of the main business. He is also in partnership with his brother Dennis for Elite Metal Supply. Larry also oversees Formwright, the company's machine sales division, proudly partnering with his cousin, Orv Schlabach. Both areas are under the Masterpiece umbrella. But success wasn't present early on in 2009 when they were catering to the RV industry.
There was a lot of RV manufacturing in Indiana back then, but that changed with the recession. That's when Larry's grandfather had an idea.
"Grandpa came to me and said, 'You need to buy a standing-seam roll former.'"
Larry looked into the purchase and bought one in 2010. "We just roll formed here and there for three years," Schlabach says.
The group lost money the first few years; he was thinking of going in another direction. Then, Larry attended his first home and garden show in 2013. This is where Schlabach gained many business leads necessary for growth. He adds this is when business really took off. Soon, Masterpiece had enough capital to make additional machine purchases and add workers to the family company.
"In 2015, we bought our first New Tech machine," Larry recalls. "We started the second crew toward the end of that year. We've maintained two crews. That's our goal. We have two crews primarily installing standing seam every day of the week, as much as weather allows us."
They do have a third crew of two workers for service and smaller jobs. Schlabach adds they are up to 10 installers and would like to see 12, but, like many others, are struggling with the current employment challenges.
Schlabach reiterates the economy coming back at that time and the increase in popularity of metal roofing turned things around. He adds they were really the only ones with the expertise for standing seam in the LaGrange and Elkhart County area. The market became healthy for Masterpiece to accelerate its growth.
"We were the first company in the area that really pushed standing seam," Schlabach said. "We're still two crews, 10 people out there every day, strictly doing standing seam." This remains true today, as the company only works with hidden fasteners and doesn't work with regular shingles or other roofing types.
Even with their substantial growth they keep the number of workers and crews at modest levels. Larry says they could do three or four crews but opt to remain relatively local.
"I feel that we don't want to travel much farther."
The company is popular beyond their location's reach. They regularly receive calls for their services well outside of their range, but are happy to help those distant clients find the right help closer to their jobsite.
Schlabach only refers these clients to people and companies they know well in those areas. "We have a lot of people we know outside of our range: to center-Michigan, southern Indiana, more east." He adds they're in a radius now where they can reach these clients outside their area. For example, one recent client recommended Larry's company to a mid-Michigan contractor. The distance was a challenge so Masterpiece referred someone in the lower peninsula to that contractor.
Lake-Effect
Masterpiece has new-residential construction clients in topographical areas where many don't get to work. They work many homeowners' roofs in New Buffalo, Michigan, and into Union Pier, along the shores of Lake Michigan.
"It's a small niche there," Schlabach says. "Most of the time we have something going up in that area, which is just on that service line we drive to."
The owners of these new multimillion-dollar properties believe in custom work. Larry's company is able to accommodate these different tastes, including unorthodox shapes for the roof and accents.
"Our greatest niche as Masterpiece Metal Roofing is our 'barrel.' We can do round roofing. We've done quite a number of those ­types of projects ­— entrances and accents that have curved panels."
The process requires a special "curver" roll former to produce the client's desired, unique round panels. They first roll-form the panel then make the cylindrical shape. This, at first, took time and personnel coordination.
"We learned how to curve trims. We have a Schlebach curver — we really love it. We have a guy who's trained; one of the guys is self-taught. If one guy moves up or moves to a different position, we train the next guy. We've done that twice now."
Schlabach adds the procedure requires extra planning and thought.
"Learning how to work the curver is the greatest thing, but also learning how to think outside of the box: What can I do to curve this?"
He says the company does these unique projects where only part of the trim is curved, then the panel is reversed, and the rest of the panel is flat, that looks the same but is one continuous run.
"A lot of the expensive houses we've gotten into have been requests. These have to be seen and specified from a designer's standpoint. People want a look that's a little different from everybody else."
Schlabach says many of the contractors they work with are getting these requests and come to Masterpiece for their help.
These shoreline homes can take a pounding from the weather along the lake, but Larry says the components, materials and most of the process is no different from the rest they perform.
"The trim system we have, everything is 26 gauge or 24 gauge on the project."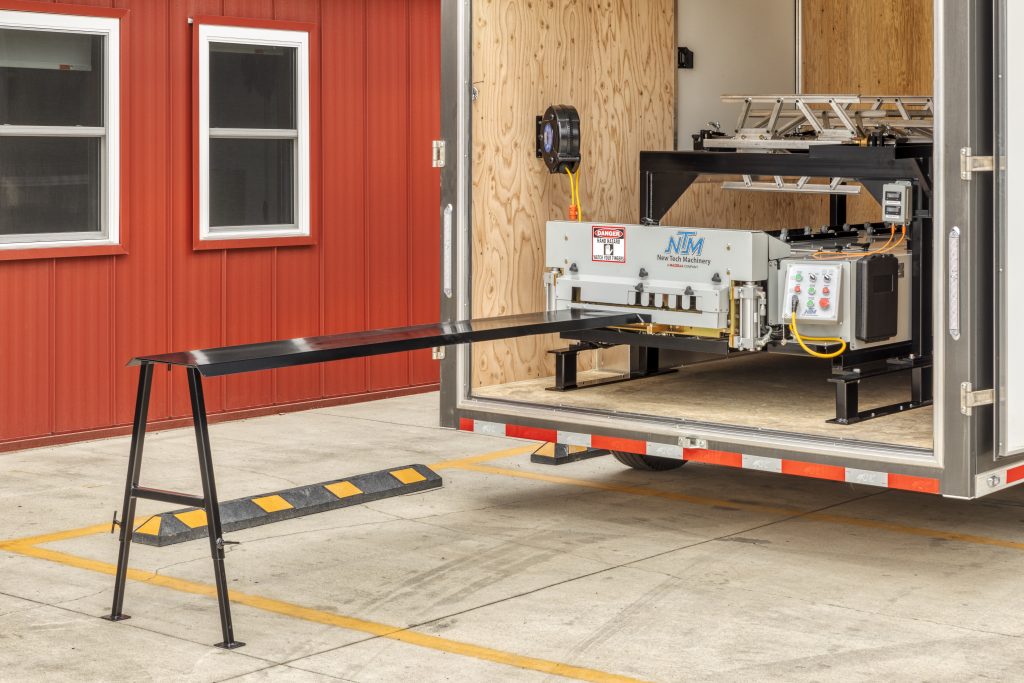 Right on Schedule
The company is versatile and works in many types of scenarios. But many companies face the challenges of scheduling and sticking to their time frames. The Schlabachs believe staying punctual keeps up their reputation.
"The biggest thing from a challenging standpoint in the roofing business is the scheduling. Contractors in general are 'knocked' a little more for not being on-schedule. That's something we really strive to do — being on-schedule." Larry says it's important to be ahead of schedule, not just right on time or behind. He adds this was learned, sometimes the hard way. "I feel we have overcome that challenge and we're doing what we say, when we say we're going to do it."
This business trait is one of the reasons why Masterpiece has expanded to include two extra specialty divisions. Elite Metal Supply builds their clients' standing seam trims for the local market and other states, including wholesale. Larry says they also tweak these from other products they develop and also focus on other components.
"[Elite] fits in hand-in-glove with what Masterpiece does. We understand the hidden fastener market. My brother [Dennis] was out on the jobsite for five years so he understands what it takes."
Formwright is their machine sales division. In 2019, they started distributing New Tech machines.
"I had numerous people come to me and ask what I think about New Tech. I helped them through that. I was more than happy to do that." That's when Larry and the crew became distributors.
"That really has grown into an unbelievable [part of the] business I never expected," Schlabach says. In 2021, Masterpiece was the No. 1 distributor for New Tech. Their clientèle also includes many in the Anabaptist group, and continues to be a strong point. "We sell a lot of machines [to them]." Larry adds they have aftermarket products and accessories that they put on their New Tech machines to help improve from an install standpoint.
"We've put enclosed trailer packages together that's based off of the Masterpiece Metal Roofing experiences." He adds they do a lot of total outfits and that the company coordinates information and communications among their three divisions.
"If somebody has a question and wants to come out, the Formwright guy can say, 'Sure, I'll take you to an install site from Masterpiece,'" Schlabach describes. He adds, if the client asks where the products come from they let them know they can supply them from one of their sister companies. Their divisions are different but work in unison. "They uniquely fit together. They're really interlinked as far as one business building off the other."
Trending Now
The company installs 99 percent of what they roll form, which includes Snaplok panels. They also offer coil with Sherwin-Williams (formerly Valspar) coatings in smooth and crinkle finish.
Schlabach also says he sees more porch accent work for clients with metal and shingles. They primarily work residential and do some churches.
In addition to the manufacturing and installation, they find the time to host an educational event each year. Now in its third year, the event focuses on standing seam installation and customer service. "It's been really accepted in the market and people like it — it's been really fun. When I first started up, there was nobody around to bounce ideas off of." Larry says early on in their business they'd receive inquiries about how to do things, so they're equipped to run this event. "We're glad to share our experience. There's more than one way to do something right, but if we can help somebody with our experience, we're very happy to do so."
It's all about passing on experience and presenting ideas to others to better their position. After all, this is what got Masterpiece up and running — Larry's grandpa made sure of that. RF