Metal Exteriors finds success in midwest through customization
By Sharon Thatcher
If you are working in the residential, agricultural or commercial roll-forming market you may find you can fill a niche for custom panels and custom trim. It isn't for everyone (your customer base and personal business goals will help to dictate), but for Metal Exteriors based in Shiloh, Ohio, offering custom products has helped keep them on the competitive edge within their service areas of Ohio, Michigan, and Indiana.
For brothers Carl and Jason Zimmerman, custom panels and trim has been an important a part of growing their 7-year old roll-forming business. "The industry isn't just building the standardized pole barns any more; now there's post-frame man caves and houses with reverse gables, and all kinds of fancy returns and accessories. Every building is custom any more; it's typically not just a square box," Jason said.
They use Sherwin Williams paint finishes, and QB Metal Shop as their software of choice for creating custom trims and integrating their production, inventory, and shipping processes.
Custom Panels
One of the customized panels Metal Exteriors has developed includes a board and batten wall panel. "It's like the old wooden board and batten, but we designed a metal version," Carl said. It features a 10" reveal and 3/4" batten and is offered in 16 smooth and 12 textured colors, with custom sizing from 3- to 20-foot lengths.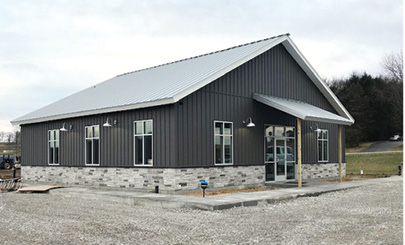 Another Metal Exteriors product creation is the Elite Rib roofing panel that offers the look of a concealed fastener standing seam roof but at a lower cost utilizing an exposed fastener system. It has a 12-inch on center rib, paired with Sherwin William's crinkle paint, and 50-year warranted screws.
A priority for Metal Exteriors is designing new products utilizing existing inventory. "We try to make as many different products out of existing inventory. The board and batten, for instance, comes out of the same coil as we use for our regular panels, so there's no waste," Carl said.
Custom Trim
In addition to new custom-designed panels, Metal Exteriors has become a go-to business for custom trim. Quite often there are header wraps or post wraps for residential post-frame, special trims for parapet walls in commercial projects, or nonstandard trim for renovation projects. "Sometimes when re-siding old barns, there's a lot of corners where you can't use standard trim. Then there's other things like a frieze board — maybe a white trim underneath the soffit overhangs — or window trim; we can design a window trim with the j-channel built right into it so it fits the metal siding," Jason said.
Software of Choice
Custom trim isn't something all roll formers are willing to do because it can involve a lot of time to produce a small amount of product. Metal Exteriors has found a good market for it and the software they need to help streamline the process. They use QB Metal Shop.
QB Metal Shop is a software developed by NC Automation. NC Automation also sells a post-frame building program called Building Creator, and is the brainchild of Neil Burkholder. Like its competitor – Paradigm from Paragon Computing Solutions (featured in the Winter 2019 issue of Rollforming Magazine) – QB Metal Shop integrates the entire production, inventory, and shipping process seamlessly, and has a robust trim design feature.
While integration software is useful for a myriad of reasons, Metal Exteriors has found the trim design feature an important plus for their custom trim business. They originally used a stand-alone software, Sketch-Up, for their custom trim. It allowed them to draw the configuration, but then there was a significant time lapse from the time it was scanned into their system, emailed to the contractor for approval, emailed back, and assuming no changes, finally sent to the machine for production.
With QB Metal Shop, Jason Zimmerman explained, "we can draw it up [while the customer is present] and send it right out to the trim shop."
Pricing is also handled within the software. Once using a calculator to determine how much coil was needed from a flat sheet for a given custom trim project, then calculating a price, Metal Exteriors relies on the program to do it all automatically in seconds. "As soon as I hit the ok button, there's a price and a profile in the actual materials list showing the profile, the price, and the color. It's been a tremendous time saver," Jason said.
Metal Exteriors knows a lot about QB Metal Shop because they helped to create it by being its first customer and providing feedback for improvements. Owner and developer Neil Burkholder recalled, "Metal Exteriors was our first customer. They told me they just needed something basic to send [orders] to the machine."
The first version was a simplified system that went from Quickbooks directly to the machine. Metal Exteriors was happy with the results, but never stopped inquiring about additional features. "They told me it would be nice to prioritize their orders, to keep track of the production, to keep track of the coils," Burkholder said. It kept its Quickbooks connection, but with each new request, he made the system more robust to handle every request. He added the trim design feature last year, and this year is introducing roll formers the ability to have their customers send orders online.
The system today is the result of more than three years of testing and refinement and Metal Exteriors is very happy with the results. As Jason said, "It's been a very useful program and it all was because we said, hey, can we do this with it or can we do that with it, and NC Automation made it happen."
Carl promised: "Metal Exteriors' goals are to continually add value to our industry through innovation, improved quality standards, and superior service."
Finding the right software match for their business is part of their strategy to do just that. RF
For more information about Metal Exteriors visit www.metalexteriorsroofing.com.
Originally published as "Creating a Competitive Edge" Spring 2020 issue Rollforming Magazine.