By Sharon Thatcher
BuildSteel.org, a Steel Framing Industry Association (SFIA) website, reports that cold-formed metal is being increasingly selected as a rebuilding alternative following natural disasters. A case in point can be found in Panama City, Florida, which is still rebuilding from the destruction of Hurricane Michael in 2018. City leaders there decided to rebuild using panelized cold-formed metal framed homes, swayed by the speed of construction—30-45 days—and its strength to withstand 167 mile-per-hour winds.
LGS/CFS is also finding converts in Napa Valley, California, which saw major destruction in the 2017 Tubbs Fire.
Leading the trend in the U.S., however, is Hawaii. According to SFIA's Larry Williams, 70% of all new construction in the state are now using light-gauge steel.
The popularity of prefab and modular LGS/CFS is based on many factors; for consumers the noncombustible and recyclable qualities are appealing. Engineers like it because much of the building is assembled in a highly consistent and controlled environment. For contractors it can mean massive reductions in on-site building time, with the domino effect of decreasing labor expense.
"You can typically set panels with a crew of five, whereas you'll see as many as 20 guys in a stick-framing crew," Pat Flood of Knudson Manufacturing noted.
And finding good crew is getting more difficult.
"The modern labor force is not well suited to the historical labor requirements of past construction practices," he said. "The labor community has shrunk dramatically, and available labor in the field is a massive problem … More and more people are saying 'I'm going to do more [of the work] in a factory somewhere under terms that are more favorable for me in terms of running a business.
"There's a lot of terms being thrown around these days in reference to off-site construction or prefab," Flood added, "but one thing I deeply believe in is that the trend towards prefabricated products will continue. As the exposure to BIM, solid modeling, and technology becomes more ubiquitous and more available to smaller contractors, and as the entire building community is increasingly rehearsed in the use of these technologies, I really believe we're heading for a world that is going to be prefabricated. There is going to be very little on-site taking place."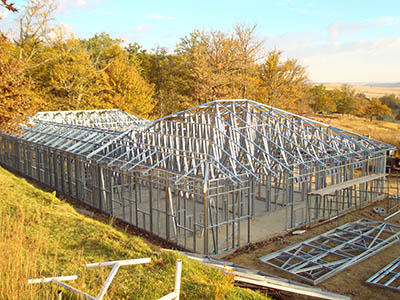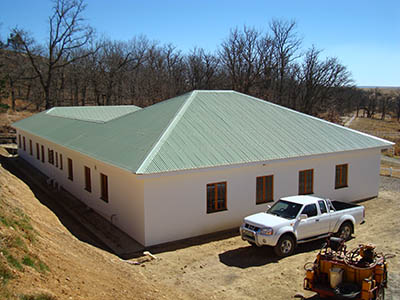 Advice to LGS/CFS Newcomers
It is a challenging business even if you are knowledgeable. Flood tries to educate newcomers before they invest $50,000 to $225,000 on machinery.
"Be very clear about what your costs look like before you take a dive," he added. "Be very clear for what you can sell those products for. If you don't understand your cost and your pricing structure it can be problematic especially in the context with what we're facing now with the insane steel pricing fluctuations." It is a challenging business even if you are knowledgeable.
Flood tries to educate newcomers before they plunk down $50,000 to $225,000 just on machinery.
"One of the things we try to coach people on, if somebody decides they want to get into this business, is making sure they understand the differences between construction and manufacturing. A lot of guys that get into the smaller-scale roll formers come from the construction world rather than the manufacturing world…It is a much different world to go from buying things that get delivered to a job site that you then put together, versus taking on the burden of your own manufacturing, your own stock supply, your own quality control, your own deliveries," he said.
Advice on Coil Purchasing
Regarding steel purchasing, Flood says Knudson advocates clients align themselves with reputable steel suppliers. "That is the critical component of making money in this business—knowing how to buy steel," he said.
Knowing steel is tricky business. A supplier routinely working with coil for LGS/CFS customers are the best prepared to steer users in the right direction; they will have the answers even before you ask. Not all steel suppliers have that experience.
"If you just go to someone in the coil business, maybe they're supplying painted aluminum for gutter companies, painted steel for roofing contractors, and bare metal to the stamping industry … those guys may or may not know the intricacies involved in LGS framing."
On a positive note, there is relatively little concern over aesthetics when it comes to LGS/CFS: studs, track and framing are typically hidden. The galvanization process, however, does matter. A poor galvanizing process can lead to peeling or flaking. "That's more of an issue for our guys in terms of sourcing," Flood said.
Regarding steel purchasing, Knudson Manufacturing advocates that its clients set themselves up with reputable steel suppliers. "That is the critical component of making money in this business —knowing how to buy steel," Flood said. RF
RELATED ARTICLES
Popularity of LGS/CFS Expected to Grow
Taking the Plunge to LGS/CFS