By Sharon Thatcher
Most readers of this magazine are dedicated to either roll forming panel, trim, or gutter. As the popularity of those machines continue to increase, so will the competition. Some day you may be looking for an escape into a new area of metal fabrication still dedicated to the construction trade. One such niche expected to grow significantly is light-gauge steel (LGS).
LGS is also commonly referred to as cold-formed steel (CFS) because it can be shaped without heat. It is much lighter than its counterpart—hot-rolled steel—which is heavier and thicker and requires heat to bend the metal by which traditional steel-framed buildings are made.
The terms light-gauge steel and cold-formed steel can mean many things in a vast industry. For the purpose of this article, we have narrowed the focus to the manufacturing of wall panels, floor joists, and trusses for the prefab and modular industries, as well as small non-structural units or 'pods'. Early adaptors are contractors looking to save time by manufacturing their own components, and in some cases regional fabricators stepping in to supply those contractors. It is an emerging market in the U.S. and Canada, already having established deep roots elsewhere in the world.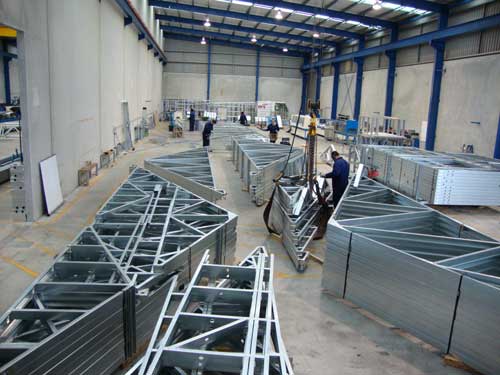 How it Works
On a roll former, steel coil is guided through a series of rollers that incrementally change the shape of the steel into a C or S shaped member. Buildings manufactured with LGS/CFS are very similar to wood-framed buildings, only using light-gauge steel instead of wood.
On the small side, builders are using the system for sheds, garages and homes, but there is also a high demand at this time for limited-service hotels (such as Hampton Inns, Holiday Inn Express, Hilton Garden Inn Express), student housing, assisted living, memory care, and nursing care facilities.
Some roll formers, however, specialize in building non-structural pods—units such as bathroom pods—that are set into a building.
The advantages typically given for LGS/CFS buildings are speed of construction, less job-site labor, less scrap, durability (steel won't shrink, bend or crack) and the resistance to fire, pests, insects, moisture, and weather.
In fairness, steel has traditionally cost more than wood. It is also more efficient in conducting thermal energy so may need some additional insulation or a thermal barrier. And, there's reduced flexibility on site: if there's an inaccurate measurement, it mostly likely will need to be sent back to the fabricator rather than fixed with hammer and nails.
Pros and cons aside, it is an industry on the rise.
Roll Former Manufacturers
There are two types of fabricators operating in the light-gauge steel industry, but they are very different in what product they provide. Machines made by such companies as Bradbury, Samco, and others, are targeted for high-volume production of single-length steel that are shipped to builders for construction of very large multi-story buildings needing large quantities of steel members in certain thicknesses and sizes.
It's for smaller more customized projects where the emerging LGS/CFS framing market excels.
Currently there are few companies in North America making roll formers for this customized light-gauge steel user space. U.S. manufacturer, Knudson Manufacturing, Broomfield, Colorado, has set its sights specifically on the stud and truss sector which doesn't restrict itself to LGS/CFS framing market. Overseas companies actively courting the entire framing package market for trusses, floor joists, and wall and roof panels include Howick Ltd, and FrameCAD, both New Zealand companies with U.S. offices, and industry pioneer, Scottsdale Construction Systems, originating in Australia. Pinnacle LGS, out of Dubai, also has a presence in the U.S.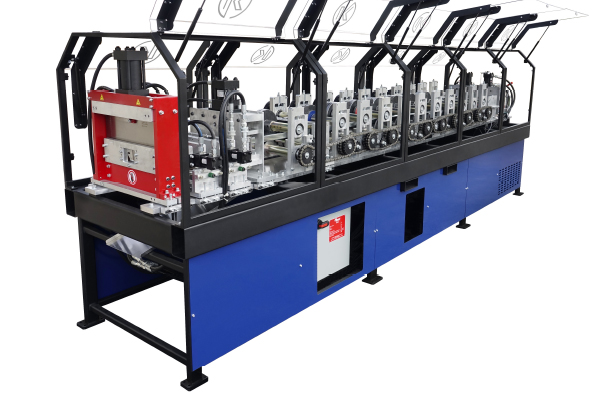 LGS Studs and Trusses 
That Knudson Manufacturing should be pioneering the domestic industry for LGS/CFS is not a surprise. The late Art Knudson is credited with building and marketing the first portable seamless gutter machine in the U.S. in 1957. His son, Gary, now company president, helped to develop a successful market around those machines.
While gutter machines were their bread and butter, Knudson engineers continued to innovate. They manufactured panel roll formers for many years, and also took a look at the prefab and modular markets. A three-machine, trailer-mounted system for doing framework on top of flat roofs—with a zee, a cee, and a hat section—was their first venture into true framing members. Discovering potential there, in 2019 they decided to discontinue gutter machines altogether in favor of catering to the emerging market for their light-gauge machinery line.
Patrick Flood, Executive Vice President, has seen the company's evolution first-hand. He worked for Knudson on the engineering side for 16 years, left to help start an LGS/CFS wall panel company, then returned three years ago to help Knudson with the transition to light-gauge.
Due to the changing nature of prefab and modular they decided to promote multi-profile, multi-gauge machinery. "We started off with a machine that basically made dimensional lumber sizes," Flood said.
The steel-framing industry itself began to evolve and change. Currently, in the commercial world, the primary LGS stud sizes are 3-⅝" and 6" sizes, while in the residential and multifamily worlds 3-½" and 5-½" are prevalent. In the public storage industry, 4" studs are common.
"The KFS-1420E has been our flagship model for several years," Flood said. "For web sizes it forms 3-⅝, 4, 6, 8, 10 and 12. And flange heights include 1-⅝, 2 and 2-½. The machine can be set up for all of those sizes."
Those sizes have become standard, Flood noted, "because of code requirements. There's typically very specific code requirements in place for non-combustible framing."
Flood said the multi-profile approach is ideally suited for the owners of new roll formers in the light-gauge segment.
"Companies starting out tend to not be entirely sure what range of profiles will best suit their business, so they usually want to keep their options open. That really speaks to having a machine that forms multiple sizes and runs through a range of gauges," Flood said, adding: "once people have been in the business for a few years, they tend to start finding their legs; they find what markets they like selling into and they develop strong reputations with certain builders. Typically, after they've been at it for a while, then they tend to become far more consistent in what products they're making."
At Knudson, customers have the option of having controls from either AMS Controls or BECK Automation. "In our business, if a customer already has roll-forming equipment they tend to want their entire factory setup on either BECK or AMS; they tend to not mix," Flood said. "Part of this is because, once you start networking all your controllers, it's more straightforward if you use the same ones."
Flood said their primary customers are shops already fabricating for prefab and modular. Another category is 'contractor manufacturers' —LGS framing specialty contractors or subcontractors who make their own components. A smaller segment is someone who fills a market for what Flood calls "boutique production," where customers require custom runs of high accuracy, low-waste components not available from the big suppliers. "When you're supplying bails of 10' or bales of 12', if you're plus or minus 1/8th of an inch on your cut lines it's not a big deal because people are typically cutting those parts any way," he said, "whereas, with our equipment you can maintain cut lengths plus or minus 0.030 inch instantly. The larger manufacturers do not want to make adjustments for a custom run of 50 parts—not when you're making thousands of parts every hour … so some of these component suppliers want to have the ability to address some of these boutique orders."
Smaller, under-served rural areas are also where some of Knudson's business comes from. "There's several areas—rural Texas for example—where it's both expensive and problematic to get supplied by some of the larger manufacturers," Flood explained. Filling the niche are typically smaller contractors who already have a thorough knowledge of the local market.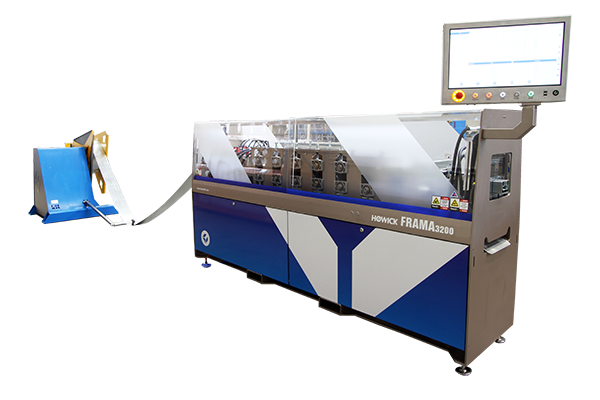 LGS/CFS Framing
Framing systems that include trusses, floor joists and wall systems using LGS have their deepest roots in Europe. Both FrameCAD, and Howick Ltd. pioneered single-component systems that use studs for both horizontal and vertical members. The two companies dominate the foreign market where light-gauge steel systems are more widely understood and accepted by architects, engineers, and building code inspectors.
Tom Reed, Howick's sales representative at Howick's Pittsburgh office, said "We have a variety of clients that use [our equipment] for all different aspects. I have a [shed building] client in Georgia… he started with our [older] technology to integrate [their business] into steel; they did about 10 percent in steel, 90 percent in wood. Now using our 4th generation machine, they do nothing but steel, 50-60 sheds every single day."
Reed explained that the LGS/CFS industry for framing is growing in popularity in the U.S. but does have obstacles to overcome. "The United States has the largest GDP in the world but we're very traditional in how we do our work," he said. "We tend to fight change and automation."
He said he believes that resistance is changing and must change. "New revolutionary ways of doing automation have to be embraced by the market because it's being embraced around the world and by the competition," he said.
The dwindling supply of skilled labor is one reason why panelization systems like LGS/CFS work. "It's very easy to snap together … it's really about speed. There is a huge hurdle with skilled labor, so what technology does is enhance our skilled labor today and brings non-skilled labor up to speed very quickly," Reed said.
Reed offers an example of another client, a general contractor, who struggled to find consistency with his framers and subcontractors. "Nothing was ever being done the same," he said. With a controlled framing system everything can be done the same way consistently. "They've really created the automations, from the front end to the back end. So when that HVAC system is being run, it's being run the exact same way by each subcontractor because the plans and the manufacturing of that house is always being done the same. Where your electrical switches are going, where your receptacles are going, it's standardized. When you educate everyone that's involved in the collaboration of that building, they learn to do it the same way, and that brings about speed." A house can be ready for drywall in 10 days.
Buildings can still have any exterior elements desired by the customer: Hardie board siding, vinyl siding, metal siding, metal roofing, shingles are all viable options.
Recent spikes in steel supply and pricing have resulted in challenges for the LGS/CFS industry, but the wood industry hasn't fared much better. With labor-savings factored in, the gap between light-gauge steel and wood has closed quickly. According to Larry W. Williams, Executive Director of the Steel Framing Industry Association (SFIA), a cost study in 1999 showed a $2.43 per square foot difference for cold formed steel framing compared to wood, "but by 2007 that cost have been squeezed down to 18 cents per square foot," he said.
For Tom Reed the long-range advantages are clear.
What the end customer of an LGS/CFS building gets, he advocates, is resiliency. "In the United States alone, we have over $5 billion damage annually from termites," Reed noted. "Those little critters don't eat steel. Fire insurance? Steel doesn't burn. The typical house fire is about 800-1,000 degrees. Steel doesn't start melting until 2,700 degrees." RF
RELATED ARTICLES
Taking the Plunge to LGS/CFS