by Sharon Thatcher
Transitioning to light-gauge steel construction is not a decision to be taken lightly, but Todd Tober, owner of Tober Building Company, Richfield, Ohio, is glad he did. His more traditional construction GC company was started eight years ago with two employees and is now one of five interrelated companies he owns employing 53 workers. Much of his growth can be attributed to incorporating LGS/CFS into his list of building options.
EARLY CAREER
Tober started his career in construction as a union carpenter. "My background is with traditional metal studs," he noted.
He opened his own general contracting and real estate development company in 2013, focused primarily on the multifamily housing market. "We were doing well, but the question was always, how do we do better," he said.
He had the opportunity to renovate a modularly-built building that was originally completed in 1980. He liked the concept and decided, 'let's find a way to do modular ourselves.'
They first experimented with wood. "We started with wood, and I just didn't like the quality of the product we were producing. Wood is wood and it shrinks and warps and cracks, and it's inconsistent, so we scrapped the wood idea and started building with steel," he said.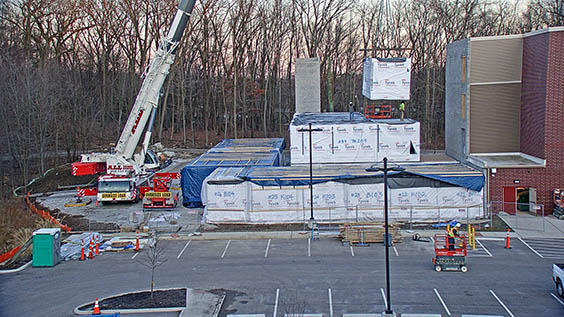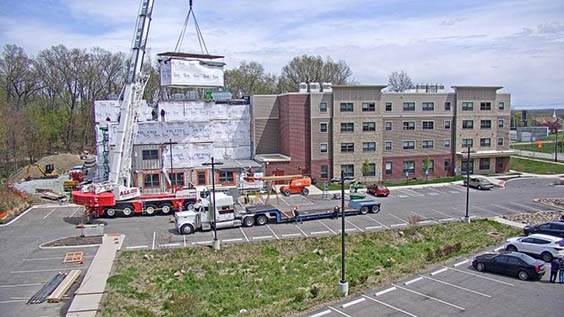 THE JOURNEY TO LGS/CFS BEGINS
Meeting Tom Reed, the U.S. sales representative for Howick Ltd., was a game changer. After discussions and sleepless nights, Tober subsequently purchased two Howick machines for the construction of new modular apartment buildings under his development business. Using the standard 3D software, REVIT, his slowly growing company was able to incorporate detailed plans into their production. One of the machines produces 3.162 inch metal studs ranging from 16-gauge to 20-gauge coil; their larger Howick 7800, the only one in North America, produces five profiles in 6-, 8-, 10-, 12-, and 14-inch metal studs from 12-16 gauge coil.
"From the 3D software we were able to produce a CNC machine file that would be fed into the roll former to produce our metal studs to be installed into the modular apartment units," he described, adding, "These are custom-made studs, with labelling where the track and the studs meet. Connections are very easy."
But Tober's development projects aren't back-to-back and leaving his roll-forming machines dormant didn't seem very efficient. "So, the plant manager and I came up with a way to generate income in the factory as we were waiting for the next modular project to begin," Tober said. The idea was to provide material for their general contracting projects.
Their first test case was a historic preservation project in Canton, Ohio, turning a 1910 block and concrete school building into affordable senior housing. The building, dormant for about 20 years, was gutted to create a clean slate. Tober's new spin-off company, Atlas Framework, was tasked with producing the metal studs. "We went out and laid out all the apartment walls in the 3D software," he described, and then sent what we call production packs—just bundles of wall panels—to the job site." The software was essential in determining how to deal with the aging building's many measurement variations that were created through years of weathering, wear, and settling.
As construction of the new interior began, the success of the LGS/CFS framing became quickly apparent. "What we saw was this tremendous labor-savings because the production of this type of framing with custom studs is a lot faster than what you typically have in traditional metal stud framing," Tober said.
Unlike traditional metal framing that is cut on site, Tober's team used the LGS/CFS system to premeasure, precut, and predrill for bolt placement. On the job site, pieces were simply bolted into place like an erector set. The speed of construction alleviated concerns over the price of metal, with one counterbalancing the other.
Training a construction crew accustomed to more traditional building techniques was not a major problem but it did take buy-in from the crew.
"We had to send a new thing out to the job site and hope that the crew—used to doing things one way—would embrace the new process," Tober said, "and literally within an hour they understood how to read the drawings and how to snap things together. It was a very quick, quick learning curve."
He has crunched the numbers and discovered that their LGS/CFS method of construction is 400% faster than traditional framing.
ONE BUSINESS, NOW FIVE
Today, Tober operates five businesses: Tober Building Company, his general contracting company that operates mainly in Northeast Ohio; Tober Development Co., the land development side of the business; ToVee, a modular manufacturing company operating in Ohio, Pennsylvania, Indiana, and Michigan building complete units shipped to job sites; P&G Electric, a commercial electrical company; and Atlas Frameworks, producing framing packages that can be shipped anywhere. Atlas framing packages were being used for a hotel project in Canada at the time of this interview.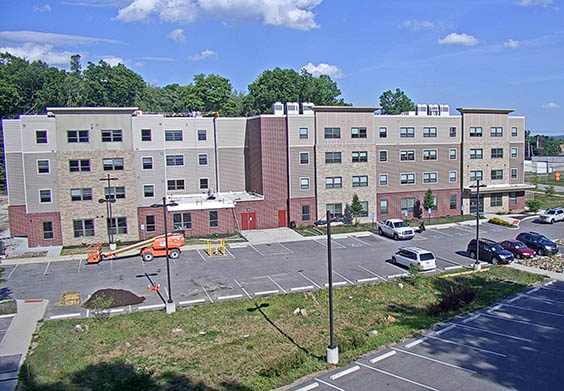 VIEWS ON THE FUTURE OF LGS/CFS
Tober is one of a hand full of contractors nationwide using LGS/CFS but feels it is only a matter of habit that prevent others from joining him in what he finds a lucrative field.
"It's tough to convince people to change," he said. "Anybody in the construction field knows that once you learn how to make money with a certain method you are hesitant to change…They invented the air nail gun and it took a while for people to change from hammers to nail guns, but you know, it's a no-brainer, it just takes time to change."
He gives a lot of credit to his employees for making change easier. The past year they have seen their largest growth with the addition of 30 employees. On staff are six BIM modelers for project design.
"We have a really, really awesome team," Tober said. "People make the business and I think our people are the best in our business. They have made the process more fluid and have made it easy to transition from one construction method to this one."
Tober has also gone through the hurdles to get ICC certification. "That's the governing body for the metal framing industry so we comply with all their specs. We go through a very rigid quality assurance process to make sure that every piece of steel we send out is to the standards that we laid out in our certification process."
Tober said he still uses wood but is increasingly finding ways to incorporate LGS/CFS. "I think the challenge is to figure out what works and what doesn't," he said, adding, "The name of the game is to be creative and to be flexible and that's what we're trying to do." RF
RELATED ARTICLES
Popularity of LGS/CFS Expected to Grow