Sometimes you have an itch that's just gotta get scratched. That's what Adam Clark and Mason Burchette discovered while developing successful careers for another company in an industry for which they had a growing passion. As they helped build the success of a southern Tennessee roll-forming business, they looked out over the rooftops and the miles of asphalt shingles seeing opportunities laid out before them. Metal roofing was still an unexplored option for many homeowners in the state and the energetic under-40-year-olds wanted to be pioneers in the transformation. They recently set up shop in Knoxville as True Metal Supply. 
Adam is the CEO and Mason is the COO for the company. Adam spoke to Rollforming Magazine about the company's establishment and goals.
Adam said he left his old job last April to begin "putting the pieces together" for the new company; that included building a 14,000 sq. ft. building, ordering equipment, establishing suppliers, and interacting with homeowners and contractors to both explain what products and services would be offered as well as to gauge the needs and expectations of future customers. At the time of this interview in early September, the first roll former was scheduled to arrive later that day. It would be a New Tech machine for standing seam that would be shop-based. A CIDAN brake and shear was expected later the same week. Material handling equipment from Heartland was already in place. The late-October arrival of a Metal Rollforming Systems (MRS) Signature roll former was anticipated.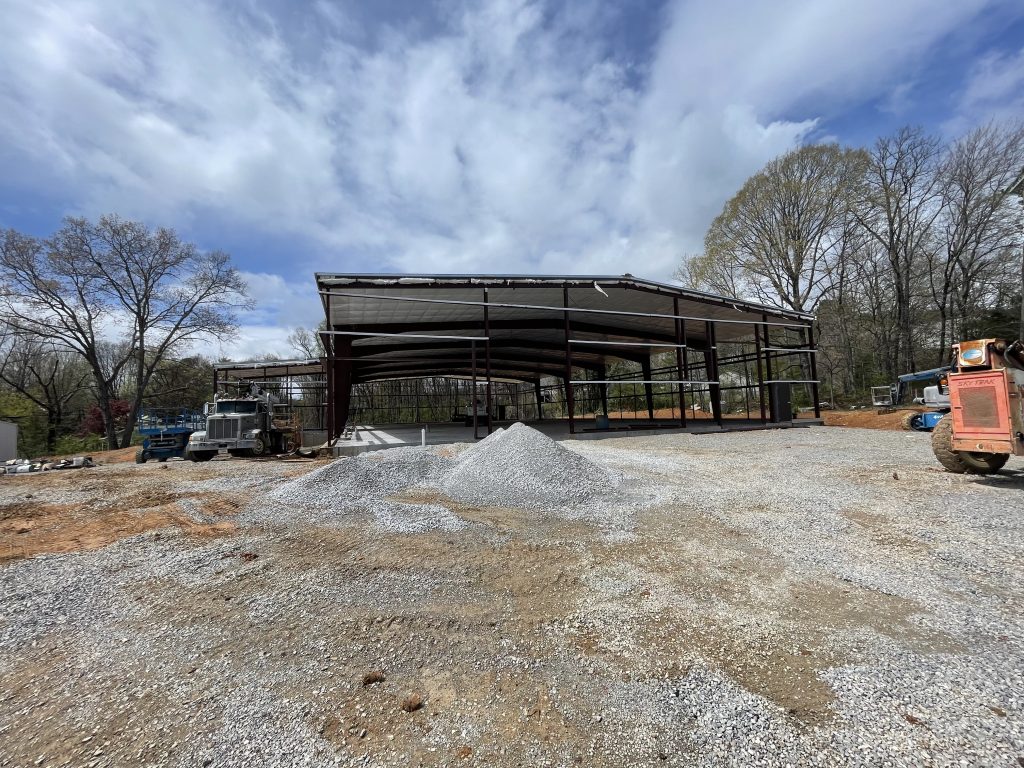 "We're just getting our legs underneath us," Adam said, adding: "Obviously these things don't come together overnight."
The Metal Market
Even before the new building was built, and the first machines purchased, however, Adam and Mason started the pre-planning process to determine if Knoxville was in fact a willing consumer base for metal. "It's surprising that Knoxville is a little bit of an untapped market," Adam noted.
Surprising because regional roll forming has its roots in the South and Southeast.
Adam said part of the reason is likely due to the region's milder climate. "I'm originally from New England so I know the quality of the roofing systems that need to be installed in climates that are a little bit more severe in terms of snow and high winds," he said. By contrast, in milder states like Tennessee, roll-formed products have traditionally been used for non-residential buildings and thus not created to meet the more stringent requirements of residential roofing.
But things are changing. Homeowners are talking to friends and family members in states where metal roofing is more popular, and they increasingly press asphalt installers for answers about metal options. Adam sees this as the perfect opportunity for True Metal Supply to step in and help educate consumers, and to aid roofing contractors in training and product.
Customer Service & Quality
We are a customer service company that happens to sell metal roofing, is the company's philosophy. Adam noted: "We're really advocating for the customer, educating them on a product and connecting them with a contractor … to make sure they are getting a competent installer."
Practice breeds familiarity so many installers are reluctant to make the change to metal, yet they are getting the hint that metal roofing is increasingly their competition and one that is likely to grow in popularity.
"I think the number of inquiries contractors are getting from homeowners on metal roofing has kind of piqued their interest. To become relevant to the customer base they really need to learn more about metal roofing," Adam said. "We've had some really great conversations … with contractors who want to sit down and want to learn, want to get educated on how to present the value of metal roofing to their customers …. I perceive this as exciting because that's what we really like to do; we like to create training content and we like having people come to our facility and help them to understand the right way to install, to create different systems, and to help the overall industry."
Training at True Metal Supply for installers is designed not only to offer tips on proper installation, but lessons in how to sell metal, understanding the basic components of metal roofing, busting myths and misconceptions about metal, as well as handling customer objections.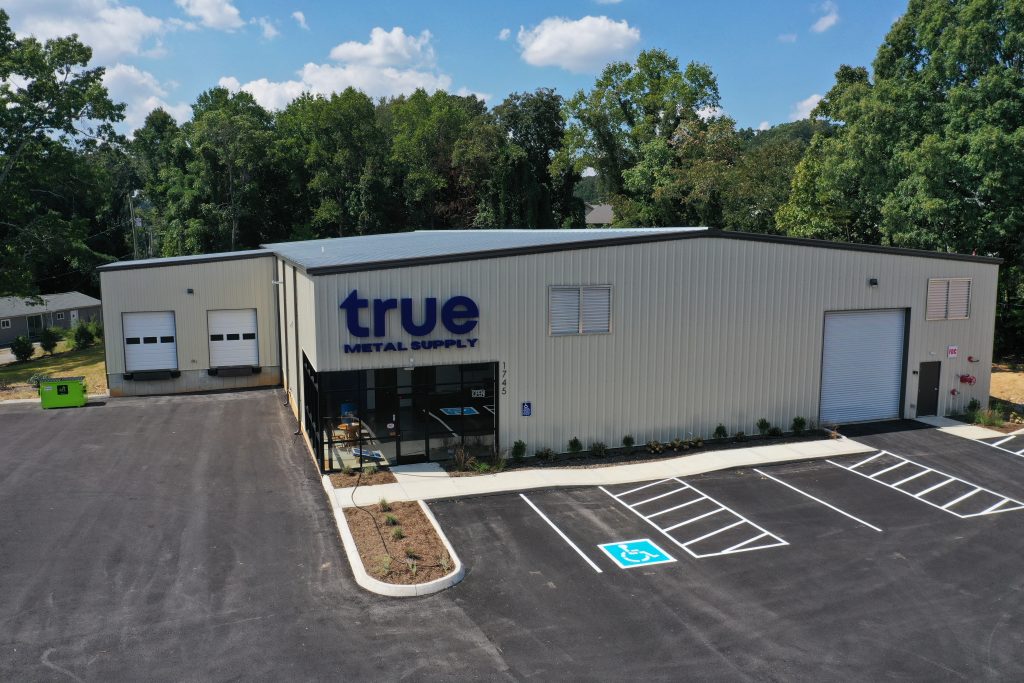 They use blogs, podcasts, shop-based training sessions, and a metal roofing university called Through the Roof to meet potential consumers and installers by whichever platform is most comfortable.
"We believe that Knoxville really needed metal manufacturing for the residential market and that's really the core of our business," Adam continued. "That's the market where we feel we can have the most healthy and positive impact."
It coincides with a shift in weather trends. "Tornado Alley is starting to shift a little bit further east," Adam said. "We see tornadoes not every year but every other year, so a higher quality roofing system is a little more front and center."
There is still the stigma of quality to overcome. "We're trying to get the contractors and homeowners out of the mindset that: I don't want to go with a metal roof because it's going to fade, it's going to be too thin, or we're going to run into some quality issues."
These arguments are being met by offering only American-made products, including steel from United Steel Supply, owned by Steel Dynamics. "I think [USA-made] is what people are really interested in, it's very valuable to them. And one of the byproducts of that is we do believe we're presenting a really, really good quality product," Adam said.
Spreading the word
True Metal has seen great value in attending home and garden shows in the Knoxville area to listen to homeowners and contractors, and to advertise their up-and-coming company. Even before roll-forming machines were in place and steel was rolling off the line, they were taking orders. They partnered with a national company – Central States – to fill in the gaps until they could come online. They plan to continue that partnership to offer a wider range of products than they would ever be able to offer alone.
Another partnership is with Isaiah Industries to offer steel shingles. It's not a product True Metal ever plans to make because of its labor-intensive production, but it's a product that attracts consumers. At home and garden shows, Adam said, "we have those products out on display and that's certainly the product that attracts the most people to our booth. People are shocked to see that metal is available in more than just a linear panel. It's a premium product … so I think the price for the majority of our customers makes that a less feasible option, but it's a great segue into explaining the through-fastened panel system, then they can make a decision based on their own budget, their own preferences."
True Metal offers two of Isaiah Industries' steel shingles: The Great American Shake which has a more three-dimensional wood shake appearance, and Centura Steel Shingle that feigns the look of an asphalt shingle.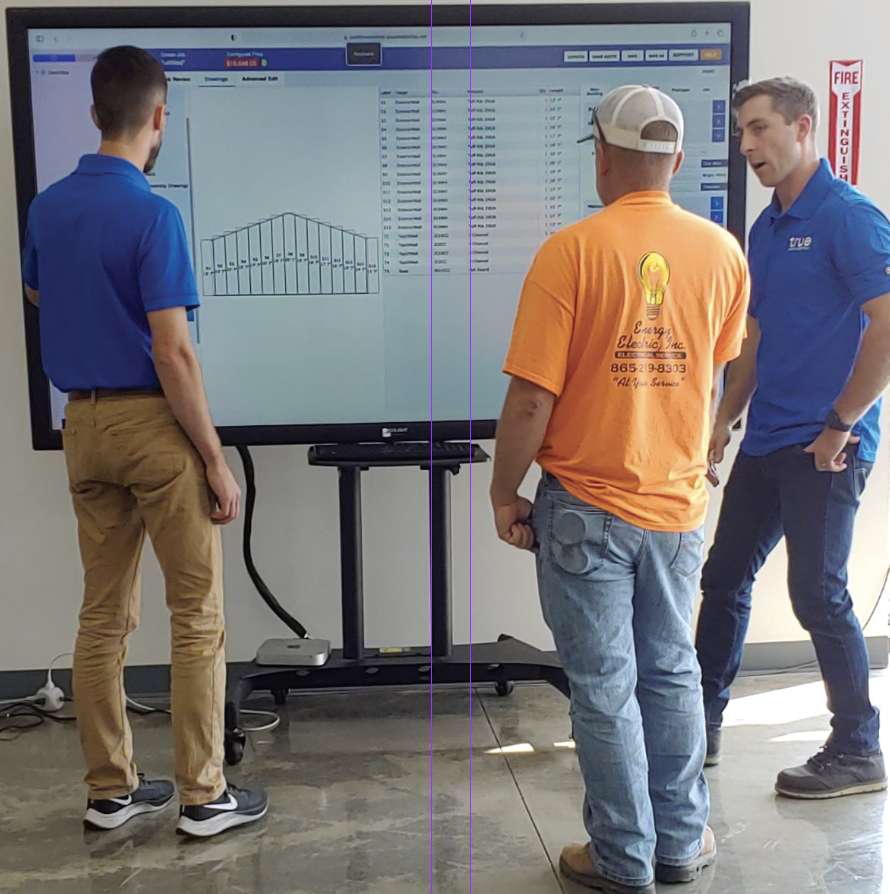 "Isaiah Industries has done a really good job of developing a four-way locking system. It has a J channel on all sides, so you don't have to treat the roof any different than you would with a standing seam system. That's why we chose to go with Isaiah," Adam said. "There are some systems out there that require extra waterproofing under the shingles, and that only adds to the overall cost."
What they make
Adam said True Metal Supply will focus its own production on two popular residential styles: tuff-rib through-fastened panels and standing seam.
"There are more residential lines we may introduce further down the road as our company grows but we're really going to lean on … some of our other partners to help capture products that we really don't intend to manufacture," he said.
The new building includes a 2,200 sq. ft. showroom featuring products in natural light from the windowed storefront. Covid was a reason to make the showroom so large: "We discovered that smaller showrooms are really hard to manage," Adam said. "During Covid it was hard to offer a space that wasn't crammed."
Their MRS machine is from the Signature line. "I think that machine will get us to our revenue goal and to be able to achieve the things we want to achieve without having made the investment we would have needed with the Titan line," he said. If (or when) orders begin to stack up, they can always move forward to the higher-speed machine.
In addition to metal roofing, True Metal Supply offers post-frame packages and steel trusses, plus all the necessary metal roofing components. They have three delivery trucks to get product from warehouse to jobsite.
Because of Adam and Mason's shared history in the roll-forming industry, they feel confident in their move to establish their own company. Personally, Adam has handled every aspect of roll-forming in the past from machine operation to management positions, so "it's not like we're starting from scratch, not like we're coming in blind; we have a good understanding of how to interact with customers who are experiencing metal roofing for the first time," he said.
What's in the name
When deciding upon a name, Adam said the partners "wanted to build a name that reflected upon some of our core principles, our core pillars: trust, respect, uprightness and excellence." They wanted their Christian faith to be reflected in their operation. "The uprightness aspect is simply allowing us to exercise our faith in a caring and loving way," Adam explained. "Everybody that we interact with, we want them to come to expect that there's something different about us: in the way that we treat people, in the way that we talk to each other, in the way that we do our work."
In the beginning they were also getting accustomed to the lack of sounds: "Going from a company where the phone was ringing off the hook, to everyone jumping when the phone rings," Adam explained.
But they are confident the relative quiet is only temporary. Even with signs of an economic slowdown nationwide, Knoxville continues to grow as a popular place to live. "Knoxville is very popular because of I-75 going through it, it's a really attractive place for people to go. We're very optimistic," Adam concluded.
Stay tuned for updates as Rollforming Magazine follows the journey of True Metal Supply. RF
Sharon Thatcher is the former managing editor of Rollforming Magazine. She is now an independent writer living in Ohio.