Hixwood held an open house from 2-7 p.m. October 5 to celebrate the completion of its most recent expansion in Stanley, Wisconsin.
A thousand people attended and had a first-hand look at the new 20,000-square foot building. To build awareness for the event, the company advertised in the local shopper and on Facebook. "But by far what brought in the most was inviting people that came in to Hixwood in the month leading up to open house and then letting word of mouth do its thing," reveals general manager Paul Zimmerman.
"The support for Hixwood and Hixwood's product is tremendous in the community," Paul says, "We wanted to give back by having a fun-filled open house. We have many customers, neighbors, and friends that have never been in our manufacturing plant and we were getting a lot of questions about what we will do in our latest expansion." (The company's existing roll-forming equipment will be relocated to the new building. Plus, a new Metal Rollforming Systems (MRS) roll former for making R panel will be added. A detailed report about the expansion will be featured in an upcoming edition.)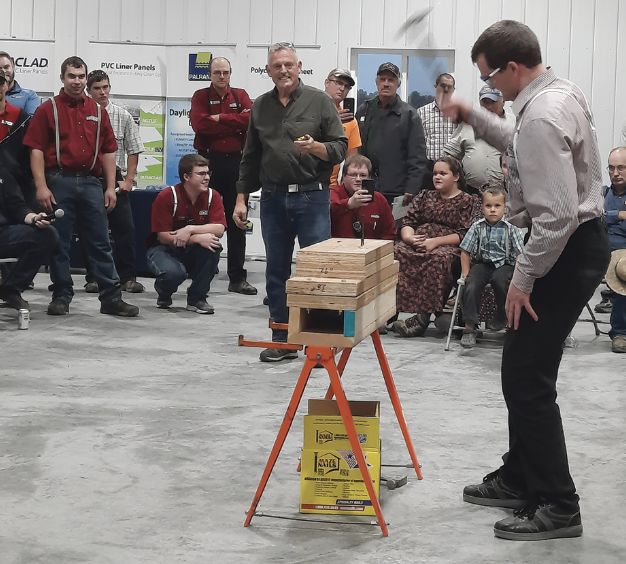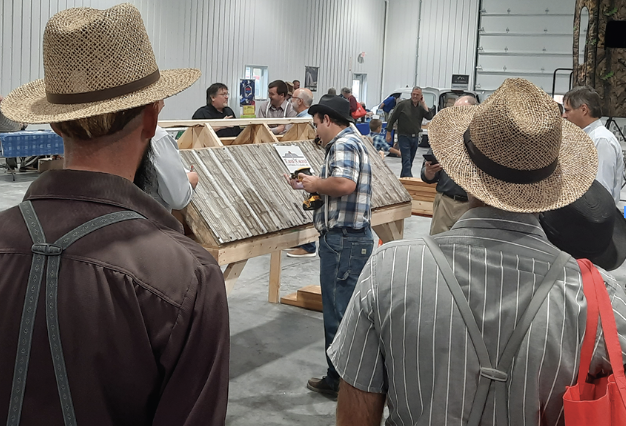 Many members of the Eau Claire Chamber of Commerce were on hand to help celebrate. Harvey Zimmerman had the honor of cutting the ribbon for the new building, after which Paul gave a brief speech.
In addition to being entertaining, the event was also educational. "After 24 years, it would seem like all our crews and customers [would] know what we carry, but they don't. The open house gave us a chance to show our products and have company representatives there to talk about products. The one I was most amazed about was how many didn't know we have printed panel that looks like stacked stone."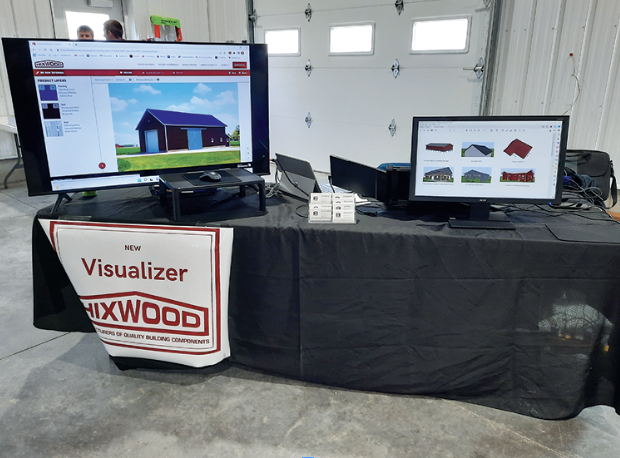 Attendees visited with the 22 vendors who set up booths, which resulted in a mini-trade show atmosphere. The vendor roster included: Precoat Metals, Plyco/ East Coast Fasteners, DripStop, Novagard, Snap-Z, Beckers, Maze Nails, and many others.
It was also a celebration of community and family; all were welcome to partake of the catered meal and activities. More than 75 door prizes were given away, which were donated by sponsoring and exhibiting companies. Prizes included, but are not limited to, power tools from Milwaukee and DeWalt, tape measures, hammers, a digital level, a digital torque wrench, a large assortment of caps and T-shirts, and more than $1,500 worth of gift cards and gift certificates. It proved to be Clyde Nolt's lucky day; the M&Z Builders employee took home the grand prize: A Radix free-standing blind, which was set up on the floor.
Visitors could also observe the company's equipment at work through guided tours. Operators ran the machines while employees answered questions. Some of the equipment running for the exhibition were Hayes decoilers, a Bradbury roll former and pre-cut shear (with Beck Automation controls), and Thalmann folders.
Staff also took the opportunity to show off the company's brand-new building visualizer tool.
East Coast Fasteners sponsored a screw-driving contest. Contestants each drove 10 screws with a power driver. Jay Zeiset of M&Z Builders won the contest with a time of 18.23 seconds; his prize was two DeWalt screw guns.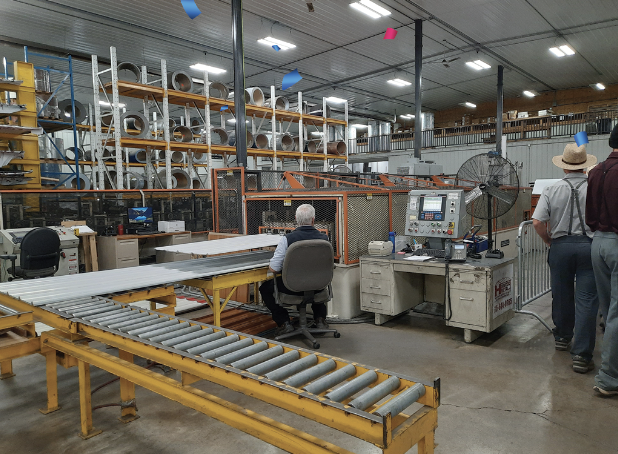 The finale of the event was a nail-driving contest sponsored by Maze Nails. The contest at the open house proved to be every bit as popular as it is at the Frame Building Expo; 25 contestants stepped up to drive nails. (That number doesn't include Paul Zimmerman, who was a good sport and participated when someone else added his name to the list of competitors. Finishing just a few seconds out of the lead, he proved he could drive nails.) After the last nail was driven and the times were compared, Atlee Keim had the fastest time of 10.01 seconds. Maze Nails representative Andy Gitter presented Atlee with a $75 gift card for his efforts.
The open house was a splendid event. It had the feeling of a trade show combined with a family picnic. There was even a children's area with games and treats to keep the young ones entertained. "You could feel the energy in the building," says Paul. "I had a lot of people as well as vendors take extra time to thank the staff at Hixwood and let us know how much they enjoyed it."
Paul is appreciative of the industry and is very happy to celebrate the people who keep it going. "I love this industry!" he says enthusiastically. "It is amazing how many good-looking, long-lasting buildings can be produced every day with the mix of steel and lumber. And how many hard-working, Christian people are in this industry that are making a difference in their respective communities and churches. The kind of people that navigate thru challenges of volatile pricing, supply chain disruptions, and still perform at a high level." RF