Retro Custom Metals develops high-end reputation with portables
By Sharon Thatcher
David "Homie" Mulcahy, the owner of Retro Custom Metals based in Salt Lake City, Utah, takes customization to a uniquely different level. He has been in the metal fabrication field for nearly 30 years, but he was a pioneer in customization in the Northwest years before its most recent spiraling popularity.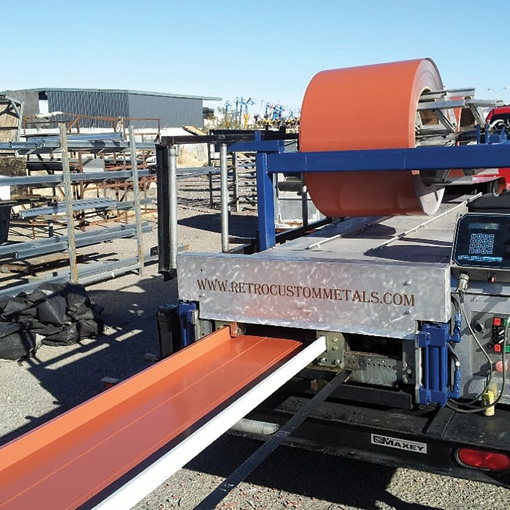 "I started cut-and-drop in Utah, where we'd bring the material out with us, run their panels, and drive away," he said. "We also had curved panel when no one else was curving on the 1- and 2-inch mechanical lock. And we worked on a lot copper and zinc before anyone else was doing it. We were going to Idaho, Montana, Nevada, Arizona, I was all over; 25 years ago no one was doing this stuff."
His first machine was little more than a glorified gutter machine. Today he still uses all portable machines, with his favorite the SSQ2 from New Tech Machinery. He owns three of them. "I like their innovations and what they're doing with the panel machines, they do listen to their customers," he said of New Tech.
According to Tom Laird at New Tech, Homie is one of those customers it pays to listen to. His expertise with metal and machines has helped lead to user-improvements. "It's clients such as Homie that help us find ways to improve on our equipment and better meet our customer needs and desires," he noted.
Homie maintains good and lasting relationships with his regular suppliers. In addition to Nate Rosin, the local New Tech representative, Homie says he enjoys working with Adam Mozzella and Joe LaCrue at Sheffield Metals, and Sean Frye and Tyler Fourie at Coated Metals Group.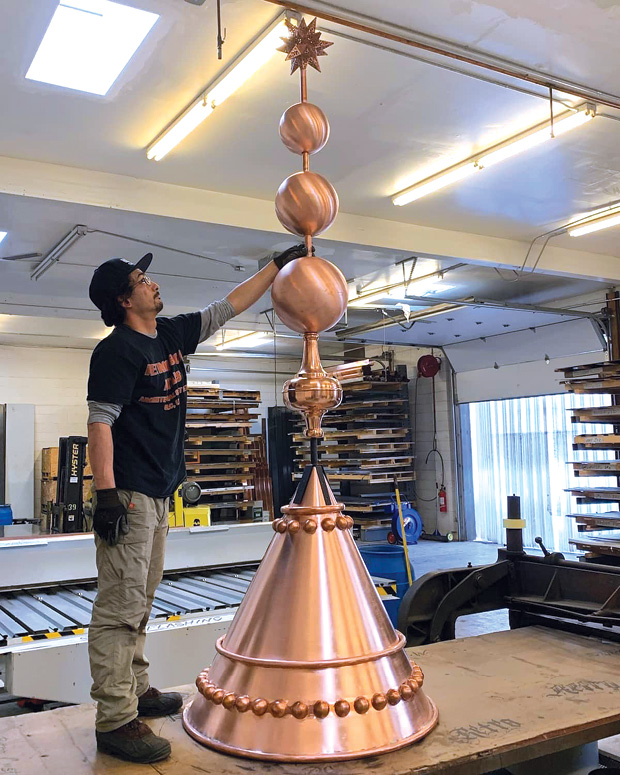 Open For Business
The first iteration of Homie's business was called Retro Design. It was a good business but when the economy took a dive, he left to work for a larger company. When he returned a year later he revived his business as Retro Custom Metals. "We do a lot of radius dormers, a lot of custom stuff in the Park City/Heber area," he said.
In addition to himself, he has five employees: he and two others work on site with the portable roll formers while two others work brakes. One shop tech is dedicated to custom fab.
In his area of the country, with its heavy snow loads and ice damming, metal is a very hot market. There are a lot of people in the region who can afford upscale homes and about 75% of Homie's market is residential. "People want the longevity of a metal roof; they want it to last forever," he said.
A good metal roof falls in line with those wishes.
Of course, metal can last a lifetime, but "it's the finish that's going to fade," Homie noted, particularly in such as a harsh climate, so well-heeled homeowners in the region head to pricier options like copper, zinc, and aluminum, as well as corten steel (a copper chromium alloy that is corrosion resistant) and bondorized steel ("paint grip steel" with a chemical phosphate conversion coating).
"Where my bread and butter is, is supplying roofers who don't want to buy a machine, who don't want to hassle with the trims or deal with the bigger outfits to buy trims. We can come on site, lift our machine on the roof and run panels per schedule. We do all the trims, screws, pipe jacks, caulking, we do it as a package deal," he noted.
He has built a reputation for radius panels, and a particular batten-style panel used for wave-style roof panel. "It's a 5/8" U-panel we double radius — concave and convex — where it looks like a wave. Some people say it's an art form," he continued, "but it's understanding what the metal can do; shrinking it, stretching it, making it pliable so it will curve."
When on-site jobs are slow, he diversifies to keep working. "We do a lot of interior/exterior custom work such as chimney hoods, bay windows, awnings, range hoods, crazy things you can do with metal — custom fab."
While he has worked on many challenging projects, there are two in particular that come to mind. One was the Port of Entry at San Luis, Arizona, near the Mexican border. The roof "was an inch-and-a-half mechanical lock. It was almost 200 feet long, and when it's that big you need an expansion joint for the panels to expand and contract."
The second big job was at the University of Nevada-Reno. "It had two different metals on it: steel and zinc," he said. Mixing metals with such different properties can be very challenging and needs to be done correctly to prevent the two metals from acting against each other.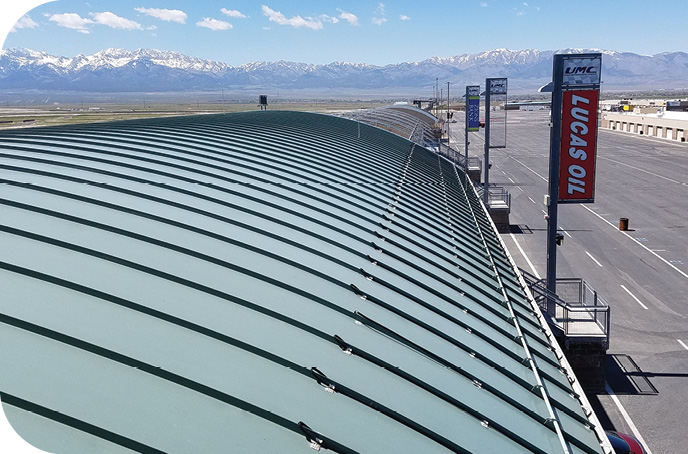 Behind The Green Curtain
One of the hazards of working on site with a contractor is the potential that they may learn enough about your process to buy their own machine and cut you out of the loop. That's precisely what has happened.
"A lot of guys have figured it out by watching me," Homie said. "I like to say I let a lot of people behind the green curtain in understanding panel machines and what they can do. A lot of my customer base has gone out and bought their own brake and shear and panel machine, they want to do it themselves.
"When I started out here, when I got my panel machines, there were probably four or five roll formers out here," he continued. "Now there are over 100. I've probably lost 75% of my base because they've gotten their own panel machines."
Fortunately there are still companies who prefer to hire him to do their customization, but Homie also continues to find ways to diversify.
"I've started a design/consulting company," he said. Called Salted Metals, the business focuses on working with architects and designers in the Salt Lake City area. "A lot of architects and designers don't understand the concept of metal, where to use metal and where not to use it," he said. The timing is right, he believes, because "metal is just going to grow and grow and grow." RF
For more information on Retro Custom Metals visit them at www.facebook.com/RetroCustomMetals
The Man Behind the Metal: From Crime to Custom Fab
David "Homie" Mulcahy had an unlikely journey to his current success as a talented roll former of custom metal.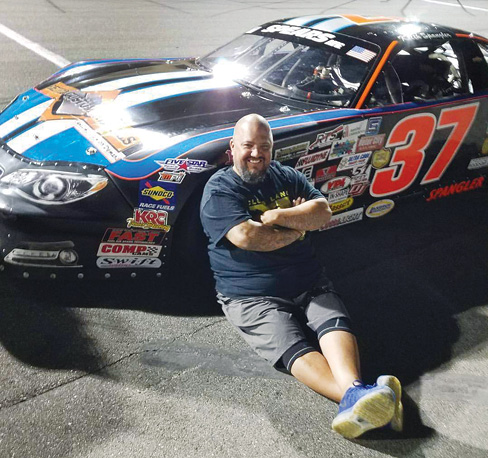 "My story is unique," he said. "I got sent out here [to Utah] on a one-way ticket out of L.A. I was a troubled kid growing up, a very bad kid. I had gotten out of prison, and they told me: look, go make something of your life."
Fortunately, he took their advice. He left for the Salt Lake City area where his brother had gone after getting shot in gang violence. The two brothers both worked for a construction company specializing in exterior metal installation and fabrication.
"That was my introduction to metal almost 30 years ago. I worked for Ray Keller Construction for almost 10 years and watched the evolution of metal there," Homie said.
His salvation also included racing. "I raced go carts for awhile. I've been around racing my whole life, but I got more into it as a gang alternative," he said. "I had a number of people who were trying to get me out of the trouble I was in, but when you're that young and dumb you don't listen until it's too late."
Today, he still loves racing and owns three NASCAR racecars. "We run super light models across the United States with the SRL Southwest Tour," he said. This year he will be sponsoring the Retro Custom Metals 150 at the Spears Southwest Tour Series in Colorado.
Trouble is now in his rear view mirror and life is good. "My mother is very proud of me," he said, adding, "I'm living proof that there's a way out." RF
Originally published as "Rolling in Salt Lake City" Spring 2020 issue Rollforming Magazine.