Metal Forming Shop Growing To Meet Central Wisconsin's Needs
By Karen Knapstein
Luke Herschberger founded Mapleview Metal Forming in Marion, Wisconsin, in 2017. Prior to launching his roll-forming business, he worked construction. As a builder, he saw the need for a metal former in his Central Wisconsin area. "I was using a lot of metal myself," Luke says, "and I saw a need. I decided to go into business and am really happy I made the move."
Over the last four years, Luke has been rolling components, but he has also kept his building crew. "I don't know if I'll have a crew this year," he says. "Dependable help is hard to find. So I'm looking at a bigger crew for the shop." He mainly has family helping now, but he has some workers off and on. Starting in December 2021, he has a hired man three days a week. Once the busy season starts, the hired man plus another hiree will be in the shop full time.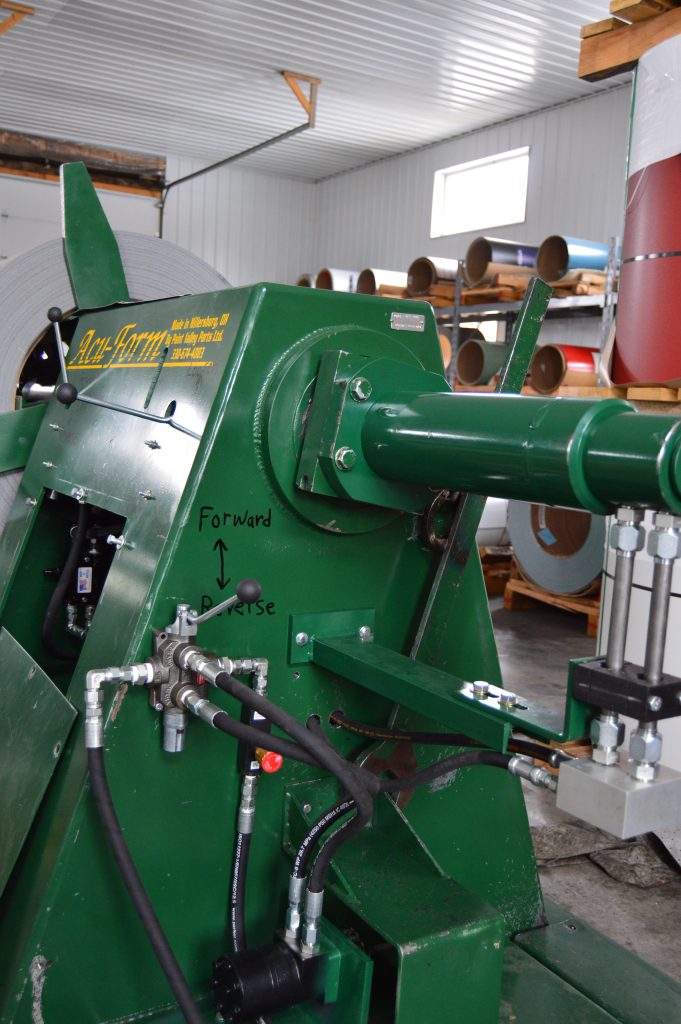 Equipment
For Luke, new was the way to go when setting up shop. "I didn't want to start with someone else's trouble, so I started with new equipment. It's a big expense — getting the machinery." He equipped his shop with several machines from Acu-Form: a ridge cap machine; corner machine; rat guard machine; hemmer; slitter; and uncoiler. The uncoiler was recently converted from mechanical to hydraulic. Powered by gas motors before the conversion, the machine now runs with less noise and fewer fumes, and now runs both ways — decoiling and coiling.
A simple — but critical — piece of equipment in the shop is the Schechtl manual trim brake. "We can't make trim without it," Luke says.
"It's also the family's exercise machine; working that machine is a lot of exercise," he muses.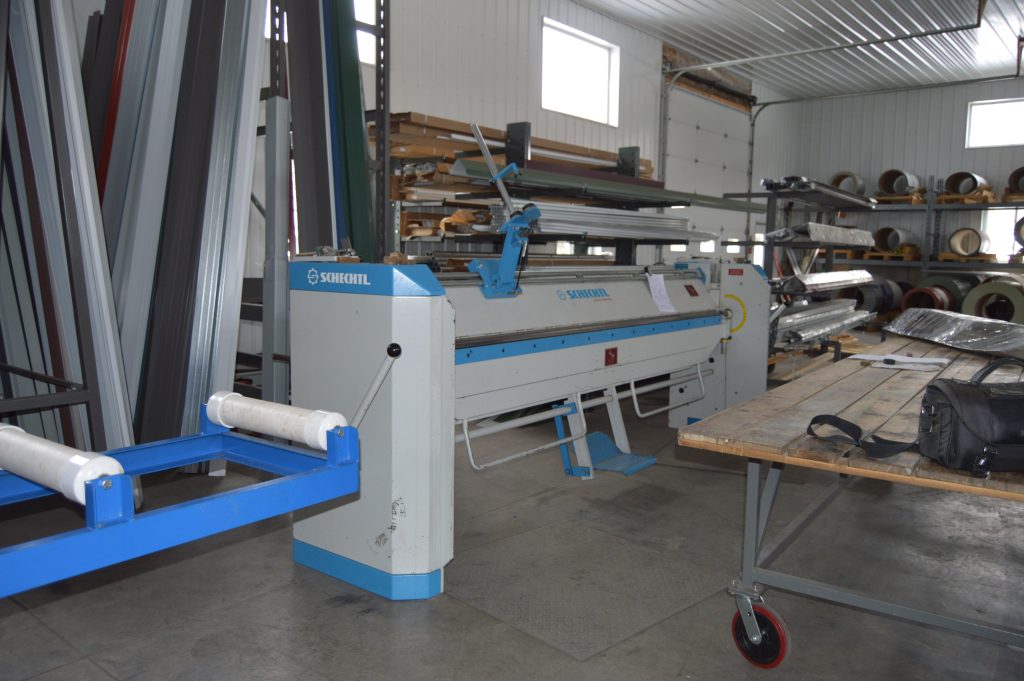 The biggest machine in the shop is a hydraulic-powered Hayes Dual Level panel roll former with post-cut shear. The appeal of the dual-level machine is it runs two different profiles in the same footprint. His machine is set up to run an ag panel on the top, and a residential panel with 6" OC rib on the bottom. His shop is set up so he can run panels just shy of 40'.
What he likes most about the equipment he has is he has only had to make minor adjustments. And he's impressed with the performance of the Hayes machine, which has needed very few adjustments. "It has solid roll tooling," he explains. "Some machines have individual tooling for each rib, rather than solid roll tooling. There's one piece all the way across rather than individual dies with collars."
There's one exception to Luke's "all new equipment" statement: He bought a used New Tech portable roll former for making standing seam snap lock panels. "I actually had that machine before I started the shop," he says. "I did a lot of pole buildings when I was in construction. I was buying a lot more ag panel; snap lock didn't keep me busy and was kind of random. I keep [the portable roll former] around because it's paid for itself and there's a call for it.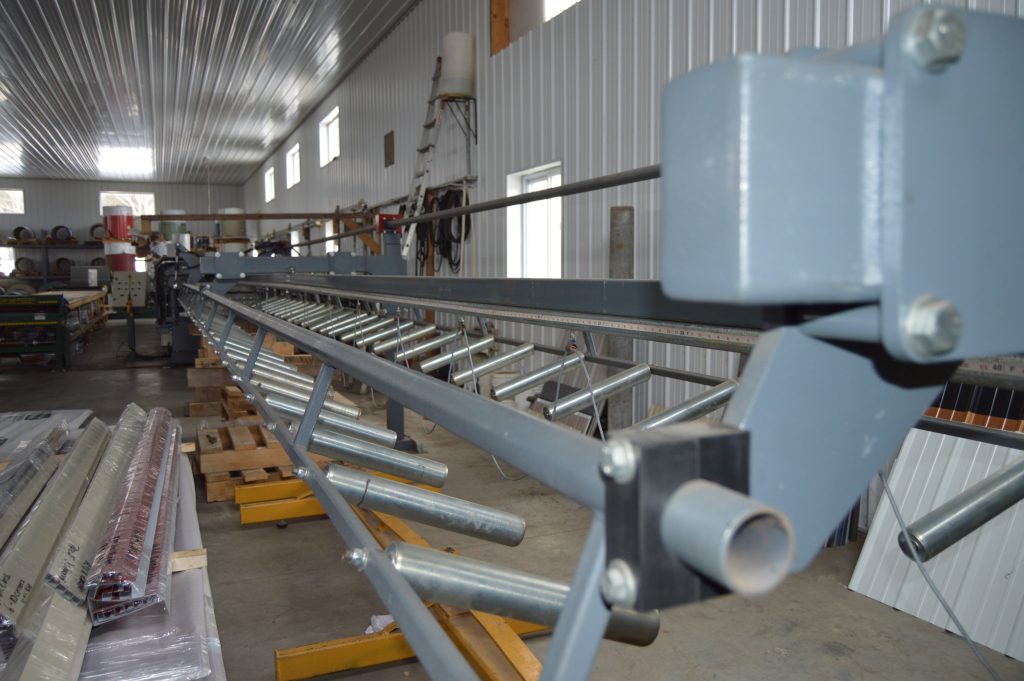 "There's a bigger demand for it now than there has been," he continues. "Last summer I was busier than I ever had been with that machine."
Challenges
Like so many other small business owners, Luke has had his own challenges with getting supplies and price increases. "This winter has been busier than in the past three or four years. Getting coil has been the biggest challenge, but it's getting better." Mapleview sources its textured coil from Hixwood; most of its smooth coil comes from Progressive Metals.
More Than Metal
While metal trims and panels account for most of Mapleview Metal's sales, the company also provides builders and roofers with additional components like fiberglass doors (with composite jambs) and lumber. "We don't carry a full line of lumber, but we do have more common lumber in smaller dimensions" like 2×4 and 2×6. "If someone wants something else ordered in, we'll order it if it's a big enough amount."
He's also a dealer for laminated posts made by SCI Laminated Columns, Curtiss, Wisconsin. "Pretty much anything we sell is retail. We can order it in; we keep a limited supply on hand."
Lessons Learned
One thing he would stress to someone starting up is how important routine cleaning and maintenance is. "Cleaning the machines and inspecting the machines is important," he advises. "Do it monthly or even weekly depending on how much you use it. One time we opened up a machine and we found something was loose when we were cleaning it. If we hadn't opened it up to clean it, we wouldn't have found it until something bad happened."
"I got to know a lot [about the machines] by experimenting with them and working with them. There's always maintenance. There's always machines to clean. And it helps if your hired help takes an interest in the machines."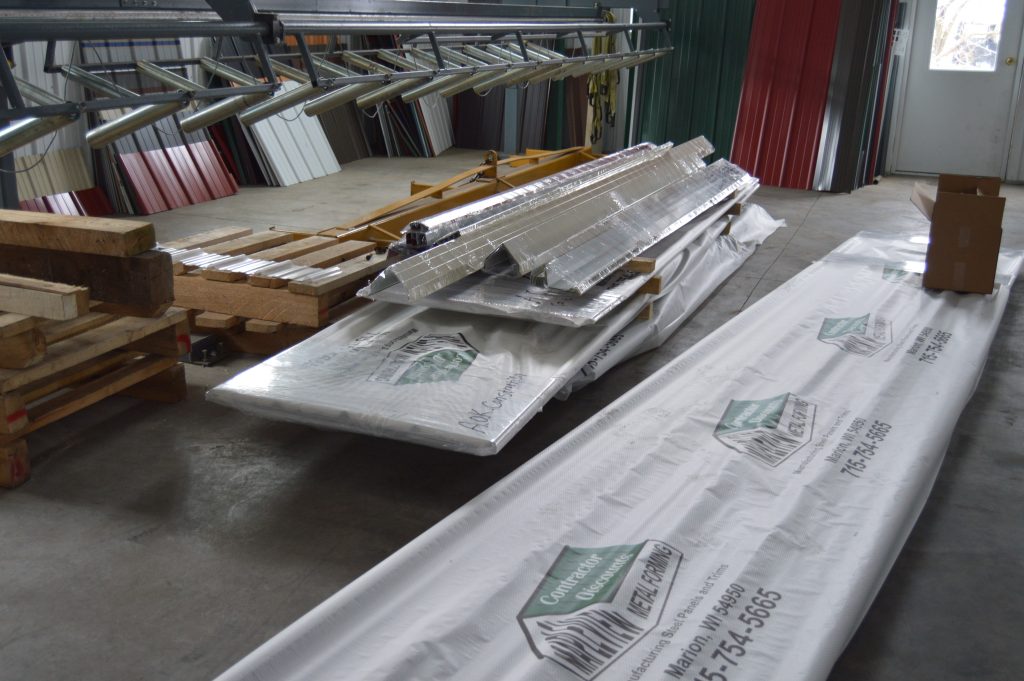 Still Growing
Even with price increases throughout the past year, business has been going well at the small rural shop. This past winter he was able to hook up the in-floor radiant heat system in the shop, which is heated with a boiler. Luke says he's "about due" to put an addition on the shop to make production easier. "I'd like to form the metal panels and trim and move them out to a storage building to get them out of the work zone." He also wants to incorporate an overhead crane to make loading easier. "It's something I had in mind when I built the shed, but it takes money to get there."
Luke plans to expand his supplier business: "I want to do more pole building kits. We'll get the whole kit together for a pole shed and sell them as a kit." That way, builders can order the entire building all at once and in one place.
Another thing he'd like to do in the future is to be able to make deliveries to jobsites. He does some deliveries now for people who don't have trailers, but he'd like to have a delivery route when his business gets big enough. RF