By Karen Knapstein
To move coils to and from the line — without causing damage — takes equipment that's up to the heavy-duty task. It also takes workers who have enough skill and experience to operate the equipment without causing damage or injury.
Coils come in different sizes. Weights and spool dimensions vary, but it doesn't matter if a coil weighs 10,000 pounds or 50,000 pounds — no matter the size, coils aren't moved by hand. Their size and weight make direct handling hazardous, so heavy equipment is used to move them.
Automated Coil Handling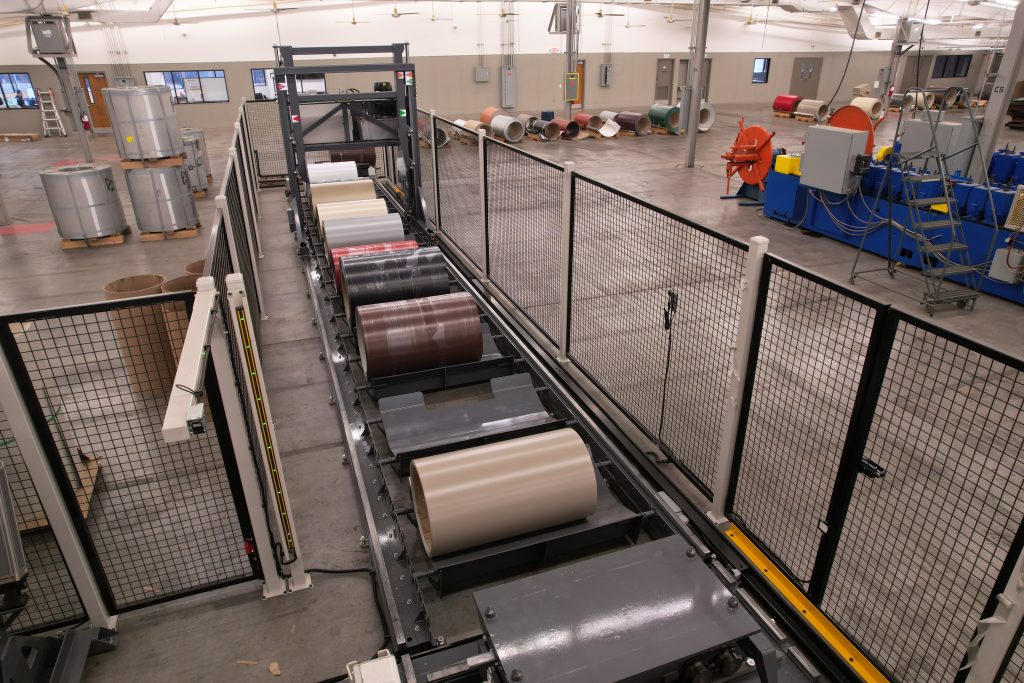 Automated equipment is one way to reduce the risk of damage and increase efficiency. If coils are moved manually, production is held up whenever a machine may be ready, but you're waiting for a forklift.
Jason Smoak of SWI Machinery explains that with an automated system, the process goes much smoother. Your coils are always ready to go and can be positioned to feed a machine at the touch of a button. No more waiting on moving equipment!
The American Building Network Upgrade Project
American Building Network, part of the Central Steel Group headquartered in Mount Airy, N.C., is one of the largest metal building manufacturers in North America. ABN's product line includes various steel tube-framed buildings, cold-formed steel structures, and pre-engineered steel buildings. In addition to maintaining manufacturing facilities in North Carolina, Georgia, and Texas, they also coordinate with some 26 other manufacturing facilities around the country in order to meet building demand.
ABN recently updated its North Carolina manufacturing plant with automated coil-handling equipment provided by Smoak's team. He worked with ABN to help assess their particular needs and goals, and was then able to configure an ideal system to suit.
American Building Network chose to install an automated SWI Machinery system that includes a 12-station CX-5 auto decoiling and storage system. The coils are all loaded into the system that is connected to the slitter. With the system controls, the operator is able to select the coil and the particular components to be cut from that coil. According to Smoak, "Basically, the operator says, 'I want this coil and these are the parts I want out of that coil.' The machine gets the coil, loads it, feeds it into the Marxman Pro slitter, and then is able to automatically produce the labeled parts on the table." ABN also leverages an automatic labeler that applies custom barcodes to each part, for parts and process tracking.
Benefits of Using a Fully Automatic Uncoiler
Smoak reports that the CX5 is a modified, fully automatic uncoiler. In the case of ABN, the uncoiler is coupled with a Marxman Pro slitter. The system keeps track of how much material is on the coil, so the operator always knows how much stock can be run. "It measures the height of the coil, it knows the height of the mandrel, what the centerline is, and how high it's raised." The operator doesn't have to physically keep track of how much coil is left on the spool; the system keeps track of that for you.
Smoak points out another benefit of the SWI machines, too; they don't use mandrels. "Ours is able to load automatically without mandrels," said Smoak. This is a nice feature, because a mandrel-based system requires mandrels to be placed in coils manually. So you either have to buy extra mandrels to leave in the coils, or the mandrels must be moved from coil to coil — a labor-intensive, time-intensive effort which ties up money in more equipment, and adds an extra step to the production process.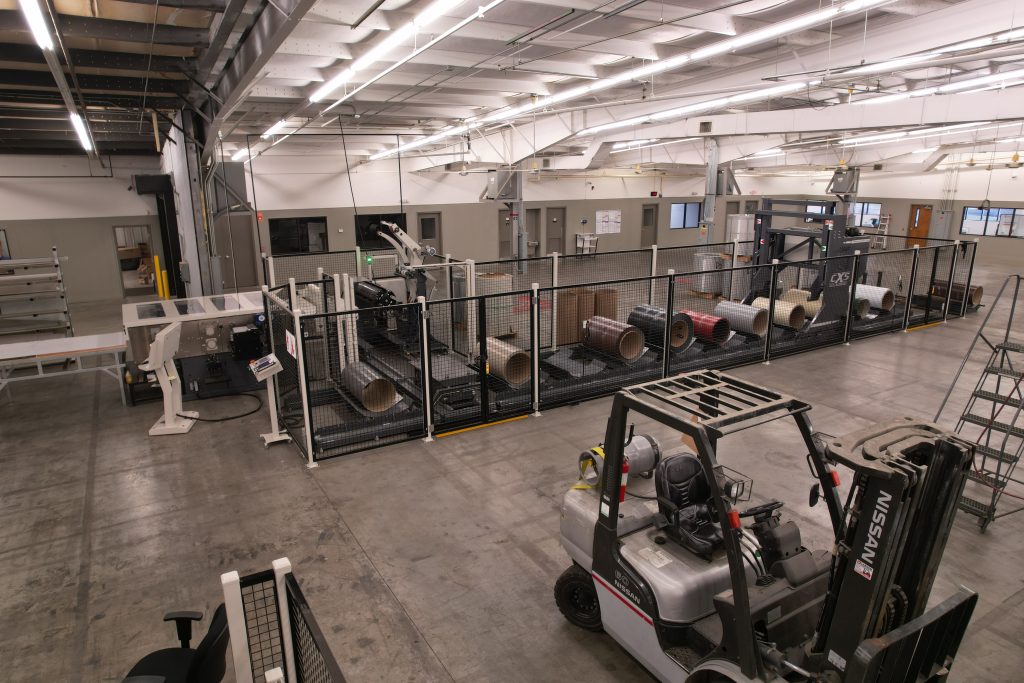 An automated system helps to minimize waste, too. "Coil steel is expensive," as Smoak points out, "so the less scrap you produce, the better." Coil damage incidents are minimized as well, because once the coil is loaded into the system, it doesn't have to go back into shop storage. The coil stock comes in, is loaded into the automated system, and can be completely run through production without ever having to go back into the warehouse.
With a legacy system, there's an additional risk of damage every time a coil has to be moved. Coils can be damaged by forklift tines, and can also get scraped or bumped while out on the storage area floor. And as anyone in the business can tell you, any damaged coil material has to be cut off and scrapped before you're then able to produce the pieces that are needed.
Smoak summed it up by saying, "Automated system coils are accessible all the time, and there's very little damage." And there's another added benefit that comes along with using an automated system, too: less required labor. An automated system only requires a single operator, rather than the two or three you'd have to employ in order to support a manual coil moving system.
Smoak Impressed with ABN
After working with American Building Network on their recent SWI Machinery upgrade project, Smoak was definitely impressed by the company. "They're pretty innovative guys," Smoak said. Some examples of innovation he noted include the fact that ABN videos building installations for further training purposes, uses drones to gather footage from all angles, and is proactive with their use of social media. "They're certainly forward-thinking," observes Smoak. "They're innovative guys, and that follows to their use of innovative equipment in the shop." RF