By Sharon Thatcher
Traveling through the western foothills of the Appalachian Mountain Range in southern Ohio you see the evidence: metal is outstripping asphalt as a roofing choice. Helping to make that trend part of the local landscape is metal roofer and rollformer Albert Shrock and his company Cherry Fork Metals LLC [Ph: 740-637-0657].
Shrock said his 5 1/2-year-old business has experienced phenomenal growth, which he attributes to refusing to compromise quality just to get a contract: a good product doesn't sell just one job, it sells many. His business card reads: Standing Seam Doesn't Cost, It Pays!
He recently broke ground for a larger 124 x 80 foot steel building to house his growing business. It is located along Hwy. 35 at Richmond Dale near Chillicothe, a few miles from his present home-based shop and within an hour's drive of Columbus suburbs to the north and two hours from Cincinnati suburbs to the west.
Like most contractors, Shrock had a background to build upon. Originally from Wisconsin, he explained that he first worked in his father's Amish buggy shop learning woodworking. At the age of 22 he was in Iowa building log homes in the summer and woodworking in the winter. Except for one year when he worked for his brother-in-law, he has been on his own.
Married with a growing family, he moved to Ohio 15 years ago. Metal roofing was not yet popular, and he worked on framing and general roofing in local residential and commercial markets. When he saw metal take off as a roofing option 10 years ago, he recognized the potential.
He knew the better option was a metal standing seam panel with concealed fasteners, not only because metal lasted longer but "when you put 2,000 screws in that roof and that rubber washer gives out, that's 2,000 potential leaks. Even half a percent is 10 leaks … once you cover that screw it all makes sense."
After three years of "kicking it around," Shrock told himself: "It's time to buy a roll former; it's time to invest and do something better than the average roofer."
That kind of logic has not been lost on consumers. In his area, Shrock said, "I would say there is more metal sold than shingles."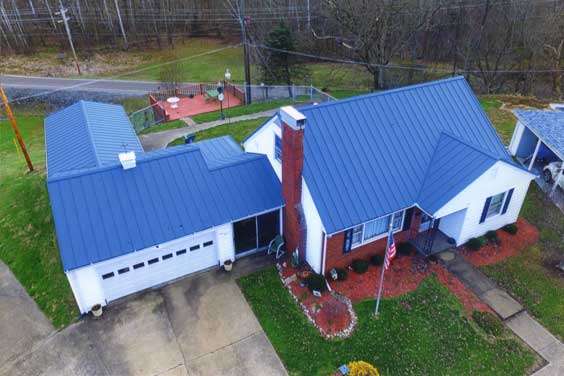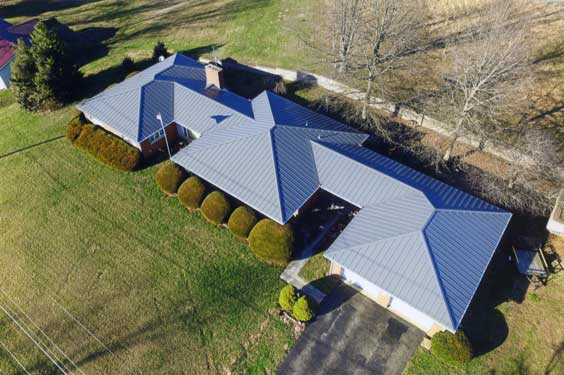 Shrock has delegated the roofing labor now to a single crew (he has backup for larger jobs) while he lines up work and supplies. It has been part of his master plan to build a business he could work with his family. Currently working with him are a son and a son-in-law as well as a couple additional employees.
His machine of choice is a New Tech, purchased new. It can accommodate up to 15 profiles, from 12- to 30-inches wide, but Shrock runs two profiles: 1-inch rib height for residential, and 1-3/4 inch for commercial. About 95% of the company's rollouts are done on job sites.
At the shop Shrock makes his own trim with a Schroeder manual handbrake with air assist. The Schroeder arrived about three months after he started using the roll former. "We had to go to a local metal shop to get our trims bent, and goodness, there's nothing like bending your own; you run one piece short you can just go to the shop and make a piece. There's a lot of roofs that are standard but there's also a lot of times that you have to bend a special piece."
He has a new trim brake on order from Hershey's Metal Meister that is scheduled to arrive next spring.
He sees more machines in his future. "There's only one way to go and that's to get bigger. I'm looking to grow. The potential is to have more equipment," he said.
His coil comes from Hixwood Metal. "I had quite a few coil suppliers after me to buy from them, and I found Hixwood at one of the trade shows," he said. "Part of the reason I went with them is because they had a better variety of the standing seam coil. A lot of the others had more focus on the ag panel."
He uses primarily 26 gauge galvanized for residential, 24 gauge for commercial, and on a recent school project used 22 gauge to comply with the architect's instructions.
Shrock does not fear being out priced. "I don't hesitate to tell a homeowner that I'm not the cheapest one out there, but we aim to be the best," he said. He knows there is a market for cheap and a market for excellence, and he prefers to pursue the latter.
Part of being the best is tearing off the old asphalt roofing rather than going over it with metal. "You get rid of the weight, and in the end, it looks so much nicer. I've seen [metal] going over shingles and you get that little wave…There are some people out there that think the quicker the better; that's not us, we work on quality."
He purchased an Equiptor that has helped significantly with the clean-up following tear off. The Equiptor is essentially an elevated dumpster that can be raised to roof height and moved easily around the building. Shrock said it is paying for itself in saved labor costs.
Working in the foothills of the Appalachian Mountains has presented some interesting challenges. One in particular called for hauling the roll former trailer loaded with coil up a steep driveway to a new home construction site on top of a mountain. "It took two, three-quarter-ton trucks to make it to the top after the first one spun out half-way up the steel grade," he recalled.
Then there are stories about homes with 12:12 pitched roofs; "those aren't exactly fun either," he said, "but pretty when finished."
At the end of the day, he said, owning his own roll former for his metal roofing business "has worked out very well, probably better than what I imagined it would."
After his business soon relocates along a major highway, Shrock is expecting to be in pursuit of even greater metal roofing opportunities. RF