Open or enclosed? For companies hauling portable roll formers, that is the question. The decision is not always simple. Here are some pros and cons of each for consideration.
THE CASE FOR ENCLOSED TRAILERS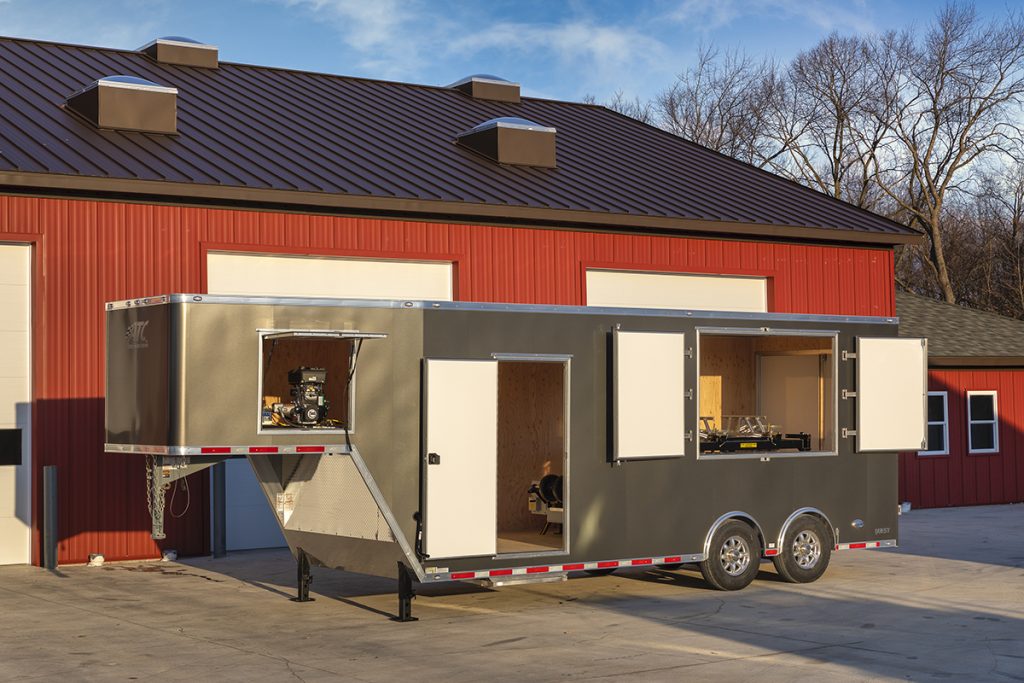 Larry Schlabach believes that for most owners of portable roll formers, nothing beats an enclosed trailer. The owner of Masterpiece Metal Roofing, LaGrange, Indiana, [phone: 260-463-4010] Schlabach learned first-hand about trailers from his metal roofing business which he started in 2010. Now as a dealer for New Tech Machinery, he occasionally sells an open trailer customized for New Tech portables, but has found that enclosed trailers he has customized for roll formers are more popular in the Midwest. He takes from his own experience to help educate his customer base on making the right choice.
Schlabach started his roofing business with an open trailer. His moment of awakening took place in 2015 when he purchased a second portable and it came in an enclosed trailer. From that point, he never looked back.
"The big thing is the salt up here on the roads in the northern states. Maybe it's a little slushy and the salt gets all over Even if you've got your machine covered with a tarp, it's going to come in through the cracks [of] the tarp. … If you're on the road every day, traveling from one job site to the next … you're going to get that stuff in there."
Schlabach could simply compare his two machines and tell the difference. "I could not believe how, in three years, my open-trailer machine looked versus the one I kept in an enclosed trailer. I still have one of the 2015 machines in an enclosed trailer and she's not nearly as rough as my open-trailer unit."
Schlabach's company works with trailer manufacturers ATC and United Trailer to customize enclosed trailers for portables. Standard is a 30-foot gooseneck and an 18-foot bumper-pull unit.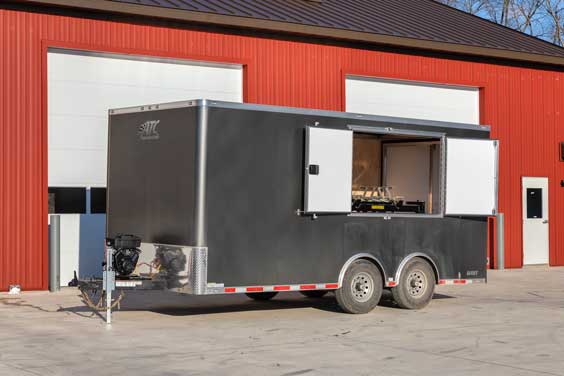 The gooseneck offers 22 feet of floor space, and 8-feet of space on the goose typically used for tools and supplies.
The 18-footers are their best sellers since many customers come from hilly areas where smaller is better when pulling up and around tighter spaces.
Masterpiece customers also like the fact that an enclosed trailer can carry all their necessary tools. "We sell a lot to the anabaptists. They're not going out to the job site, rolling it off and leaving again [the same day] … with an enclosed trailer you can have your tools, your pouches, your screw guns, the complete unit set up. They don't have to have two trailers on the job site, one with tools in it and one with the roll former in it."
When Masterpiece Metal orders roll former trailers, they specify heavier axles, heavier tires, heavier aluminum exterior skin, three-quarter-inch plywood on the walls for optional shelving, and side doors for loading and unloading coil.
Special orders can be accommodated. One client ordered a 20-footer with a 6-foot V-nose.
When buying an enclosed unit, Schlabach cautions the owners of any portable roll former against buying just any off-the-lot trailer; a lesson he learned the hard way. "In 2015, when I bought trailers for my roofing business, I bought them cheap because I didn't think I could afford expensive good ones that were heavy-duty built," he said. "Well, they lasted two years. I had to do major repairs within two years. I have a saying now: the good ones will cost you, but they will last you."
Setting up an Enclosed Trailer for Efficient Use
John Dumke, Vice President of Sales and Marketing, Roll Former Corporation  (www.rollformercorp.com); is also an advocate for enclosed trailers for the company's typical customer. "I'm not a big proponent of the open flatbed trailer," he said. For him it's about investing in the care of the machine and eliminating the hassle of wrestling with tarps and ratcheting straps on an open-bed trailer.
"A guy invests $40,000 to $50,000 or more for a roll-forming machine, whether he buys it from us or someone else. That's a pretty good expense … The work itself is tough enough compounded by dealing with the weather—cold weather or hot weather. I recommend an enclosed trailer to (A) protect your investment and (B) at the end of the hard workday, you can shut the doors, lock it, and boom, you're done."
Although Roll Former Corp. does not sell trailers with its machines, they do offer advice when requested (see sidebar) and Dumke cites two elements to consider when setting up a trailer for use on the job site: one dealing with the ease of access to coil changeovers within an enclosed trailer, and better ergonomics for work crew.
A decoiler on a machine from Roll Former Corp. is a separate unit, not top-mounted to the roll former itself. An option is to create a train-on-a-track within the trailer so the decoiler can be easily accessed.
A train-on-a-track is created by using two pieces of angle iron with flange mounts that can be through-bolted to the floor of the trailer in the shape of an 'A'. This is the track. Adding grooved caster wheels to the decoiler creates the train. As long as you have 2-1/2 to 3-foot barn doors on either, or both, sides of the trailer, the decoiler can then be safely accessed at the edge of the door for loading and unloading coil or for removing the decoiler for shop use.
To assure automatic realignment for feeding coil to the guides, also mount 'set stops' on the floor.
For better ergonomics
Hunching over panels coming out of an ill-placed roll former every day can prove to be a real pain in the back, so Dumke also suggests taking heed of your pass-line height. This is the height that your panels exit the machine.
To make that height comfortable for all-day use, measure the height of the trailer from ground level, plus the height of the machine and where the panel exits the machine, then adjust the pass line to a comfortable work level by creating a metal frame. The machine can then be bolted to the frame and the frame bolted to the floor of the trailer at a more ideal height.
An option would be to use two wood 4″ x 4s" as the frame.
An added benefit to increasing the pass-line height is the usable storage that has been created under the frame.
Four-Corner Leveling
It may seem like common sense to advise that a roll-forming trailer be kept as level as possible, but French philosopher Voltaire once said, "Common sense is not so common." So, just as a reminder, Dumke said it is good practice to use four-corner leveling when using a trailer, especially if you are using an off-the-lot trailer that is not customized for precision equipment like a portable roll former. He tells a story of someone a few years back who complained about twisted panels coming out of his machine. "He had an open-bed landscaper-style trailer that didn't quite have the structural quality of a box trailer. He said 'all the panels are coming out ugly as heck, and it was fine the other week.'"
Asked to send a photo, the problem was revealed: "one of the tires was on a rock and another one in a gully," Dumke recalled.
A level trailer will give you level panels, so don't be surprised if a twisted trailer gives you twisted panels. RF
Trailer Recommendations
Contributed by Roll Forming Corporation

Photo courtesy of Roll Former Corporation
Roll Former Corporation manufactures customized machinery, much of it portable. Popular for panel is their V-150 model. They do not sell trailers with their machines but do offer the following suggestions when a customer is looking for advice on buying a trailer, either open or enclosed. Note that a decoiler on an RF machine is a separate unit, not mounted to the roll former itself, so the decoiler advice is tailored around this setup.
First, depending on the length of the roll-forming machine you will want to have at least 4 feet to 6 feet of distance from where your decoiler will sit on the trailer to the front entrance guides on the machinery. With good alignment of the metal coil sitting on the decoiler entering into the machine guides, the 4 feet to 6 feet of distance will allow for the metal to "find center" and more naturally enter into the machine. Also, consider the weight of the machine and the weight of the coil stock that you will carry when buying your trailer.
Option 1: Open Flat Bed Trailer (similar to a landscaper trailer)
Dual Axle minimum 7,000 lbs. capacity
In lieu of a back gate, have four (4) corner leveling jacks installed.
You may consider mounting the given machine onto 4″ x 4s" or 6″ x 6s" to elevate the "pass line" of the coil / panels for a more ergonomic use of operation. This will also give you storage underneath of the machine for run-out stands or tripods.
Option 2: Enclosed Box Trailer with Possible Options
Dual-axle minimum 7,000 lbs. capacity.
Four (4) corner leveling jacks
Rear barn doors
"Double wide" barn doors in the front of trailer for ease and safety when loading decoiler with material.
Mount upside down angle iron ("A" Shape) with flange mounts to the floor of the trailer and then attach locking V-groove caster wheels to the base of our decoiler (3″ x 3″ bolt pattern) creating a "train on a track" effect to load your coils onto the decoiler. Establish a safe locking mechanism for the decoiler. This would also give you a self-aligning set up for your coil stock by using "stops" for the decoiler base and the spindle for the coil feeding into the given machine.
Interior lighting / 110-volt outlets
Axle / floor capacity upgrades
You may consider mounting 4″ x 4s" or 6″ x 6s" to elevate the "pass line" of the coil / panels for a more ergonomic use of operation. This will also give you storage underneath the machine for run-out stands or tripods.
THE CASE FOR OPEN TRAILERS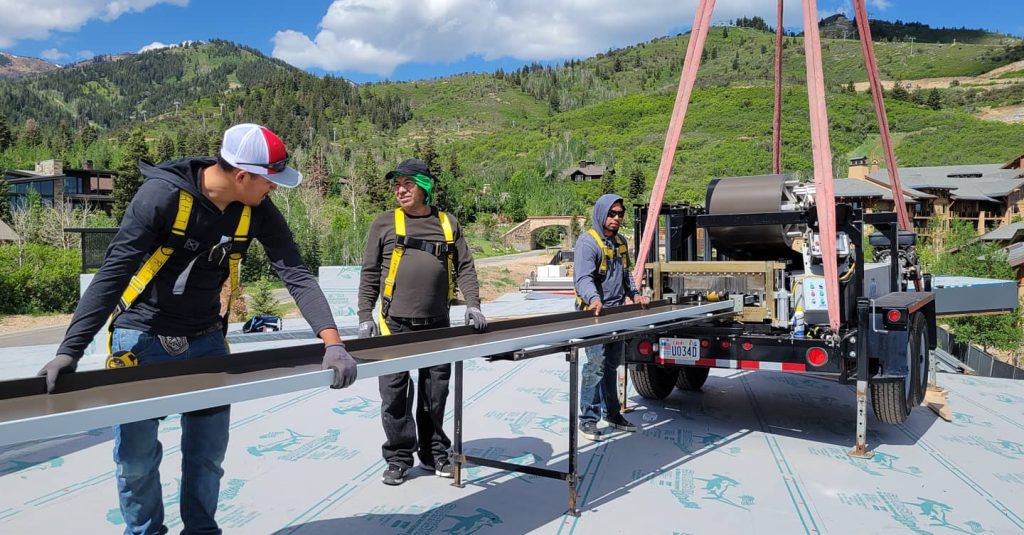 Certainly, an affordable option is an open trailer for the transportation of portable roll formers, but more than affordability should be used in the decision.
David "Homie" Mulcahy, owner of SaltedMetals in Utah, has a client base of residential customers with multi-million-dollar homes in the mountains. Traversing the mountainous terrain requires a nimble unit, and one that he can hoist up to the roof for roll-out. He uses Maxey Trailers purchased through New Tech. "They've been the better ones for us," he said. "They have built-in pivot points where we can hook a crane to it. We do a lot of roof run-outs. We run [the roll former] to the edge of the roof using a crane."
From there, the machine can be further raised near the peak using forklift extensions he's developed.
He has seen some owners with purpose-built flat beds installed with scissor lifts to hoist their machines, "but you can only go so high," he noted. "It's better to crane the [machine] up rather than trying to do it from the edge of the roof," he said.
Another advocate for the open trailer is Joe Keene, Owner, Integrity Metals, Vero Beach, Florida.
Like Mulcahy, he likes Maxey Trailers. He owns three of them. A fourth machine is on a trailer he purchased cheap and came to regret. "I got a good deal on it," he explained, cautioning: "if you get a good deal on something, it's usually worth what you paid for it."
Keene's type of business makes open trailers particularly appealing. His crews roll-form panel for roofing contractors throughout the state of Florida. They also pre-make panel in the shop and transport within state and occasionally surrounding states.
"We run multiple jobs a day," he said of their job-site roll-forming business. Integrity employs 18 workers plus himself and does 80% residential, 20% commercial. "We're pretty high-paced. Sometimes we're running five and six standing seam jobs a day so the quickness of being able to load [the roll formers with coil], is really a big deal for us," he said.
An open trailer offers more access to the machine on all sides with a forklift. "We might run 26 gauge in the morning, 24 gauge in the afternoon, and an .032 or .040 aluminum the next day. We're constantly adjusting our tooling and constantly adjusting the portable roll former, so … the ability to just walk around the machine very quickly and lean over and make adjustments is a very important deal for us," he said.
He also notes that an open trailer allows the user to more easily hear when trouble arises. "I think for maintenance purposes [an enclosed trailer] muffles the noise a little bit and makes it so you can't quite hear things the way that you need to," he said.
He knows from experience what problems can develop. "I've had it where a bearing seized up and a panel stopped running through … the tooling. The panel came up and pushed the cover off my machine … I was walking panels at the time, so I was 20 feet away from my roll former. When I came back, the panel was sticking out 10 feet between the two coils. If I was in an enclosed trailer, how far would that have gone; would it have gone through trailer? I don't really know."
It took him 3-½ hours to cut the metal out of the roll former, and he wonders how much more time it would have taken had the machine been in an enclosed space.
Despite his own affinity for open trailers, Keene is originally from Michigan and says he understands the appeal of enclosed trailers. "There is an argument for having a customized trailer that's covered to be able to keep your machines out of the weather," he said. "We get a lot of rain here [in Florida], but I have custom-fitted canvas covers, so when we travel you can put them right over everything.
"Our machines also don't live outside," he continued. "They travel to the job and when they come back they go inside our shop," he emphasized. "If they were living outside, and we didn't have room inside my shop, then I'd consider an enclosed trailer."
He also recognizes that two different worlds exist in the roll-forming industry: rollformers who roll panels and trims for metal roofers on site and/or off site (prevalent in his region); and metal roofers who buy portables to roll their own metal. The latter typically go out to a job site and roll panels one at a time as needed during installation, which can take several days before traveling on to the next job site. The type of trailer needed in that circumstance is different than his own.
"I understand the cold winters and being able to close the doors if a snowstorm starts up; close the doors and let it sit," he said, adding: "It's completely different worlds when you're roll forming what you need for today or when you're trying to roll form as much as you possibly can every single day because you're a high-paced manufacturer."
Most trailer manufacturers don't cater to the roll-forming industry, so there are reasons for why the Maxey Trailer is a favorite in the trade. "They're very durable and they're built in the mind that we're going to be going on job sites," Keene said. "They sit up off the ground and you don't have anything low that will drag."
They come with double axles; 7,000 pounds capacity on each axle for a total of 14,000 pounds of weight capacity, and there are heavy steel hooks on all four corners for hoisting the trailer-mounted roll former to the roof for running straight onto a roof deck.
"And those trailers are tough," Keene said. "The first Maxey Trailer I got, it's probably got 500,000 miles on its original axles, maybe more. Everything is steel. Everything is coated with an epoxy paint, so there are no rust issues."
Trailer length is around 15-16 feet. "The machine itself is 12′ 6″, so you have the flat section of the trailer at about 12′ 6″ and you've got maybe a 4-foot tongue."
Being short is a critical advantage for where he does business. "We are a beach-front community so a lot of the places have a tiny little driveway for a little beach bungalow, and you've got to get into a tight little space…when you go to an enclosed trailer it has to be long enough to walk all the way around the machine, so you going from a 15-16 foot trailer to having to have like a 20-foot trailer and that's a huge game changer when you're going in and out of a small spaces all day long."
Since the machines will be out all day, they need enough coil to last. "We put three coils on the flatbed of our truck, and then there's a cradle that comes with this machine that mounts to the trailer that holds two coils over top of the machine … we can do the setup one time and continue to run until they run out of coil. We usually finish every single job without having to drive back to our shop and then drive back to the job again."
In addition to his portable roll-former trailers, Integrity has two 37 foot long gooseneck trailers pulled with 3500 series pickup trucks. The trailers are custom-made in Northern Florida with larger torsion tubes underneath to keep the trailer bed from twisting, and I-beams for mounting a knuckle boom crane. Strapping points in the middle of each side, leading to the center of the bed, offers the ability to off-load one package of product at a time without unstrapping the entire trailer.
Even with a cover, weather can be rough on machines exposed to the elements, so Keene is adamant about maintenance. "If they get rained on, we tear the covers off when we get back, and we're oiling our tooling just to make sure we don't get any rust. And every set of tooling gets torn down after so many feet and all the bearings replaced."
Conclusion: Both open and enclosed trailers are viable options for portable roll formers. Base your decision on the type of work you do and your ability to protect your machine from the elements, then seek out a heavy-duty option that will stand up to long miles and hard work. RF
'