By Sharon Thatcher
Working within code is often very challenging and intimidating, but in Florida those codes are proving to be a boon for metal roofing in the residential market. Coastal Metal Roofing Sales [www.coastalmetalsales.com] is a metal fabrication business working in this changing environment. The company provides metal roofing systems rolled on site for contractors working primarily in South Florida where construction codes are among the strictest in the country.
Behind the company are founder Nick Lee, President, and Kevin Gonzalez, Account Manager and shareholder. Nick started the company at the end of 2018, and asked Kevin to join him the following year. Each brought complementing talents to the table: Nick as an experienced metal roofing contractor, and Kevin with a history in sales, manufacturing, and fabrication.
Kevin said Nick decided to become a metal supplier because he recognized a lack of options in the area. Other factors were in play as well, "there was also a lack in competitive pricing for contractors, and the [metal roofing] industry itself was growing exponentially," he said.
Behind the growth were rapidly changing attitudes towards metal, helped along by the unique environmental challenges in Southern Florida: baking heat, salt spray, and hurricanes.
The codes moved front and center after massive roof failures from Hurricane Andrew in 1992, and further defined with subsequent hurricanes and high-wind events in following years.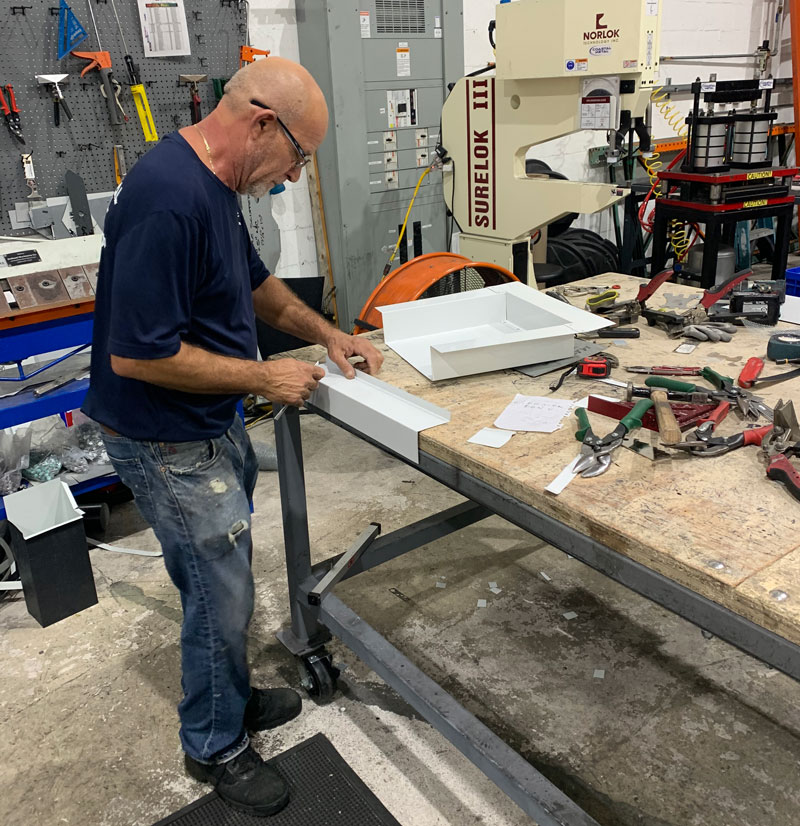 "Metal is one of the most strictly tested [roofing materials]" Kevin said. "In South Florida, where we tend to be in high-velocity hurricane zones, the testing uplift [results for metal roofing] surpasses tile and shingle."
Homeowner associations along with cities and towns took notice. Today, metal roofing is not only accepted but often encouraged.
Coastal Metal Roofing Sales was started in Homestead, Florida, at the last exit on the way to the Florida Keys but moved last year north to Doral in the Miami area to better serve the south-central area of the state. The move has worked well. "Since we made the move, it's been great because we get a lot more walk-ins," Kevin said. They work in both commercial (20%) and residential (80%) markets.
The transition from shop-based to job-site services
The company originally began with a stationary machine, anticipating that panels would be formed off site then delivered to the customer. It wasn't long, Kevin said, that they reverted to job-site roll forming because it was more efficient than crating and shipping. "Mechanically-seamed panels are laid face-to-face … because they don't lay like a corrugated panel one on top of the other. They take up a lot of space," he explained. "Once we saw that (and mechanically-seamed is the top selling panel) we quickly turned to job-site roll forming."
There was also the cost of wood for crating to consider, along with the time needed to crate.
"It made it easier and more efficient, hands down, without having to build a crate with all the wood expenses," he said.
Roofing contractors loved the transition to job-site roll forming because they could focus on installation. When the Coastal Metal team arrives, they already have everything pre-sorted by section so the roofer can be on the roof prepping for panels rather than sorting through deliveries.
Kevin says contractors are not inclined to cut them out of the equation by purchasing their own portable machines. "Coil suppliers like Drexel Metals keep us in another pricing tier compared to roofers," he said. "Yes, the roofer can get their own roll former, but they don't buy the volume [of coil] that we buy so at the end of the day it doesn't really pay [for them to have their own machine]."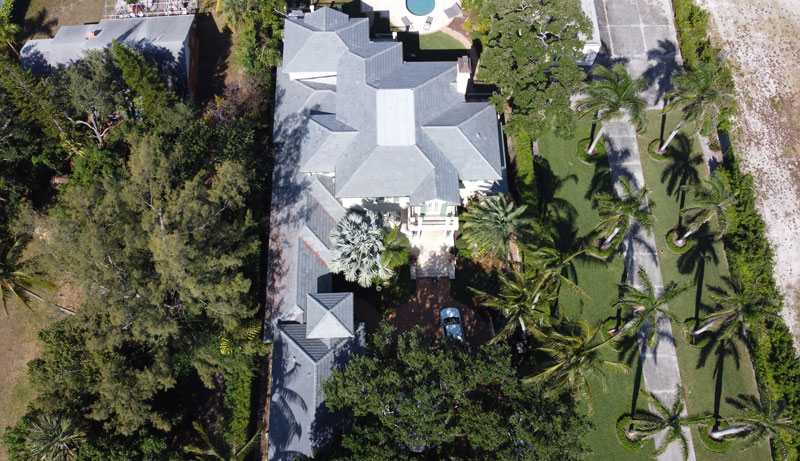 The few exceptions are major roofing companies with high-volume sales that have been on the scene for many years.
Coastal Metals does maintain a shop-based SCHECHTL metal-forming machine used for making trim and flashing. They also custom-make gooseneck roofing vents and roof jacks.
Delivery Changes
Delivery methods is another area that Coastal Metals has scrutinized and changed for efficiency. "We started with pickup trucks, but then we changed to Izuzu flatbed trucks because they're more heavy duty," Kevin said. "We can load 10,000 to 12,000 pounds [on the Izuzu]. It can carry a [New Tech roll forming] machine, five or six coils, all the accessories, and flashings on one truck."
It can hold enough supplies for two typical jobs (the daily average of each of the company's 2-man roll forming teams), versus a pickup which required reloading.
Moving into 2022, Kevin sees a strong start. "A year ago, we were backed out maybe a week, now we're booked out two to three weeks," he said. More people are also putting down deposits to secure prices for homes yet to be built.
The Economy Ahead
The economy in South Florida remained strong throughout the pandemic. "We never shut down, not even for one day," Kevin said. "It slowed down, but we never shut down. April 2020 was a little bit of a slow month, but after that it's been increasing every month … it's been nonstop."

Not even the rising price for standing seam has deterred consumer demand for metal, Kevin noted. "Tile has also had price increases and delays. What we have heard from some of our customers is that there is a four-to-five-month delay in lead times for tile because of an issue with the foam used to install the tile."
Widespread material delays within the steel industry have also not been a major issue thanks to well-established relationships with the company's main suppliers which includes coil supplier Drexel Metals, and fastener supplier, Direct Metals. "We've been able to keep a steady supply in a timely fashion without many hiccups," Kevin said. It has even helped them grow their business by attracting roofers from competing suppliers that have not fared as well.
He attributes fair pricing to helping Coastal Metals find and keep loyal customers. "Pricing has gone up," he explained in reference to the last year-and-a-half of industry-wide volatility, "but we don't try to make an extra 5%; if we got a 10% increase, we gave a 10% increase. We try to keep everything very fair throughout these different times."
He added: "If everybody is making money then everybody's happy; we're making our share they're making their share. And the homeowner is happy because he doesn't feel like he's getting taken advantage of." RF
For more on this subject read:
A Tale of Two Cities — Florida Style
Kent Construction and Roofing, Inc.
Emergence of Metal Helping to Change the Florida Landscape