Florida architecture has traditionally been characterized by terra cotta colors and clay tile roofs. But the emergence of metal is helping to change the state's landscape.
Kevin Gonzalez, Coastal Metal Roofing Sales, noted that there are some unique differences in codes that cover the coast of Southern Florida as opposed to those for inland areas of the state.
"One of the main differences is pitch," he explained. "You can install in some parts of Florida down to a pitch of ½ inch over 12 inches, but Miami only allowed 2 and 12 until recently when they began to allow a 1 and 12 pitch."
Another difference deals with rules governing re-roofing over an existing roof. "In some parts of Florida, you can install metal over an asphalt shingle, Miami-Dade does not allow that," he said.
For underlayment, Miami-Dade code requires a fire barrier. In Miami-Dade, the peel-and-stick is optional. "You first have to go with your 30-pound fire barrier, then you put on the optional peel-and-stick," he explained.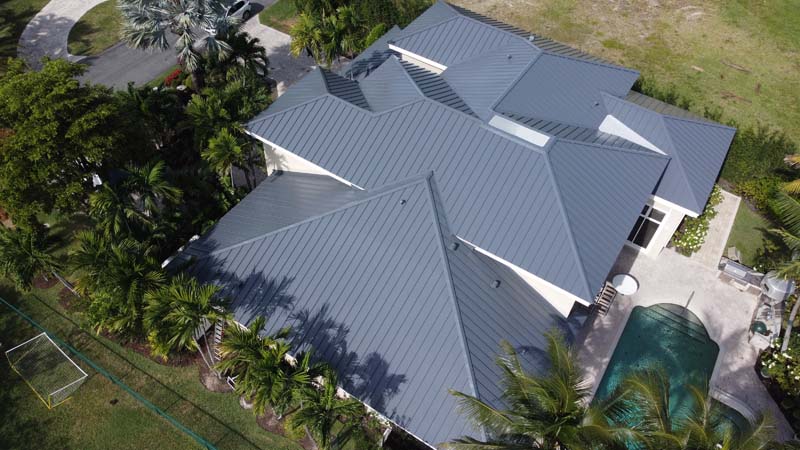 For metal, Coastal Metal primarily only has a market for aluminum along the coastline, particularly the Keys, or elsewhere near brackish water; otherwise, Galvalume predominates.
The Keys are unique partly because of the historic nature of the area. A predominant style there is referred to as Florida cracker architecture, characterized by wood structures with metal roofs. Sections of the old style remain under historic protection, and so does the popularity of the style, which calls for exposed fastener metal (referred to by Kevin as "5V"), whereas the sleek, modern look of inch-and-a-half mechanical-lock seam is desired elsewhere. "You do get some standing seam for larger multi-million-dollar homes … but you also see mansions in 5V in some areas of the Keys," he said.
Consumers can use a program called Ygrene (pronounced "why-green"), currently available in California, Missouri, and Florida, to finance energy-efficient and renewable energy home- or commercial-upgrades. As well, some roofing contractors provide financing. Insurance payouts for wind events are also common in the area.
One metal market still to find solid ground, however, is metal tile. Its higher cost, and the evolving acceptance of standing seam has kept it reserved for a more exclusive market.
Popular colors throughout South Florida are charcoal gray, mansard brown, and dark bronze. "It's incredible how fast those three colors move: A truck load comes in, and a truck load goes out," Kevin said, adding that black is also very popular for roofing and trim.
Fading in popularity are whites, mill finish Galvalume, and terra cotta. RF

For more on this subject read:
A Tale of Two Cities — Florida Style
Kent Construction and Roofing Inc. 
Coastal Metal Roofing Sales