We asked representatives from five major stationary panel roll-former manufacturers for their insights into what should go into making the decision between single, dual, and multiple profile machines. They also provided information on the machines they offer.
ASC Machine Tools Inc.
Spokane, Washington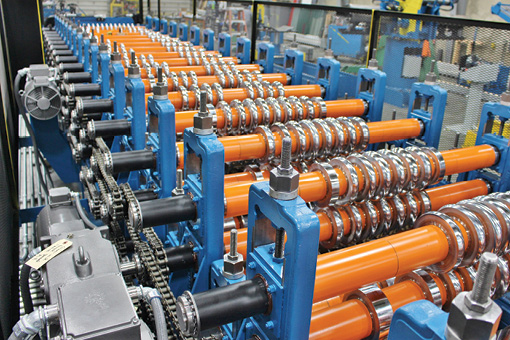 For single and dual height options, the Alpha Series is ASC's most basic roll-forming unit, followed by its Select Series. The Classic Series is the subplated/rafted line.
ASC Machine Tools (www.ascmt.com) offers all three profile machine options, referring to them as single height (one profile), dual height (two profiles), and subplated (multiple profiles).
According to Thomas Schwarzer, Regional Sales Manager Northeast U.S. and Canada, smaller startups go with the company's single height panel former, while "larger companies with higher demands, that are also looking into adding more profiles in the future, invest more money and normally go with a dual height or subplated machine," he said.
Their multiple profile, or subplated, lines in the Select Series™ or Classic Series™ are mainly designed for companies with larger, high-volume production needs.
ASC's single profile machines are already prepared at the factory to accept a second set of stands and tooling at a later date, which makes a conversion to a dual profile machine easier. It is still important to discuss your future plans for a second profile during the initial purchase so that any remaining prep work can be done cost-effectively when the line is first manufactured.
"The roll-former base, where all the roll-former stands, shafts, and tooling are mounted to, is already prepared. All the holes are predrilled, which makes an install of a second set of taller stands easier in the field," Schwarzer said, further explaining: "A two-profile machine basically means you have a set of shorter and a set of taller stands. If you just want the one profile, you have an empty spot where the second stand could go."
Schwarzer noted that one of the major considerations for a dual height machine is the number of passes or stations needed for each individual profile. "Not all profiles take the same amount of roll-forming passes or stations," he said.
"Typically, when you have a dual height machine, the number of stands should be comparable," he said. "The ag and the R/PBR panel, for instance, have the same number of stands; it can be 14 or 16. But a corrugated panel or certain architectural panels, they have 20 or more passes."
Some variation in the number of stands is acceptable, though. "They normally should be pretty close," Schwarzer said; "14 and 16 is fine, 14 and 18 is fine, 16 and 20 is fine. But if you get to, for example, 14 and 20, then it could be more challenging and will probably add cost. The tooling for the less-pass profile will have to be spaced out so both panels make it to the exit end. Depending on the profile, you might have to add more stands and tooling than originally needed. It really depends on the two profiles you want to run and if it's a pre-cut or post-cut line."
Another consideration is the profile shape itself. Certain profiles can only be produced on pre-cut machines and others preferably should run on post-cut lines to eliminate flare. Contact your sales representative to check if your desired profiles can be combined on one machine or if you should consider investing in two separate lines.
ASC offers single and dual height options for each of their machines in an Alpha, Select, and Classic panel-forming series. The Alpha Series® is the least expensive, with Select Series the next step up in price, followed by the Classic Series. The Select Series and the Classic Series can both be initially set up as subplated machines.
Acu-Form Equipment
Millersburg, Ohio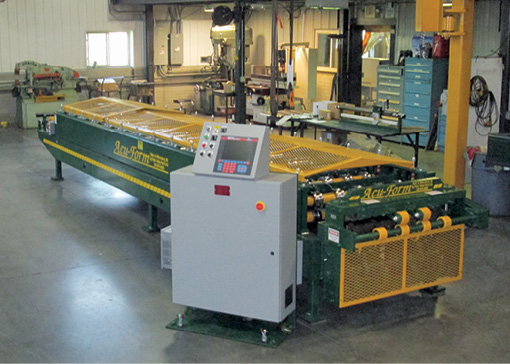 Acu-Form Equipment has found a favorable market for its single profile roll former that forms a combo panel, satisfying dual needs.
Rather than offer a dual height machine, Acu-Form Equipment (www.acuformequipment.com), decided to go a different route by offering a panel that satisfies the needs of both ag and standing seam panel producers. Their Combo panel roll former produces an ag and standing seam crossbreed. It can be tooled for a different panel style, but many of their customers stay with the Combo.
Wayne Troyer, Sales Manager, said the company made this change after making the crossbreed panel dies for a customer in Canada.
"It almost looks like an ag panel but is really a standing seam version of it," he said, adding that it satisfies a growing market for an affordable standing seam facsimile. He sees the demand for this variety only getting stronger.
Before buying any profile, however, Troyer said he presses (especially startup owners) to make sure they know their market. "A lot of customers, especially new ones, they'll say, well, we like this corner, and we like this panel, and this, and this, and I always tell them, OK, let's stop, and check with your local contractors [to see] what they're using. You want to match what they're using because they're going to be the ones buying from you."
Acu-Form will manufacture a double decker machine for customers who order it, but it doesn't happen often.
"What we'll do is say, before you order a double decker, let's sit down and discuss the pros and cons. Call a couple people who have a double decker and see what their thoughts are before ordering one," he said.
Troyer said owners of a dual height/dual profile roll former often face two particular dilemmas:
"What we're hearing a lot out there is, we put a double decker in, and now we offer next day or 2-day service, but then one of our better customers comes in and he wants a piece of metal because he messed it up or he didn't order enough…you have to stop the one order to do the other," he explained.
The other frequent scenario he said they're hearing is, "we're getting so crazy busy, if we had two different machines we could be running two different profiles at the same time."
Other considerations for double profile machines that Troyer noted involve adjustment of dies and how the movement of one roller stand affects them all. "If you have multiple dies on one shaft and you want to adjust one or the other, it moves all of them," he said.
With single profile stands, he added, "now you can adjust whatever you want, however you want, and you don't have to worry about the profile beside it being messed up."
Space is often a concern for companies wanting to add profiles in a limited footprint, but Troyer said Acu-Form "got it down to the point where you can put [the machines] side by side, and it doesn't take up as much room. If for some reason you do have to adjust one machine…you can pull that one machine and you've only got one machine down, you don't have all three or four profiles down at the same time."
The Bradbury Group
Moundridge, Kansas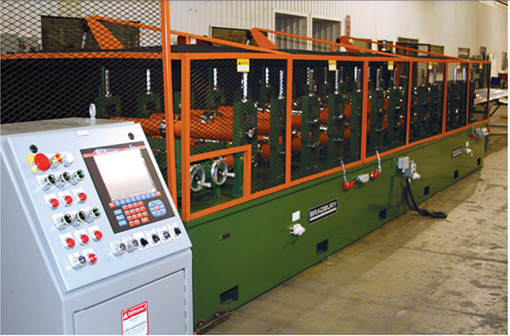 Bradbury has five decades of experience to back up its first-in-class reputation. Shown are two of the company's single and dual height options for panel roll forming.
The Bradbury Group (www.bradburygroup.com) offers quality roll-forming equipment to manufacturers with different manufacturing needs and production levels. Machines can be designed for startup companies, midsize production companies, and some of the highest volume manufacturers that often need more throughput and automation.
Customers have multiple models to choose from: Single High, Double High®, Rafted®, Double Wide, and even Double-High Double-Wide mills for a choice of four profiles at the push of a button.
Pre-cut, post-cut, flying shears, or stop to cut roll-forming lines are options from the Bradbury Group to fit all investment levels and production requirements. Bradbury Group lines can also incorporate notching, punching, in-line sealant, and swaging in a complete "on-the-fly" system.
The Double High roll former features upper and lower pass lines of tooling that can be individually fed to form different profiles by raising or lowering an entry conveyor.
Bradbury Rafted roll formers have stands, shafts, and tooling mounted on removable subplates so that complete sets of tooling can be easily exchanged.
The flying BOSS™ Shear supplies accuracy of +/- 1/16″ and throughput speeds up to 300 FPM to complement all of Bradbury's high-performance panel lines.
Stacking options can be fitted to these line configurations to end justify panels or pyramid stack if required.
All Bradbury Group machines come with Beck Automation Controls from Beck Automation, also a Bradbury Group company. Beck Automation offers software packages that can connect the office to the shop to manage orders and production. Dashboards and KPI screens can be displayed for management and operators to view real-time performance and production trends.
If you are a newcomer looking to buy your first new machine, Josh Beck, Technical Sales Leader for Hayes US/Bradbury Trim Shop suggests that if you plan to offer more than one panel profile and the panels do not run from the same coil width, make sure you have the ability to run wider coil width on both levels. This can cut down on the necessary coil inventory by giving you the ability to stock one width coil for slow moving colors or to substitute a coil in a pinch to fill an order. Other questions the manufacturer should be willing and able to answer: "What happens when I need service?," "Do you offer service contracts?," and "What is your turnaround on spare parts?"
Beck also offered that shop owners looking to add a second machine may want to look at the efficiencies of the line and the operations altogether. "It's amazing what you can learn by collecting data from the line and seeing firsthand where the bottlenecks are in the manufacturing process. Sometimes a simple change in coil staging, coil handling, or how you clear the finished packs can increase production of a roll-forming line without spending the dollars needed for an entire new line or adding a shift."
Beck also emphasized the importance of knowing your market before making any decision. There is no one good answer for every potential buyer. "It can only be answered on a case-by-case basis through conversation. It all depends on where in the country this company is, do they target more residential or commercial, are there circumstances that demand heavier gauges, and what advantage can I offer over my competition?" he said.
Metal Rollforming Systems
Spokane, Washington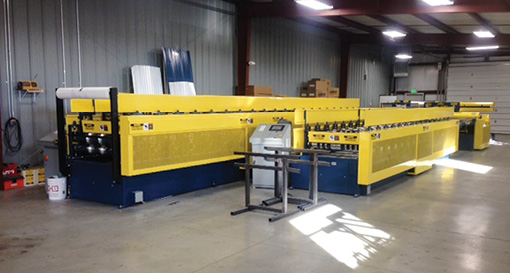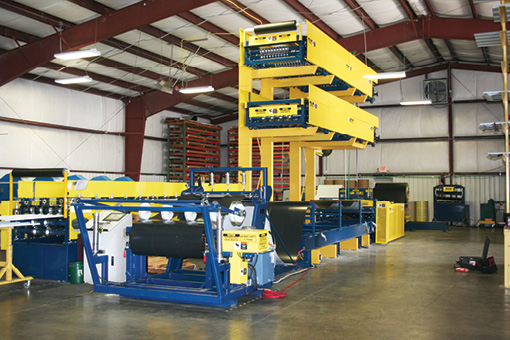 The Titan and Signature lines from MRS (top) can be ordered as either single or dual profile. Also available is their Patriot series (bottom) for multiple profiles.
Metal Rollforming Systems (MRS) (www.mrsrollform.com) offers three series of panel lines: the Titan, Signature, and Patriot. The Titan and Signature can be bought as either a single profile or dual profile line.
All single profile MRS machines can be modified in the field, as needed, to add a second profile after the purchase.
The number after the series name indicates the number of profiles: the Titan I and Signature I are both single profile; the Titan II and Signature II are both double profile.
Bill Griffin, an owner and partner at MRS, said adding a second deck for a dual-height machine is around 50% of the initial machine cost, making it more cost-affective than the purchase of two separate machines.
The Patriot is a multiple profile machine and is available with one or multiple "rafts" or "cartridges," which can be switched out by the operator as needed. The cartridges "can be swapped onto the subframe in a matter of minutes," Griffin noted.
It does take longer to change over than the double deck lines, because the tooling on double decks is installed at all times and the infeed raised or lowered to feed the correct profile. "It takes 10 to 20 minutes to change a raft, and only 30 seconds to change between profiles on a Signature II or Titan II," Griffin explained.
Just over half of the startup customers at MRS opt for a single profile machine, Griffin noted. "It keeps startup costs down and gives them the flexibility to feel out their market for the right second profile. As new profile designs emerge and become more popular, the amount of people going with double decks continue to increase," he said.
When talking to potential buyers, Griffin said, "I always begin the conversation with what profile or profiles are you interested in, and what are your anticipated volumes? You're going to want at minimum $250,000 in yearly sales for the second profile to justify the equipment and inventory costs. If you are utilizing your same inventory for both products, that number can drop to $100,000 in yearly sales.
"If you decide to start with a single deck line, it is still very important to discuss with your sales engineer what profile you may want to add later," he continued. "In some cases, the frame may require lengthening or widening. It is much easier to do this during the initial manufacturing process than to try and do it afterward."
Knowing at what point to add a second profile can be tricky. Perhaps you don't have the demand now, but by having it available you may be opening the door to more opportunity. Bottom line, it comes down to your market and your potential return on investment (ROI).
"By adding another profile, you will exponentially increase your demand for it because you now are able to turn it around quicker than if you were to wholesale it," Griffin said. "I would approach this as: What will it cost me to add inventory and equipment based on what my return will be? In most cases, the ROI should be in the two to five year range.
"The buyer also needs to take into consideration that by having additional product offerings, they can appeal to and service a larger market base—typically this would increase sales of their existing product lines as well, sometimes in the 10% to 30% range."
An important consideration in purchasing a dual level/double profile machine is the increasing variety of panels being offered and a thirst for variety by consumers. Styles that can utilize existing coil inventory are an obvious plus. "We're seeing a big movement toward panels designed to mimic the snap lock look," Griffin said. "It seems to be a more aesthetically-pleasing choice to homeowners, but the installed costs for a true snap lock are significantly more than a through-fastened panel. Because of this we have pioneered new profiles that mimic the narrow rib, wide pan look but stack, ship, and install just like an ag panel. In most cases you can even use your existing coil inventory and trim profiles." RF