During the METALCON Meet the Press event last October, Shield Wall Media had discussions with Mill Steel about the updates to its progressive online shopping experience. The updates keep coming and the level of service to customers continues to rise, so we thought it to be a good time to learn more about the features of the online service platform.
Q What is the Mill Steel app? What does it do and on what platforms does it operate?
A The Mill Steel App provides users access to Mill Steel's complete line of prime, excess, and secondary painted and acrylic inventories. Users can shop coils with real-time pricing, view order history, place an order for delivery or pickup, and bid on coils from the excess and secondary inventories. It provides offline functionality, automated notifications, and full-screen mode. The app can also be downloaded on the home screen of any device (phone, tablet or desktop), making it easily accessible.
The Mill Steel App works on any device, regardless of the operating system or screen size.
Q When, how and why was the app developed?
A The Mill Steel App was launched in June of 2020 to provide an easy online shopping option for today's busy steel buyers. The goal of development was to make sourcing steel easy and convenient to help users save time and money running their businesses.
Q What types of material can roll formers expect to find through the app at any given time?
A App inventory includes full 24, 26, and 29-gauge SMP and paint to order material and acrylic. Sherwin-Williams WeatherXL, AkzoNobel, commodity polyesters, and custom color codes are all available on the app.
Q How accurate is inventory listed in the app? How often does the inventory list change?
A All inventory on the app is in real time, there is no lag in updates. What users see is an accurate representation of what is available for purchase.
Q Explain the "bid" process.
A Users can place bids for coils in our secondary or excess inventory. The bid is sent to our purchasing team. From there, the bid can be accepted or countered via email or by direct correspondence from a sales expert. If accepted and the user is a new customer, our finance team is notified to setup an account. If the user is already a Mill Steel customer, the order is processed at the accepted price.
Q On any given day, how much inventory is listed on the app?
A There is over 30,000 tons of inventory available at any given time.
Q How does ordering through the app affect delivery times?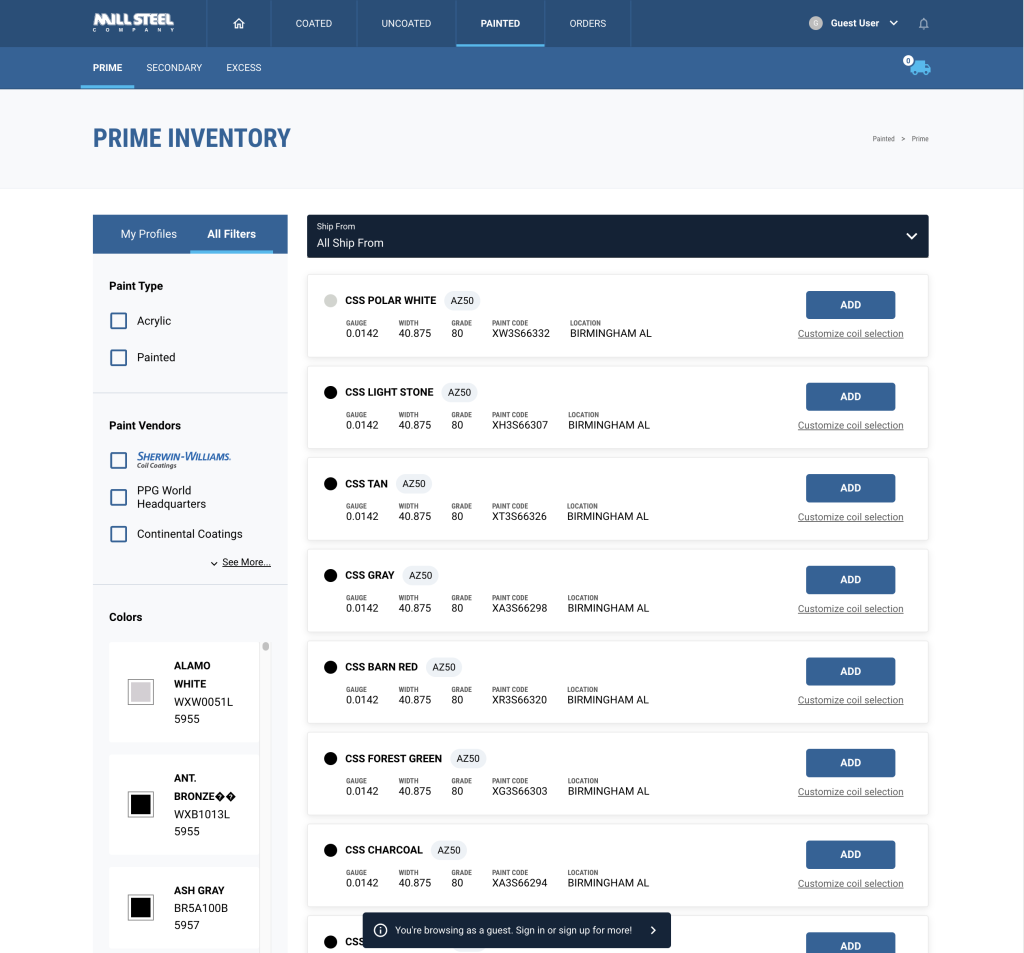 A The app provides visibility on all details of the product up front, which helps eliminate the back-and-forth communication that sometimes comes with placing an order. Users can hand select their coils to build trucks, which improves efficiency in getting trucks scheduled and out the door.
Online orders receive the same level of service and quick turnaround time as orders placed through phone, email or text.
Q How long does it take for a new user to get set up?
A Anyone can browse inventory as a "guest." To transact and gain access to the full suite of features the app offers (i.e. saved filters and one-click reorders), there are some necessary business requirements that must be completed. Registering for an account can happen very quickly, depending on the readiness of the user (i.e. having credit references available).
If the user is already a customer of Mill Steel, they will need to create an online account at the point of purchase, which takes only a few minutes.
Q How does the app affect direct interaction with Mill Steel staff?
A Online orders are processed the same way as an order received through any traditional channels, like email or phone. The entire Mill Steel fulfillment team is behind each online order ensuring excellent customer service and quick delivery. There is a dedicated account manager for every customer that can be reached at any time to assist if needed.
Q How do you see the app evolving? What challenges do you expect it to address on the horizon?
A Mill Steel has a team of web developers on staff to continue advancement of our digital platforms. Some new features slated for development later this year and early 2024 are:
• a more intuitive and robust search bar
• additional authorization levels for account customization
• additional processing notifications, such as alerts for when material is done being painted
We are constantly seeking feedback from online shoppers to help prioritize new feature development as well as changes to how the app currently functions.
We want to be where our customers are, and we see our customers continuing to grow in the digital space. RF