By Sharon Thatcher
After spending thousands of dollars on a portable roll former, the next best investment is a trailer that can handle its transport safely. Don't be tempted to buy the cheapest trailer on the lot without first checking out the basic rules of trailering a portable. 
Open or enclosed?
One of the first decisions you'll want to make is whether to purchase an open or enclosed trailer. There are diehard owners of both, and each are committed to their decision.
The best answer may depend on the type of work you do. If you do multiple profile or coil changes on site, you'll want a trailer that provides maximum access to your typical pain points.
If you generally pull up to a job, unhook the trailer and keep it onsite a few days, does your trailer have the protection you need to keep the machine safe and protected? Do you want your machine trailer to also serve as your tool trailer? Do you want to lift your machine on its trailer to run panel at roof height?
Weather conditions also matter. Will the machine be exposed to road salt and snowy conditions, or dry and arid conditions? Each can affect the machine in different ways. Open or enclosed, how do you plan to protect your roll former from inclement conditions?
Your trailer choice depends on the type of roll former you own; in many cases, the coil reel is built as part of the machine, whereas some manufacturers have the coil reel as a separate piece of equipment. You'll want to make sure the trailer you buy gives you access to both, along with proper weight distribution.
Some open trailer advocates argue that enclosed trailers hinder access to coil reels and machine maintenance. There are trailers now, however, that are specifically designed for portable roll formers, with wide side doors to overcome the access issue. Formwright LLC, based in Indiana performs such customization for New Tech portables, using both ATC and United Trailer models.
Owner Larry Schlabach said, "We're pretty biased in our opinion about open and closed trailers. An $80,000 machine being pulled out in the open in all this weather, dust, and salt, it just doesn't make sense to us why you would want to put it on an open trailer." He draws from his own experiences as a metal roofer/roll former facing Midwest weather challenges. "I could not believe how, in three years, my open-trailer machine looked versus the one I kept in an enclosed trailer. I still have one of the 2015 machines in an enclosed trailer and she's not nearly as rough as my open-trailer unit," he said.
Tom Laird, Senior Account Manager for New Tech Machinery, however, said most of its machines are still sold with open trailers. These are custom built by Maxey Trailers. Covers are recommended as added protection. "We recommend those just because it helps to protect the machine from debris and inclement weather," Laird said. "They're not completely weathertight, but they are weather resistant and protect the machine better." The covers are made from a synthetic canvas called K-TEX, used for decades in the boat industry.
Caveats for buying a general-purpose trailer
Laird and Schlabach both advocate for trailers customized for the roll forming industry. Their reasons are valid.
Industry-specific features
Said Schlabach: "You buy a trailer off the lot and a lot of times it's not tall enough to fit the reel rack, the axles are not in the right spot, and it's not strong enough to hold up the machine."
When Formwright orders enclosed trailers for customization, they specify heavier axles and heavier tires, as well as a heavier aluminum exterior skin, 3/4" plywood on the walls for optional shelving, and side doors for loading and unloading coil.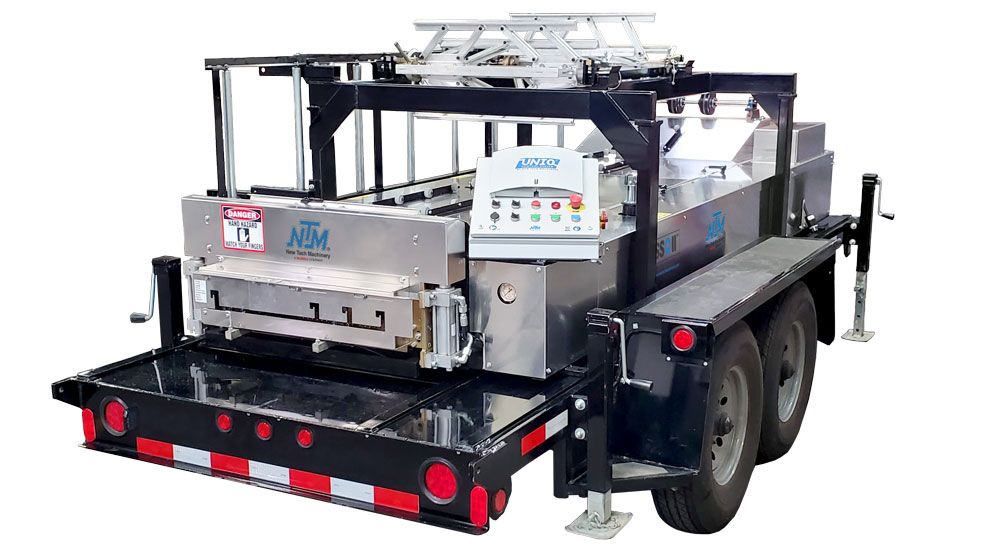 Again, he draws from personal experience when he cautions against just any off-the-lot trailer. A trailer he purchased for his own roofing business only lasted two years before needing major repairs. His motto now: "The good ones will cost you, but they will last you."
If you do buy a generic-use trailer Schlabach's suggestion: "Buy the most heavy-duty trailer you can afford."
Formwright's most popular trailer models for portables are the 18-foot bumper-pull and the 30-foot gooseneck.
Regarding the open trailers designed for and available through New Tech, Laird said: "There are some specialty features that set them apart from the standard trailer a guy would purchase off a trailer lot. They have steel decks, reinforced at the appropriate spots for the proper support and weight distribution for our machines."
Also standard on the customized Maxey are electronic brakes (enabling more accurate and controlled braking and reduction of wear on both the towing vehicle and the trailer brakes); a break-away kit (allowing the trailer to brake itself and stop should the trailer break away from the hitch); and crane-lifting eyes on each corner of the trailer for roof-side roll forming.
A recent addition is a removable shear scrap tray mounted near the rear end of the trailer to catch metal shavings as panels are being sheared at the exit end of the machine.
Still, some customers opt out of buying a custom trailer. "That's fine, we'll welcome that," Laird said, "but we'll tell them that when they mount that machine on that trailer, we won't have any liability over it. We have specific mounting areas, bolt patterns with how that machine will be affixed to that trailer. If you want us to put [your new roll former] on your [generic] trailer, we will do that, but how it gets attached, how you affix it to that trailer, it's up to you."
Laird adds a caution about door style when considering the purchase of a general-purpose enclosed trailer: a barn-door design is better than one where the door drops down to serve as a ramp: "…you cannot drive a forklift onto the door because it may break the door," he explained.
Weight and weight distribution
If buying a general-purpose trailer, you will want to take into consideration weight and proper weight distribution issues. In the case of New Tech machines, the standard portable roll former weighs 3,000-4,500 pounds. It has two coil racks, each capable of holding a 3,000-pound coil. If your trailer is only rated for 8,000 pounds, the math doesn't work. The load poses a safety concern and a potential fine.
Placing the portable and all the accessories in proper weight proportion is likewise a safety issue. Trailers are typically maneuvered up narrow driveways, steep hills, and other challenging locations. How much weight is on the trailer hitch, how well balanced the load can determine if you arrive and leave the jobsite safely.
Changing regulations
One area of concern is changing regulations that affect who can pull a trailer. Laird noted that some states are now requiring a driver to have a commercial driver's license (CDL) depending on the weight of what they are pulling. "When I came into the industry, it wasn't much of a concern because our trailers were only 12,000 pounds and you would not need a CDL to tow 12,000," he said. "Well, depending on the state, some states have now limited that to 10,000 pounds."
This can be of particular concern if you work in multiple states: In one state you may be required to have a CDL to tow 12,000-pounds or more, but in a neighboring state the limit may be 10,000 pounds. Continue to check the regulations as the whims of regulators can change with little notice. RF
Sharon Thatcher is the former managing editor of Rollforming Magazine. She is now an independent writer living in Ohio.