By Rollforming Magazine Staff
If you only need a handful of fasteners, you know where to go: the local hardware or home builder store. Where do you go when you need a larger quantity of nails or screws? We checked with a few suppliers for the facts about what they offer, what their minimums are, and what their terms are.
ST Fastening Systems
ST Fastening Systems offers 250 fasteners in a bag, or box quantities at 2500 or 3000 per box, depending on screw size.
Orders can be split, but customers want to make sure their purchase is enough to get free prepaid freight, that is a $3000 purchase.
Metal-to-metal fasteners in sizes of #12 x 3/4", #12 x 1", #12 x 1¼", #12 x 1½" are the most popular, and in metal-to-wood fasteners, #10 x 1", #10 x 1½", and #10 x 2" are more sought after.
Normal terms are net 30 days, but can vary per customer.
ST believes that customer relationships and understanding customer needs is an important part of their business.
Levi's Building Components

Levi's stocks and paints a full line of fasteners for all types of metal applications.
Their Fastgrip™, Metalgrip™, and ProZ™ products offer the right solution for any job.
Same day shipping is available on fastener orders with no minimum quantity requirement.
Their free freight minimum is $3000. With a wide variety of building accessories, there's a good chance you will find a product you need.
Standard terms are net 30 and they ship nationwide from Ephrata, Pennsylvania.
DMI Fasteners
Direct Metals, Inc. sells primarily full box and pallet quantities. The length and diameter of those fasteners dictate how many pieces fit into a box. Most fastener boxes average between 25-30 lbs., so they can be easily handled and shipped through UPS. Pallet quantities usually average 48 boxes to make it easy for LTL freight shipping.
There are no order minimums, but DMI encourages its distributors to order volume to qualify for free shipping, which is $3500. Orders less than that do not include free freight.
Their most popular metal-to-metal fasteners are #12 x 1¼" and 1/4 x 7/8" Stitch 304 SS cap SCAMP long-life self-drilling fasteners. They are available in powder coated colors to match building panels.
The most popular metal-to-wood fasteners are #10 x 1½" WOODZAC Type 17, #10 x 1½" ZXL Micro-bit zinc-aluminum heads and #12 x 1½" Type 17 304 SS cap SCAMP long-life metal-to-wood fastener for new construction and replacement applications.
Their standard billing terms are net 30 days.
Standard shipping times are three days or less for in-stock items. While delivery to all customers of one week or less is the goal, average shipping to most customers is two days or less.

Wildcat Fasteners
Wildcat Fasteners supplies wholesale screws to roll formers across the US. They offer screws in all different lengths and colors, Wood Claw and Steel Claw, with free shipping and no minimums.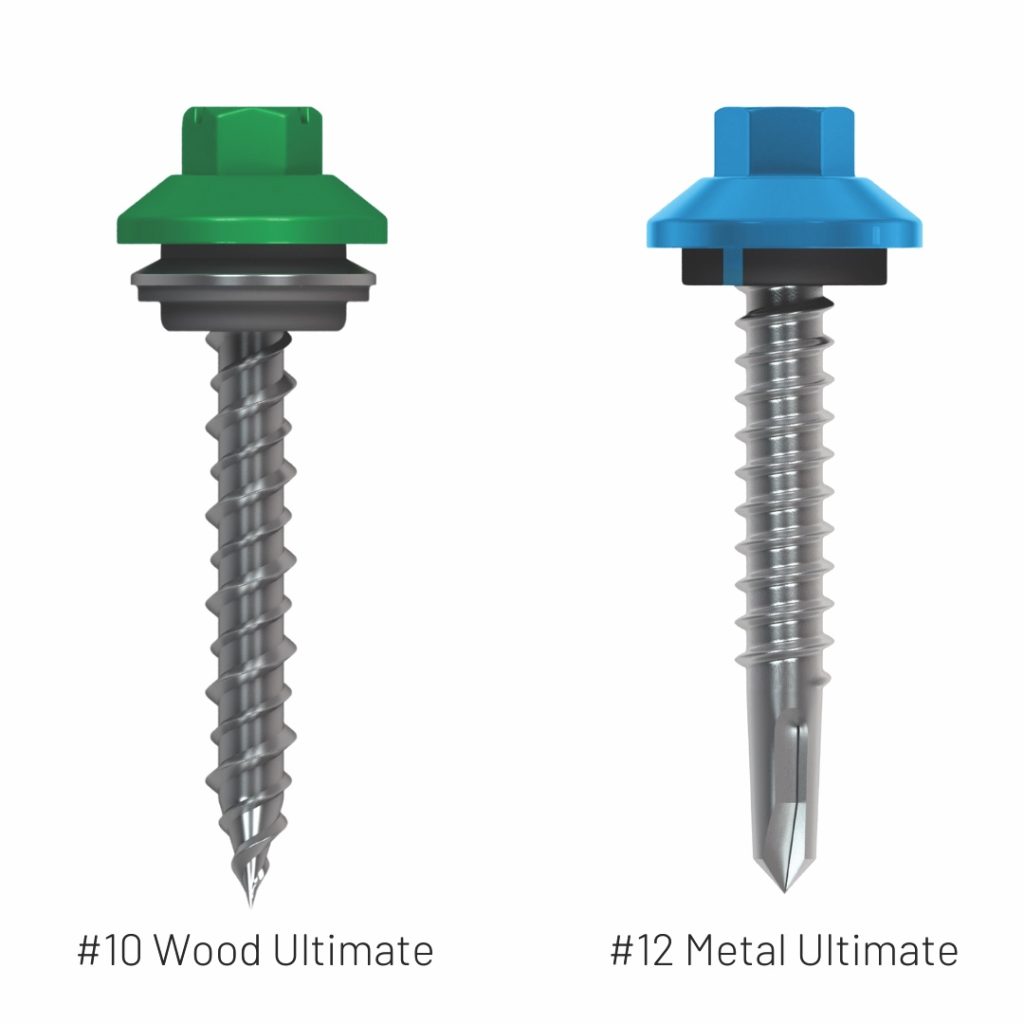 Atlas Bolt & Screw
Atlas sells fasteners by the box. Their popular metal-to-metal fasteners are #14 x 7/8" Flat Top Lap and #12-14 x 1¼" Flat Top TCP3. The popular metal-to-wood fasteners are #12 x ¾" Stitch, #10 x 1½", and #10 x 2". Atlas has a pre-paid freight minimum per PO, providing free shipping for many of their customers.
The Hixwood Store
Hixwood offers building packages, but they also have a retail store right on their Stanley, Wisconsin campus.
The store opened its doors in 2012 as a convenience for local builders to pick up supplies and the items they use on a daily basis. That includes fasteners, electrical supplies, extension ladders, wheel barrows, and hand tools. Recently they have added power tools to their inventory.
Their saber drives, or construction screws, are sold by the pound in 1 lb., 5 lb., 10 lb., or 25 lb. quantities.
The store is cash and carry, so they don't stock many expensive items. However, they can special order anything you need and generally they have it within a week.
Graber Post's Do It Best Store
Graber Post's hardware line is branded "Do It Best" and the store is named the same. Located on Graber's premises in Montgomery, Indiana, the store opened in 2007 to help keep Graber's crews stocked and to help out the Amish community they are located in. Amish builders and DIYers shop at the store.
The store comprises around 10,000 square feet, but with all the merchandise they carry, they are running out of space. They stock plumbing, electrical, hand tools, paint, hardware, pellet grills, pellets, and fasteners.
They do cash and carry, ship across the country, and ship to lumber yards.
Fasteners are sold by piece, box, case, or full pallet as it works for the customer. There is no minimum to ship.
Golden Rule Fasteners
Golden Rule Fasteners supplies roll formers from coast to coast with screws and other components. Most orders ship the same day.
Their popular metal to metal fasteners are the #12 diameter screw with a sealing washer. They also stock 1/4" diameter and 5/16" diameter.
Their popular wood-to-metal fasteners are the #9 diameter screw with a sealing washer, followed closely by the #10. They also sell a lot of #12 diameter roof screws and #14 diameter roof screws and some #17s.
While Golden Rule Fasteners doesn't have a minimum order per se, the screws in question come in bags of 250 and they don't break bags so the minimum would be 250 pieces. Some fasteners, such as deck screws, hex bolts, nuts, etc., come in bulk cartons, with minimums of one carton. Qualified orders receive free shipping.
Golden Rule also offers pipe flashings, butyl tape, closure strips, ridge vent products, expanding foam tape, and more. RF