Using them can help protect your panel, and your reputation
Today's coil coatings are very weather-resilient once installed on a roof or exterior wall. Prior to installation, however, coils and panels need to be handled and stored correctly.
Mishandling of panels before, during, and after installation are too often at the root of a warranty claim being denied (look for more details on coating warranty in a future issue of Rollforming Magazine). A list of common non-warrantable situations outlined by AkzoNobel include: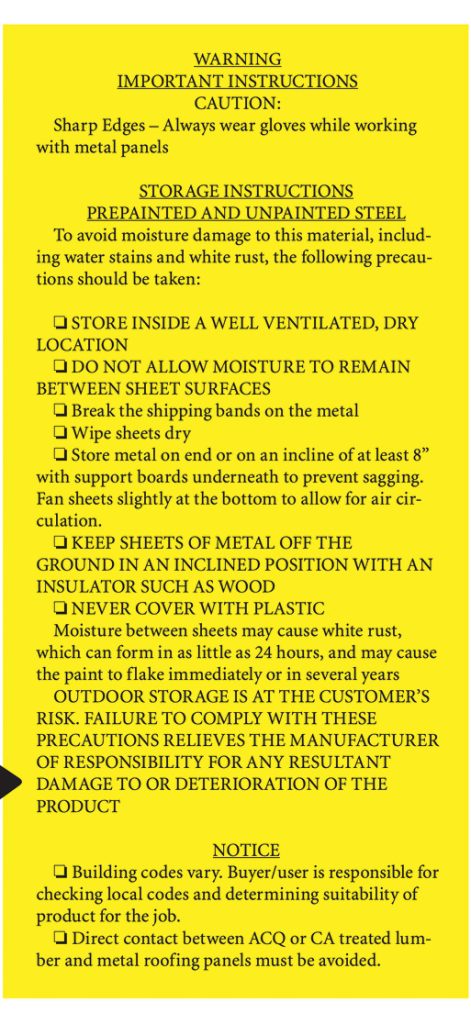 • Substrate corrosion, including failure or
damage from under-film or edge corrosion.
• Coatings not applied in accordance to good install practices.
• Breaches in the coating film caused by installation scratches, abrasions or hard impact.
• Damage caused by moisture entrapment (between bundles or during transit).
• Mixing of different paint systems.
• Unapproved chemicals or cleaners.
• Where materials or items are permanently attached or adhere to the coating.
But roll formers are only one step of the process. You may do everything right on your end, only to have a customer take your perfectly prepared panels and mishandle through improper storage or installation. You can help avoid this, and protect your company's reputation, by attaching warning labels to your bundles.
Will Waldrup, of United Steel Supply, shared one such label used by a United Steel Supply customer. The label outlines proper handling procedures:
The label should be stamped with your company name to assure you are credited with doing your due diligence in passing vital information on to the next link in the chain of custody. RF
Originally published as "Warning Lables" Winter 2020 Rollforming Magazine.