Power Your Forklift With Gas or LP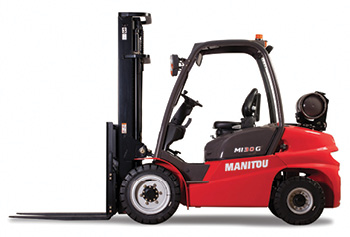 Dual Fuel is now an option on Manitou's MI 25 G and the MI 30 G industrial forklifts. This option allows customers to power with either LPG or gasoline with a simple dashboard mounted switch.
The dual fuel option on the 5,000 – 6,000 lb. units allow more versatility by being able to choose what energy source is best for indoor or outdoor applications.
Manitou's dual fuel forklifts are equipped with 61 hp (45.8 kW) GCT engine that provides low fuel consumption, low noise, and balanced power.
For more information: www.manitou.com/en
New Line of DEWALT 20V MAX Tools with FLEXVOLT ADVANTAGE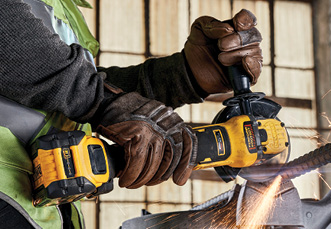 DeWalt has built its FLEXVOLT ADVANTAGE™ Technology into four new 20V MAX Brushless Tools. The line includes a 7-1/4" circular saw (DCS573B), 1/2" hammer drill/driver (DCD999B), reciprocating saw (DCS386B), and 4-1/2"-5" cordless grinder (DCG416B).
The tools recognize the Flexvolt battery attached and adjusts power output accordingly, making them ideal for demanding applications.
For information www.DEWALT.com.
Impact-Grade Magnetic Chuck Drivers From Malco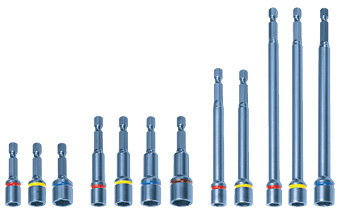 Malco Products, SBC, recently introduced a new line of Impact-Grade Magnetic Chuck Drivers that drive screws faster and easier than any other tool.
All Malco Impact-Grade power drivers are precisely machined for positive, fail-proof engagement of the fastener head, and feature unique high-torque steel construction and a design that absorbs and dissipates impact driver-induced stress at peak loads.
Malco's Impact-Grade Magnetic Hex Chuck Drivers are a distinctive blue color, signaling performance quality that can withstand the kind of impact driver stress that is characteristic for each fastening application.
"Malco is celebrating 70 years of innovation in 2020 and these Impact-Grade Magnetic Chuck Drivers are just one example of our continued dedication to a culture of continuous improvement and to producing labor-saving tools of lasting quality and performance," said Mardon Quandt, Malco president and COO.
For information: www.malcoproducts.com.
Pathfinder Double Folder Performance Upgrade from AMS Controls

AMS Controls has introduced its Pathfinder Double Folder Performance Upgrade. The upgrade transforms double folders into the fastest and most productive folders available by doubling the speed and giving an 80% production rate increase.
It completely replaces your existing hydraulic and electrical system, and includes an OSHA and operator-friendly Fold Guard safety system.
Additionally, the upgrade adds a Pathfinder controller and Edge, a web-based profile management and remote diagnostics system, Premium support, and a 3-year warranty for the package.
For information : www.amscontrols.com