■ By Sharon Thatcher
Creator of First Standing Seam Portable In U.S. Reflects On His Journey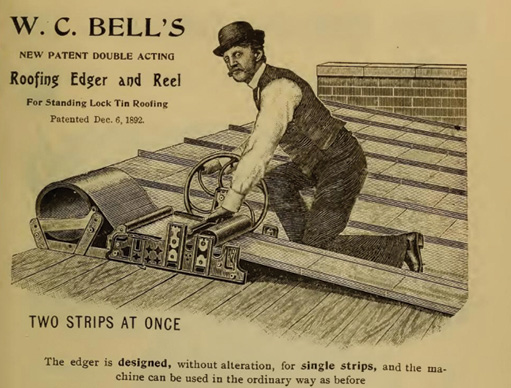 Ewald Stellrecht, owner of ESE Machines, is recognized as the man who created the first portable roll former in the U.S. dedicated to the double-lock standing seam roofing industry. Now in his 70s, he remains active in the industry and is still amused by the fact that his lack of knowledge about metal roofing was a catalyst for his creation of a machine that would help to revolutionize it.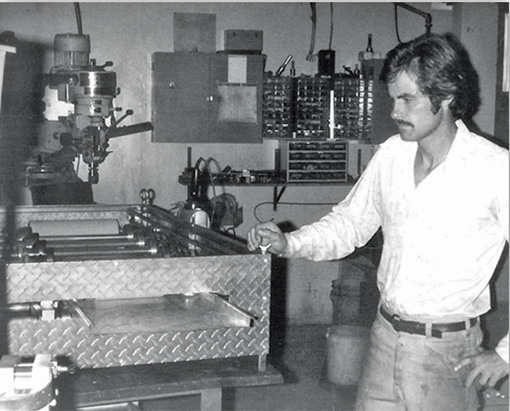 Trained as a machine builder in Germany, Stellrecht immigrated to the U.S. in 1965 and eventually opened his own "jobbing" shop in Exton, Pennsylvania, in the western suburbs of Philadelphia. There, he and one or two employees would design and make machines by order. "We built equipment for companies that said, 'can you build this?' and I did," he recalled in a recent interview for Rollforming Magazine.
One of the machines he built was used for making foam-coated fabric for go-go boots. In 1976, while working on site, he got into a conversation with roofing contractor L.M. Martin from nearby Ephrata. "He saw the machines that I built for that plant and he approached me to build a machine for him to form panels. That's how I got started," Stellrecht said.
Stellrecht didn't know anything about metal roofing, but building such a machine was simple enough.
"I didn't research what roll forming was all about," he said. "I just thought, I can figure this out myself. What I came up with was a different idea of pulling the metal through, without looking at existing machines; I wasn't focusing on how it was done normally."
L.M. Martin was more than pleased with his new portable. "He came back and he said this is really changing the industry, and he explained all the labor savings," Stellrecht said.
In the late 1970s, roll-formed metal panel was being provided by a few companies with large stationary machines and delivered in packaged bundles of uniform size. For standard double-lock standing seam, metal roofers would typically brake-form 8- or 10-foot sections on site, then interlock with hand tools. It was a time-consuming, labor-intensive process.
"Roll forming eliminated the labor it took to join pieces together. That was the big savings," Stellrecht said.
Martin told Stellrecht that his machine was worth its weight in gold. He encouraged him to go into partnership with him to build more. Stellrecht shrugged it off. "I didn't think too much more about it," he said. "I just tried to fill the request of this one customer. After I built that machine, I thought I was done."
Stellrecht couldn't believe there was nothing in the U.S. already like it. "We already went to the moon seven years earlier, why wouldn't you have this simple machine here in the U.S.," was his logic.
But he eventually started to research the history of roll forming. He found that portables were already being used in Europe, and there had been portable gutter machines in the U.S. since Art Knudson made the first one in his garage in Cedar Falls, Iowa, in 1957, and marketed as Watertite gutter machines starting in 1961. Absent, however, were portables for the standing seam market.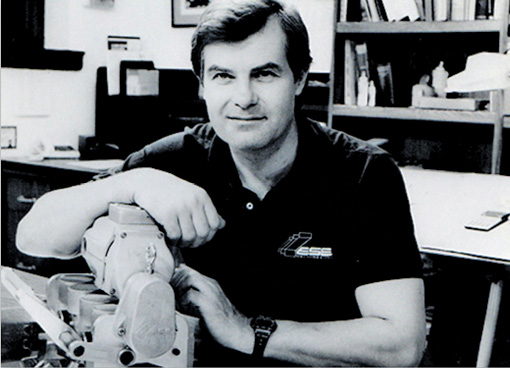 Finally believing there might be a market for such a machine, he built a second one in his spare time, then placed an ad in a trade publication to see if anyone was interested.
"As soon as the magazine was out, I got phone calls," he said. "I got people sending me deposits."
The problem? He only had one machine to sell.
Afraid that a larger company might design a similar machine and jump into the market ahead of him, he quickly gathered some business partners and they formed Roll Former Corporation in 1978. They began production to fill orders out of his small shop in Exton. Stellrecht started traveling around New England towing one of the new machines and selling to roofers on the spot.
About a year later, Ball Metal, part of the Ball Mason Jar enterprise, showed up at the shop. Their popular jars had zinc lids, and the company was involved in several areas of metal manufacturing in the zinc market. They wanted to be the sole distributor for Stellrecht's creation for the zinc roofing market. "So we decided, this was a good connection for us to let them sell the machine," he said.
For a time it was successful, but metal roofing was not Ball's strength, and the company ended its agreement with Roll Former Corporation. About the same time Stellrecht also left to escape the restrictions of a partnership business, and returned to independent jobbing.
"I started my own business (ESE Machines) to be my own boss, and not have to discuss changes and policies every week," he said. The move would allow him to do what he did best: design and build. In 1982, when a two-year noncompetitive agreement with his former partners ended, he started manufacturing new tools for the metal roofing trade.
At the top of his list was a new portable machine that could handle painted panel. His previous machines were designed for galvanized metal, yet he recognized that painted panel was increasingly becoming popular as coating companies developed more sophisticated paints and coatings. Stellrecht said, "You couldn't normally bend painted metal without damaging the paint. With the new paint you could form the metal with the paint on. That changed the whole industry.
"The machines had to be changed to accommodate painted material because zinc and copper and galvanized material couldn't really be damaged," he continued. "Zinc is zinc if you scratch it or not. Same with copper, but when you use painted material, the rolls had to be changed slightly, the clearance, the bending radius, all had to be adapted to it."
The new machine debuted in the early 1980s and was made until a couple years ago when the lack of available skilled labor ended production. Also a factor in the decision was the existence of other portables on the market, and ESE Machine's growing reputation and focus as an accessory toolmaker to the metal roofing trade.
ESE Machines (ESE is an acronym for Ewald Stellrecht of Exton) "developed a lot of tools that were needed in the industry," Stellrecht said. "Before that, my hand tools didn't exist. There was no proper tool to seam by hand, no machine to unroll the coil, so I focused on making the accessories, tools to make the cleat, the recoiler to put the coil on the cradle and into the machine."
In the highest form of flattery other companies have copied his tools and equipment. The competition may not be welcome, but he is content to be a small fish in the big lake he helped to create, abiding by his principle "to keep the prices real so nobody has to spend a fortune to get the right hand tools, the right decoilers, that accommodates the machine."
His wife Eileen, daughter Julie, along with employee Beth are part of the small but mighty workforce at ESE. His son Mark is a successful regional rollformer providing metal panels to local roofers.
Today Ewald has time to work on other projects, which includes the selling of his patented wood splitting axe. RF
Originally Published as "Machinist Who Built First Standing Seam Portable In U.S. Reflects On His Journey" in Spring 2021 issue of Rollforming Magazine.