The third annual Construction Rollforming Show was held October 26-27 in New Orleans. The new location enticed attendees from surrounding states to come check out the only trade show dedicated to the construction roll forming industry.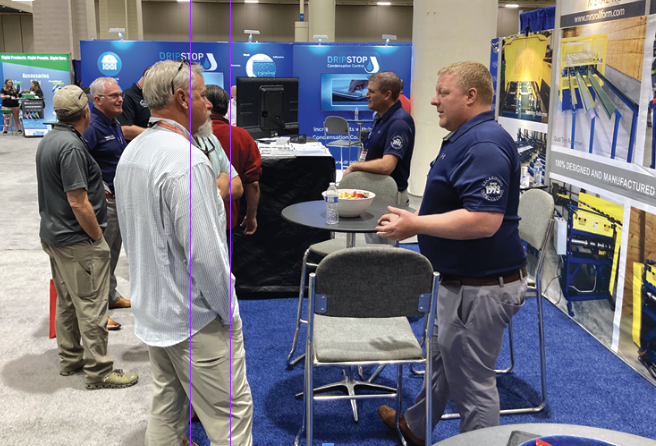 Tradesmen made the trip from Mexico, Montana, Texas, Missouri, and Mississippi, and some even flew in from Canada (and other locations). Attendees were able to meet with suppliers of every type of material needed, including equipment, fasteners, coil, insulation, software, and more.
At the 2022 show, for the first time, all admissions were all-access. Access to classes were included with the price of admission to the expo floor. Participants were eager to take advantage of the diverse — yet relevant — learning opportunities after partaking of the complimentary breakfast served each day.
Educational Opportunities
A few of the class highlights include, but are not limited to:
Leading off the sessions, software developer Royden Wagler and Brendon Studholme from SmartBuild Design performed a mock sales presentation to illustrate how 3-D design/bid software can be adopted to evolve the sales process. Company CEO Keith Dietzen was also on hand to answer questions.
CIDAN Machinery's National Sales Manager, Ryan King, lead a fast-paced, informative session about bending trim and flashing. He discussed forming options, typical shop configurations, processes to reduce waste, best practices for safely operating a folder, and more. 
Freudenberg's Chris Davis (DripStop) gave a presentation about natural ventilation, condensation, and moisture control in metal buildings.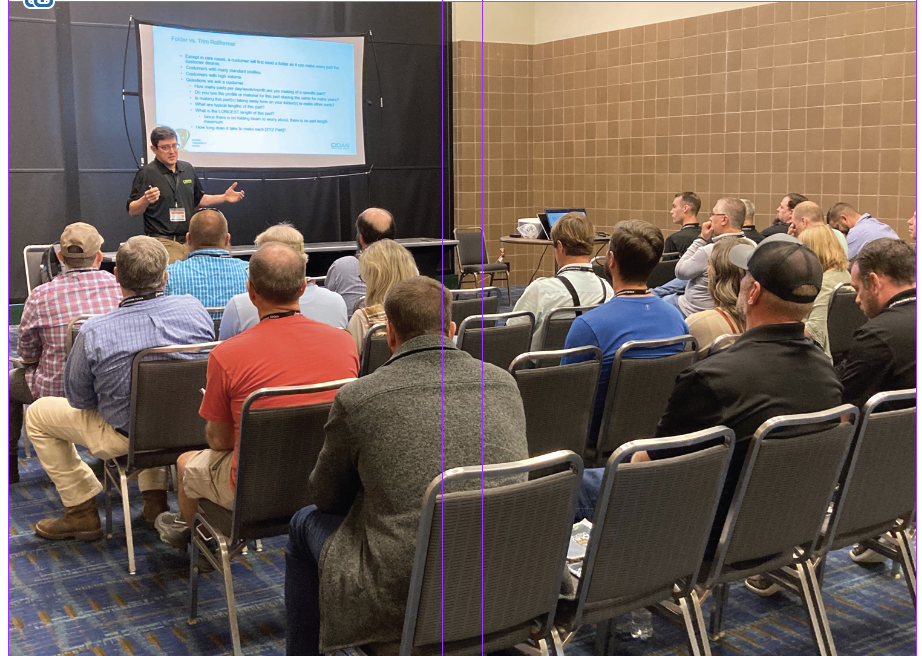 Randy Chaffee of Source One Marketing shared a wealth of sales knowledge that he's earned over his last four decades in the construction industry. Randy doubled up on his teaching duties; he addressed one group on Wednesday about the Sales Process, and another group on Thursday about Closing A Sale. "I want people to know who I am before they know they need me," he explains. "Relationship-building is critical."
Beck Automation's Shawn Huffman spoke to his group about how software can be used to improve quality, reduce waste (improve yields), track jobs and more. Sometimes a general business software will suffice, but programs that are specialized for metal forming will do much more than what you need to get by. 
Two of the presentations were given in the demonstration area on the show floor. On Wednesday afternoon, Adam Buck, Territory Manager with 3GM Steel, gave a talk on coil gauges and specifications. He explained the gauge and dimension variances that can occur.
On Thursday afternoon, Tom Laird, the National Sales Manager at New Tech Machinery, spoke about some of the best practices for setting up a portable roll forming trailer. New Tech had abundant representation at the show; Formwright and Karr's Building Supply & Service are both New Tech distributors. 
Equipment & Software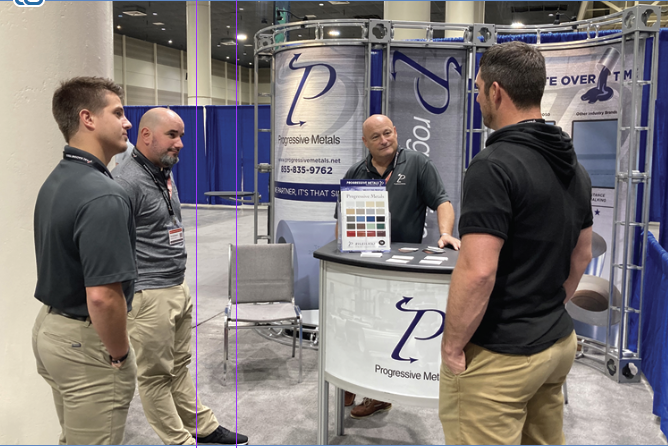 Hershey's Metal Meister always has a commanding presence on the trade show floor. It was no exception at the 2022 Construction Rollforming Show. The Mattoon, Illinois-based company exhibited two of their folders — the Single-Fold Variobend and the Double-Fold Variobend — as well as their Slinet Slitter with coil farm.
CIDAN Machinery exhibited an FX32 Omnifolder, while SWI Machinery exhibited its Marxman Plus slitter. Star-1 Products of McBain, Michigan, brought its Felt Applicator, which it demonstrated throughout show hours.
Formwright of LaGrange, Indiana, exhibited a portable New Tech machine in one if the company's enclosed trailers.
Technology solutions were abundant on the expo floor. AMS Controls, Beck Automation, Paragon Computing Solutions, SmartBuild Systems and QB Metal Shop are among the companies that showed how software and controls can help metal formers increase quality and productivity and reduce waste. AMS recently introduced its HyperDrive double folder system upgrade, which speeds production on and extends the life of older machines.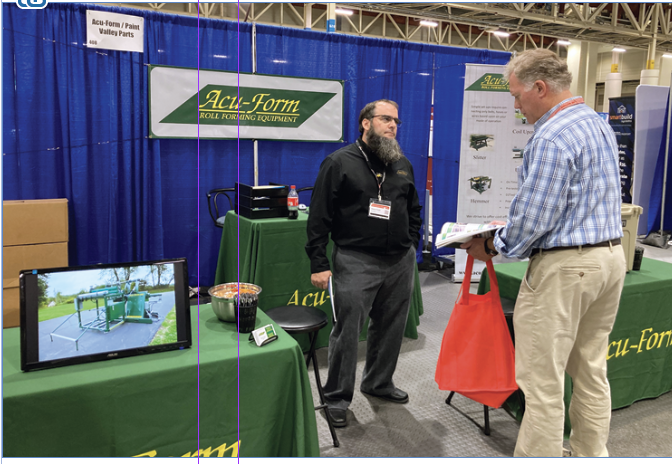 Great Eats & Live Music
As the action on the exhibit floor wound down on Wednesday afternoon, the live music began and complimentary "dinner" and drinks were served. Everyone — attendees and exhibitors alike — enjoyed food stations serving up tasty treats unique to New Orleans. Charcuterie, crawfish étouffée, shrimp shooters, chicken and sausage gumbo, and white chocolate bread pudding were just a few of the gourmet items on the menu.
2023 Construction Rollforming Show
On September 27-28, 2023, the Construction Rollforming Show will return to its original location — Cincinnati, Ohio. It will be held at the same venue as the first two rollforming shows: The Duke Energy Center.
Watch Rollforming Magazine and constructionrollformingshow.com to learn about show details as they develop. RF
Progressive Metals. Photo courtesy of Sharon Thatcher