By Rollforming Staff
Trade show attendees have the benefit of getting information directly from product and service providers in a single location. It's valuable information that can help increase profits, learn best practices, reduce waste and lower expenses, and other rewards. New products and services – often first introduced at these shows — are developed to solve your customers' problems.
Connections were made and problems were solved at the second annual Garage, Shed & Carport Builder Show, which was held January 18-19 at the Greenville Convention Center in Greenville, South Carolina.
The South Carolina location was selected as a convenience to attendees; it's close to the center of the light gauge metal building world. The headquarters of RTO National, a leading provider of rent-to-own contracts for backyard storage units, carports, and other assets, is also located in Greenville.
Learning Opportunities
Before the exhibit hall opened, many attendees sat in on educational sessions. Admittance to all educational programming was included with the cost of admission. A few of the presentations included, but are not limited to: "Ways to Improve Panel Line Throughput" presented by Ben Schmidt, The Bradbury Group; "Marketing, Advertising and PR" by Barbara Garcia, Shed Pro; "Designing Sheds and Other Buildings" by Royden Wagler, SmartBuild Systems; "Configurator Programming" by Jordan Miller, Idea Room; and "Using Google Maps for Shed Locations" by Jim Mosier, Shed Marketer. According to the attendance and feedback, show guests and exhibitors recognized the value of the sessions.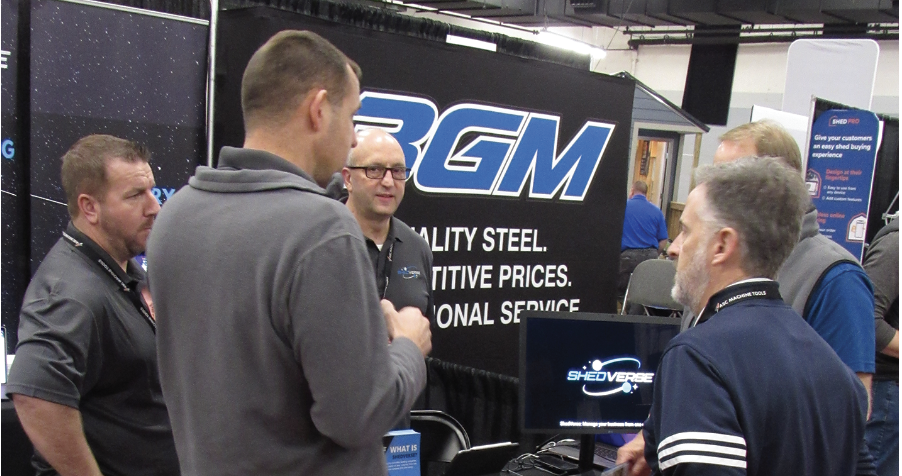 The State of the Industry presentation was scheduled to be held in the Demo Area in the exhibit hall, but the crowd noise in the hall dictated it be moved into a separate meeting room. The talk was co-presented by Garage, Shed & Carport Builder publisher Gary Reichert and RTO National Chief Sales and Marketing Officer Richard Mashburn. During his segment, Reichert presented construction data acquired through the industry survey which was co-executed by Shield Wall Media and METALCON. The survey results were broken down by industry — Sheds & Carports; Post-Frame; and Metal Buildings — as well as a whole from all respondents. Overall, respondents were optimistic about 2023, with the majority expecting the new year to be at least as good as 2022.
During Mashburn's segment, he spoke about specific market information relevant to the shed industry and the market picture as a whole. He compared 2021 to 2022 data, which is aggregated by RTO National's software systems, and reported that 2022 shed unit sales increased for the total year. Carport sales increased every month in year over year unit sales. However, the end of the year showed signs of slowing growth. He also explained that the average square footage of sheds is increasing; the average shed size moved from a 10' x 16' to a 10' x 20'.
Applicable to the construction industry as a whole, Mashburn reported lumber has returned to more normal price ranges and are expected to decline slightly over the next 12 months. Steel prices are lower than the 2021 and early 2022 highs, and prices are also expected to decline over the next 12 months. He said while gas prices have dropped dramatically since summer, they are expected to rise throughout 2023.
Objectives & Perspectives
The exhibit hall was completely sold out and was filled with 51 exhibitors, all of which were relevant to the construction industry. Companies exhibit at trade shows to meet with existing and potential clients; they are there to meet your needs. The feedback from exhibitors is undeniably positive, which indicates attendees found what they were looking for.
Tim Schorn, Regional Sales Manager for Trac-Rite Door / Rack-Lock Pallet Racking Security, says, "Overall, I felt that the show was a good value. Our organization was able to meet with both existing clients and new prospects during the event. There was an appropriate audience that included decision makers from the shed and carport industries."
Wayne Troyer of metal-forming equipment manufacturer Acu-Form enthuses, "We thought the show was great! It was in a very good location with a nice crowd of quality attendees that were actually looking to buy products."
Ben Schmidt, Industry Sales Manager for The Bradbury Group, says, "We received 10x's the leads compared to last year and we are excited to be a part of the continued growth associated with the Garage, Shed & Carport Builder Show."
Rachel Grilliot, Bradbury Group Corporate Communications, continues: "The Garage, Shed, and Carport Builder Show allows us to connect with existing and potential customers in this targeted industry. We received quality leads from companies looking for specific roll forming and related equipment. We plan to exhibit next year as this show continues to grow."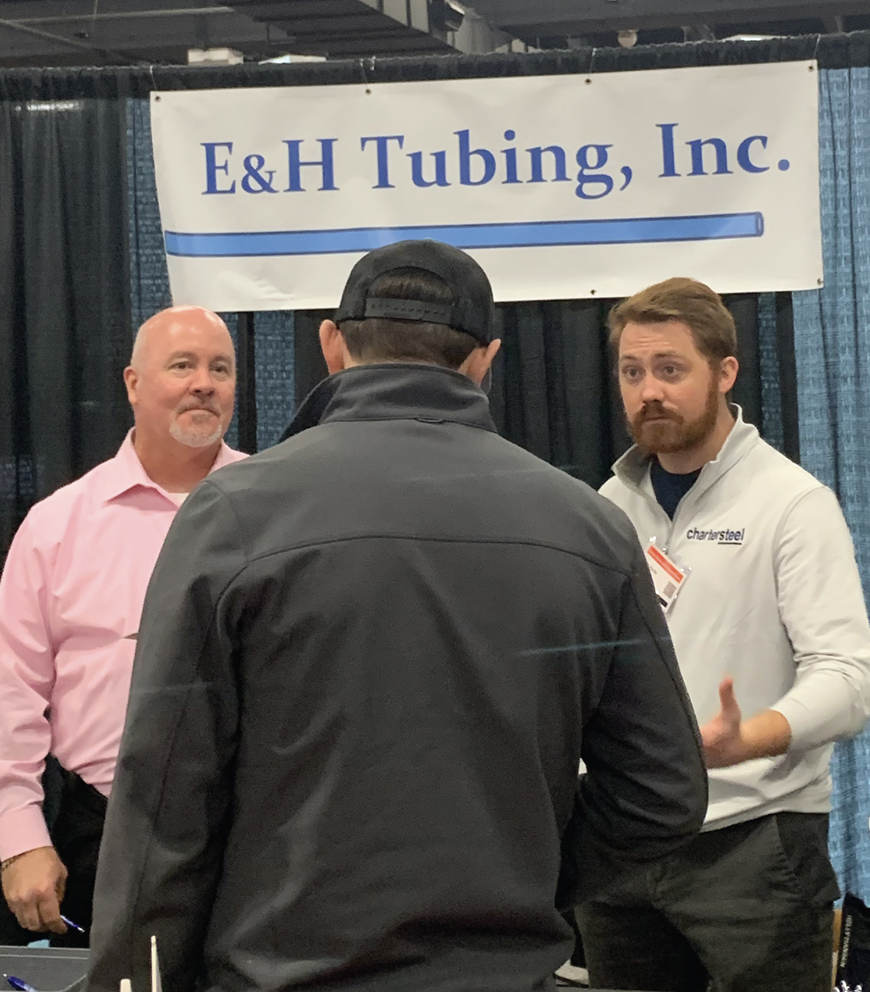 Judy Moses, Marketing Manager at RTO National, which held an open house in conjunction with the show, is also pleased with the event. "We're thrilled we were able to meet with our dealer partners in Greenville, South Carolina. From opening the doors to our headquarters to tour our facilities and meet with our team to then getting to demo the Dealer Management System at the GSCB Show – it was a memorable week! We were honored to have our Chief Sales and Marketing Officer, Richard Mashburn lead a conversation on the State of the Industry with GSCB's very own Gary Reichert."
Barry Hoffman of GreenPost/Planet Saver, says, "This was a great show for us. As I heard it said best: It's big enough to attract, small enough to have quality conversations. I look forward to next year!"
Cole Wolford of 3GM Steel is gratified by the results: "We really enjoyed the show. Shield Wall Media shows always have a very targeted attendee group of professionals we want to meet. Gary and his staff are also very accommodating in helping us meet our goals as a vendor at his shows. The Garage Shed Carport Builder Show in Greenville was not an exception. It is a great location and a real benefit for our organization to participate as a vendor."
David Quehl, Director of Sales & Marketing, Direct Metals, Inc., ponders, "After the inaugural Garage show in South Bend last year had a low turnout, it was natural for expectations to be muted at best. Suppliers recognize the hard work all Shield Wall Media team members put in to make the event a success. With excellent pre-marketing of the show and picking a location that suited the clientele it was marketing to, the results for 2023 were noticeably improved. There was a 'buzz' on the trade show floor that was absent last year.
"The cost to exhibit is very reasonable. Gary recognizes that the return on every marketing/trade show dollar an exhibitor spends is very important. As an example, there is no charge for a lead retrieval system, which helps overall costs. The social hour is a real bonus. Excellent food and drink help to keep both attendees and exhibitors on the trade show floor.
"The real metric is the quality of attendees who visit your booth. I think most suppliers were pleased with the quality of prospective clients at this show. Most who stop are decision makers. To summarize, I think each year this show will be able to build on the success of the previous one. With continued marketing and supplier support the futures for both the Garage, Shed & Carport Builder Show and Construction Rollforming Show look bright."
Reichert gives this post-show assessment: "Sifting through the feedback and attendee data, the 2023 GSCB Show was definitely a success. Exhibitors up by 50% and attendees by 75%.  As we improve our processes the show will evolve and improve. We do not want to be a show with thousands of exhibitors and millions of attendees; we want all of our shows to focus on a targeted audience and provide a great value for attendees and exhibitors. We learned a lot from the success of the 2023 GSCB Show and our future shows will be better because of it. We appreciate RTO National for helping to sponsor and promote the show, and we thank the exhibitors and attendees who made this possible." RF