As long as you're taking advantage of learning about construction roll forming at the Construction Rollforming Show in New Orleans October 26-27 at the Ernest N. Morial Convention Center, you might as well step out and visit some of the sights. We've gathered up a few outings to get you excited about your visit to The Crescent City.
Museums
New Orleans Jazz Museum
400 Esplanade Ave.,
New Orleans
nolajazzmuseum.org/
(504) 568-6993
A celebration of jazz! Dynamic interactive displays, educational programming, and musical performances make this a memorable museum.
New Orleans Pharmacy Museum
514 Chartres St.
New Orleans
pharmacymuseum.org/
(504) 565-8027
Listed on the National Register of Historic Places, this unique museum presents an extensive collection with interpretive displays documenting the practices of America's first licensed pharmacist.
New Orleans Museum of Art
1 Collins Diboll Cir., City Park
New Orleans
noma.org/
(504) 658-4100
New Orleans' oldest fine art institution hosts an impressive collection of over 40,000 pieces including photography, glass, French, American, African, and Japanese art. The Sydney and Walda Besthoff Sculpture Garden adjacent is one of the most important sculpture installations in the U.S. in a lovely setting of 200-year-old oaks, mature pines, camillias, magnolias, reflecting lagoons, and more.
Louisiana Children's Museum
15 Henry Thomas Dr., City Park
New Orleans
lcm.org/
(504) 523-1357
Energy Exploration, a Water Wall, and Crafts and Creations at the Make Your Mark exhibits, kids will have a ball! The Waterfront Cafe offers kid-friendly fare.
New Orleans African American Museum
1418 Governor Nicholls St.
New Orleans
noaam.org/visit
(504) 218-8254
The history, art, and other cultural contributions of the black community are preserved in the beautiful Treme Villa in the oldest surviving black community in the U.S. Beautifully landscaped gardens surround the villa on this former plantation.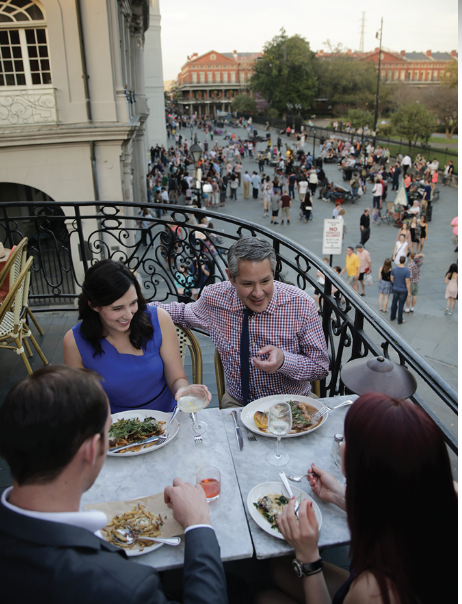 Nightlife
Lafitte's Blacksmith Shop
941 Bourbon St.
New Orleans
lafittesblacksmithshop.com/
(504) 598-4583
This French colonial cottage and courtyard, circa 1772, served as a hideout for pirates early in its career. Now a piano bar, it's fun for tourists and locals alike!
Allways Lounge & Cabaret
2240 St. Claude Ave.
New Orleans
theallwayslounge.net/
(504) 218-5778
An exciting burlesque venue with live, local music and shows almost every night, Allways has a diverse and interactive audience.
NOLA Desserts & Signature Treats
Sno-La
8108 Hampson St.
New Orleans
sno-la.com/
(504) 327-7669
Snow cones or "snoballs" are raised to an art form in New Orleans and Sno-La does it one better…they're home of the original cheesecake stuffed snoball!
Sucre
3025 Magazine St
New Orleans
shopsucre.com/
(504) 571-5323
A destination dessert and coffee boutique, Sucré is known for their macarons and bakery including cakes, brownies, and cookies. You can also enjoy chocolates and gelato in many flavors.
Angelo Brocato Ice Cream
214 N. Carrollton Ave.
New Orleans
angelobrocatoicecream.com/
(504) 486-1465
Angelo Brocato's customers dub this shop "gelato heaven". If you are not into gelato, cheesecake, cookies and other pastries are also on the menu. RF
Fritzel's Jazz Club
733 Bourbon St.
New Orleans
(504) 586-4800
The oldest operating jazz club, this nightspot is situated in the heart of the French Quarter in an historic 1831 building. Traditional New Orlean's jazz is its specialty.
Mid City Lanes Rock 'N' Bowl
3016 S. Carrollton Ave.
New Orleans
rocknbowl.com/
(504) 861-1700
As the name implies, this is the place to bowl a game, dance to some great music, and have a few drinks. They also have a limited menu including chicken, pizza, boudin balls (fried Cajun appetizers), and more.
Bacchanal Wine
600 Poland Ave.
New Orleans
bacchanalwine.com/
(504) 948-9111
Self-described as the quintessential corner wine shop that hosts the biggest backyard party, Bacchanal features live music and serves a menu that includes French, Mediterranean, and tapas beginning with brunch and extending to late night.
Cafe Du Monde
800 Decatur St.
New Orleans
shop.cafedumonde.com/
(504) 587-0833
Arguably the most well-known place to eat in New Orleans, they have served beignets, cafe au lait, and chicory coffee since 1862.
Loretta's Authentic Pralines
1100 N Peters St Stall #9
New Orleans
lorettaspralines.com/
(504) 944-7068
Melt-in-your-mouth praline candies are a popular Creole treat. Loretta's offers excellent pralines as well as cookies and beignets.