By Sharon Thatcher
When Dr!pStop arrived on the scene it was a gamechanger in the battle against condensation in non-climate-controlled metal buildings. 
It remains a tried-and-true remedy for condensation in storage buildings, ag buildings, airport hangars, and other open-wall structures. If you are a rollformer who applies Dr!pStop to ag panel for your customers, there are some important tips and tricks that can help assure successful application.
Avoiding smiley-faced panels
When Dr!pStop is applied to metal panels, it can bow or curve the metal and create a smiley-face effect. This does not affect the installation or integrity of the Dr!pStop panel, but some customers are concerned when it doesn't lie flat on the delivery pallet.
Tony DelGhingaro, Vice President, Filc USA which produces Dr!pStop, explains why there is this natural tendency for bowed panel: "Dr!pStop will curl a little more … because of the way it's constructed," he said. During the manufacturing process, he said, "I compare it to a barber's shear: the needles all have little notches, and it pulls the fibers in all directions."
The result is a stronger and thicker material.
However, roll-forming machines are not traditionally designed with condensation felt in mind. As Bill Griffin, President of Metal Rollforming Systems, noted: "The tooling is designed for a thin, rigid steel material with minimal clearances." 
The consequences when felt is applied to the underside of the standard 28- or 29-gauge ag panel is the smiley-face curvature. But "once it's screwed down," DelGhingaro noted, "you never know there's been a bow in it; it's all an aesthetic thing."
In most instances, rollformers are not overly concerned with the aesthetics of felt-backed ag panel. "I think most of the issue is a perceived cosmetic issue that goes away after proper installation," Griffin said. "The advantage of the Dr!pStop in reducing building sweat typically outweighs any mild aesthetic issues."
Performance aside, if you or your customers just want to avoid the smiley-face issue altogether, there are ways of doing so. "Gap adjustments can be made to mitigate the smiling, but there is a limit to what can be accomplished," Griffin said. And there is no magic formula. "Solutions are dictated on a case-by-case basis and dependent on your manufacturer's recommendations."
Griffin also said there are more challenges in getting Dr!pStop to line up on a post-cut roll former versus a pre-cut roll former. "The winging of the panel during the forming process can cause the panel not to line up correctly with the profiled shear blades [on a post-cut line] and cause it to increase deformation or burring of the sheet edge," he said, adding: "These are non-issues when run on a pre-cut line and the sheet is cut flat prior to being formed." 
Solutions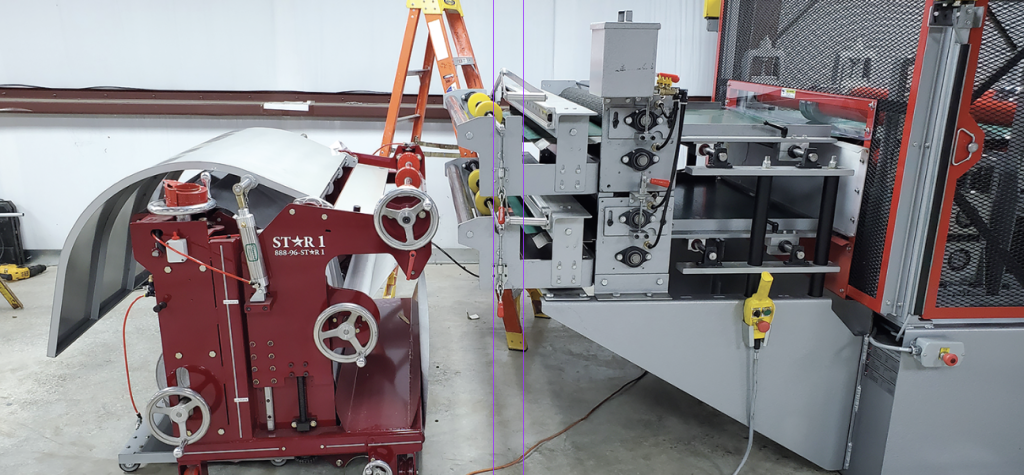 It appears that machines with the best performance for Dr!pStop application are those that have a particular order of placement of minors and majors in the bending process. "Some will put minors before some majors," DelGhingaro said. "Why it affects it I don't know, but it does. Some machines are worse than others and I think it's because of the order of those bends."
Thomas Schwarzer, Regional Sales Manager NE, ASC Machine Tools, said the 'smile' is most noticeable when the finished panel is stacked on a pallet for delivery, but goes away upon installation. He added that adjustments to certain roll-forming passes are needed to reduce the smile effect and bring the panel back. "No matter if you run an AG panel profile on a pre-cut or post-cut line, I would recommend raising up the overbend passes for the bottom corners of the major ribs, and at the same time tighten the overbend passes for the corners on top of the major ribs." 
If shop owners are running a lot of Dr!pStop, it may pay to add more passes, he noted. "It would be great to add more roll-forming passes to isolate overbend passes and give more control over the panel," he said. The addition of overbend passes, however, costs money outside of what many rollformers can justify. As Schwarzer noted: "Unfortunately most of the time the budget doesn't allow it."
Low-volume vs. high-volume users
If you are like most regional rollformers without a dedicated machine for fiber-backed panel, always be mindful to re-adjust the settings if using the same equipment for panel with and without felt backer. Improper adjustments open the risk for aesthetic damage to panels not running felt, and if used as side panels, those aesthetic blemishes are significantly more noticeable and open you up to end-user dissatisfaction.
At the other end of the spectrum, customers running high volumes of felt underlayment panels with a dedicated machine may look to Bradbury for a solution. The company has patented a process for the order of major and minor bends in the profile, developing a tool set dedicated to felt underlayment.
One user of the system is Higgins Steel Roofing of Hillsboro and Jackson, Ohio. The company is one of the top sellers of Dr!pStop in the Buckeye State and uses Bradbury roll formers. 
Owner Dave Higgins (featured in Rollforming Oct./Nov. '22 issue] carefully observed the application process long before committing to becoming a Dr!pStop panel supplier. Even for aesthetics he didn't want curved panel to be an issue with customers. Adding extra stands to allow additional minor and major bends is the solution that works best for him. "With equipment, when you put on Dr!pStop, if you bend things too fast, that's where that flare occurs," he said. "Our roll former that does Dr!pStop has 19 stands on it, instead of 14, so we could eliminate that problem."
Ghosting
Some of the challenge when installing condensation felt is with the metal itself. As mentioned above, the panel used for felt application is a higher gauge (28, 29), but gauge does not tell the full story. More precisely, all gauges come in a range of thickness and if the metal is on the lighter side of the range, it may result in what might be termed as a 'ghosting' effect. DelGhingaro said the random pattern of Dr!pStop as it's pressed against the metal "can more easily appear on thinner metals due to the force that presses together the metal and DS" causing this effect.
Schwarzer thinks the combination of panel profile and material thickness can help avoid this situation. "On thin panels with less ribs and wide flat spots, it's more likely to show through, whereas, if you use a more "ribbed" profile and thicker metal, it's not really noticeable."
U-Shaped Panels
DelGhingaro said every roll-former brand has its own ways of reacting to Dr!pStop application, with some brands doing better than others. He has seen some machines creating a U-shaped panel, with sides coming up several inches. Again, DelGhingaro said, it has "no effect on how the Dr!pStop performs and it has no effect on the metal panel once it's installed," but in this case, it does affect how the contractor installs the panel. With a U-shaped panel, "The challenge is they have to step on the panel almost everywhere they want to put on a screw," he explained, "so instead of possibly leaning over and putting maybe two or three screws down, then taking another two or three steps and putting two or three screws down, they have to step and screw, step and screw, step and screw, step and screw."
Felt applicators
Small, free-standing machines that help with the application of felt from coil to roll former have become popular additions for companies running felt underlayment. The Star 1 applicator has been featured before in this magazine and helps relieve much of the former burden of feeding the felt through to the application start point. Dr!pStop does offer its own applicator and is currently testing an improved system that is expected to be made available commercially soon.
Controlling Static Electricity
One problem that machine operators dread most is the static electricity that condensation felt emits as it runs through the machine at high speed. "In the wintertime, it's like walking across miles of carpet," Higgins said.
Anti-static bars are a readily available and inexpensive solution, but due to the volume of Dr!pStop panel Higgins Steel Roofing produces, the company adds a couple more steps. As Higgins noted, the static bar built into his applicator unit is helpful, but only affects the felt as it runs from the applicator unit into the roll former. He adds another static bar as the metal enters the shaping stands, and then grounds that bar off to help exit the static. The result: happier machine operators! RF
Sharon Thatcher is the former managing editor of Rollforming Magazine. She is now an independent writer living in Ohio.