By Karen Knapstein
While Integrity Sales & Service as a company hasn't been around long, its owners and signature product have been. And they've also been closely connected since the beginning. Owner Wil Hochstetler said the Millington, Michigan, startup filed for the name in late 2020. The business didn't take off right away; "We started by dealing in some other equipment like post drivers and skid steer attachments. We were anticipating doing some contract work for a large post-driver manufacturer. That didn't develop like we anticipated." But when the opportunity to purchase and manufacture the Dyna-Cut Shear came up, they "hit the ground running." 
Star Product: Dyna-Cut Shear
The metal shear is the new company's star performer, but it has been around for more than 20 years.
Wil relays that in the early 2000s a customer came to his brothers-in-law Nathan and Norman Miller, who owned fabrication shop Dyna Products, and asked if they would consider making a better shear since he was dissatisfied with the metal shears that were on the market. "It worked, but the shear would pull the metal or leave a burr." He really needed one that would make a clean cut.
"We sat down together and came up with some designs. The first shear had a fixed blade. That worked ok, but as we got into it, we thought, 'What if the blade gets dull?' So we came up with a design that has a replaceable blade."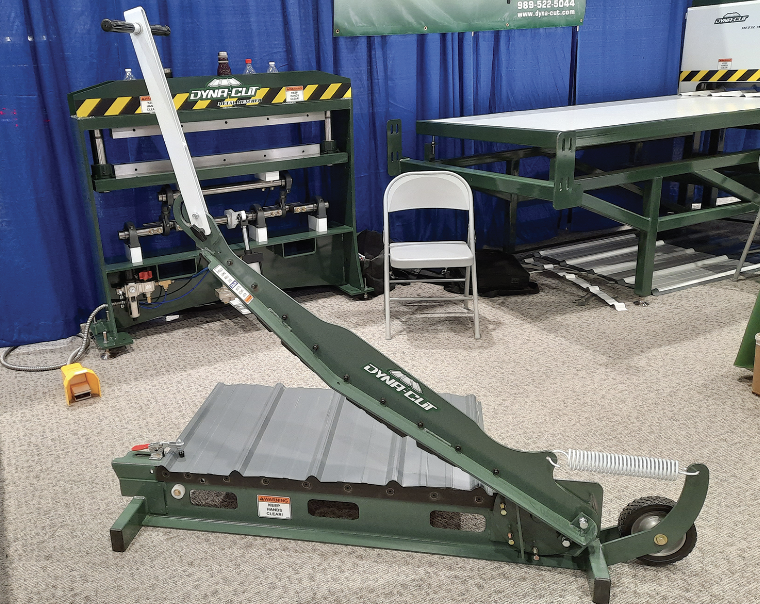 Dyna Products began manufacturing the shears and sold them at big box retailers. After the manual shear was out for a while, demand grew for a power shear so they developed an air-powered shear. "It worked fine but was noisy and a little bit cumbersome," Wil says.
After a time, the Dyna Products shop got busy with other products and the Dyna-Cut fell by the wayside. So they decided to sell the rights.
Dyna Products sold the manufacturing rights to Reuben Hostetler, who further developed the shears. "When Reuben Hostetler bought it," recalls Wil, "he took the power shear to the next level. He focused on a very precise cut. He redesigned the power shear so it was a smooth, quiet operation. He also developed an electric shear."
Dyna-Shear Back In-House
In early 2022 Reuben decided to sell his business; Integrity Sales & Service bought the rights to the shears and brought the Dyna-Cut "back to the family where it started."
Wil's son Jeff has a lot of experience with the shears; he was just out of school and working at the Dyna Products shop when the shears were first developed. Jeff now manages the business with his father and younger brother, Justin, at Integrity.
New businesses can be faced with unknown challenges from the outset. One challenge the Hochstetlers experienced was difficulty finding someone who could provide them with needed surface grinding services. Rather than let that impact the quality of their shears, they acquired the equipment to do the grinding themselves. "We can sharpen our own blades in house now," says Wil. "And now we offer that service. Doing it ourselves gives us control over the quality. We turned that challenge into an opportunity."
Tool Development
Speaking of opportunities, the company continues to develop more metalworking tools. "We have a sample cutter in the works," Wil reveals. "It will cut a small 2 1/2" x 4" sample piece that metal shops and mini-barn shops can give out to their customers. Samples will have rounded edges and a hole in one side so they can be put on a keychain."
The company also offers manual or power-driven flat-stock shears. The blade can be changed out to cut shingles, vinyl siding, or flat stock.
The family is focused on developing shear solutions to meet the needs of manufacturers and roofers. For example, the air-powered shear now has a camshaft design versus a guillotine design. "The cam shaft takes less air to cut the same amount of material in the same amount of time," explains Wil. "It's smoother and quieter, too." If you don't have a camshaft design, the shear needs a larger air cylinder, which causes more vibration and force and results in more wear and tear, and more noise.
The Tried and True Isn't Going Anywhere
Although power options are available, Wil doesn't see the demand for manual shears waning. "We actually produce quite a lot of those. Sales have picked up and are increasing on that end of the spectrum. The main reason metal shop owners buy manual shears is they can rent them out to their customers." And, of course, they will always have them on hand when they need them.
"It saves a lot of time," he continues. "Oftentimes, contractors use the shears on the jobsite. You can cut the entire sheet with one swipe. It minimizes the time it takes to cut metal and you can cut angles quickly. You can set the shears to cut gabled angles and cut panels as opposed to using tin snips or nippers. The best part is you get a factory cut edge and it's not jagged. It gives the work a much higher quality."
He also adds that standalone shears fix a problem that pre-cut shears can't: "A pre-cut shear can't cut panels shorter than 3 feet," Wil explains. "If customers order panels shorter than 3 feet, a standalone shear can come into play. With a standalone shear you can cut the panels to whatever size the customer orders."
Integrity Sales & Service is a family owned and operated business; Wil and his sons Jeff and Justin work hard to develop the tools metal panel manufacturers and roofers need and also to grow the business. "It's relatively small, but we do things together," Wil says. Working as a family has its challenges and rewards, but it's not all work. "We like to do fishing and hunting together, as well. But we work together outside of work, too," he adds. RF