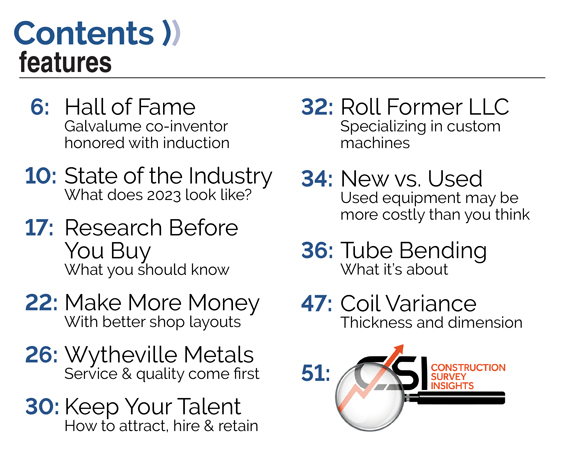 Contents
Hall of Fame: Galvalume co-inventor honored with induction
State of the Industry: What does 2023 look like?
Research Before: You Buy What you should know
Make More Money: With better shop layouts
Wytheville Metals: Service & quality come first
Keep Your Talent: How to attract, hire & retain
Roll Former LLC: Specializing in custom machines
New vs. Used: Used equipment may bemore costly than you think
Coil Variance: Thickness and dimension
CSI: Construction Survey Insights
U. S. Steel Announces New Warranty Policy for GALVALUME® Coated Coils
S-5! Receives 2022 MBMA Awards
CPSC Reannounces Recall of Portable Generators
Cherry Fork Metals Moves to New Ohio Facility
Exceptional Metals Developed a New High Temp Underlayment
Progressive Materials Announced New Clear Flashing-grade Silicone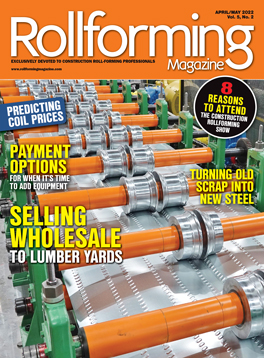 ---
Get a Free Subscription to Rollforming Magazine
Anyone who is involved in the metal-forming trade is welcome to sign up for a free print or digital subscription of Rollforming Magazine. This go-to resource for construction metal-forming professionals is published 6 times per year.